Your Favorite Pair of (Shoes, Jeans), Jeans are surprisingly versatile pants that go beyond just casual weekend wear. They work well for occasions like grabbing a drink at the pub, dressing for "Casual Friday" at the office, or attending a stylish cocktail party. Although they may seem basic, denim jeans can be worn excitingly and fashionably. To master different looks, such as casual, smart casual, and semi-formal styles, it's crucial to choose the right shoes.
Your choice of footwear, whether it's boots or boat shoes, will greatly impact your overall outfit. To help you create the perfect combination, we've put together a useful guide on which shoes to wear with jeans for different occasions.
Table of Contents
---
What Shoes Can You Wear with Jeans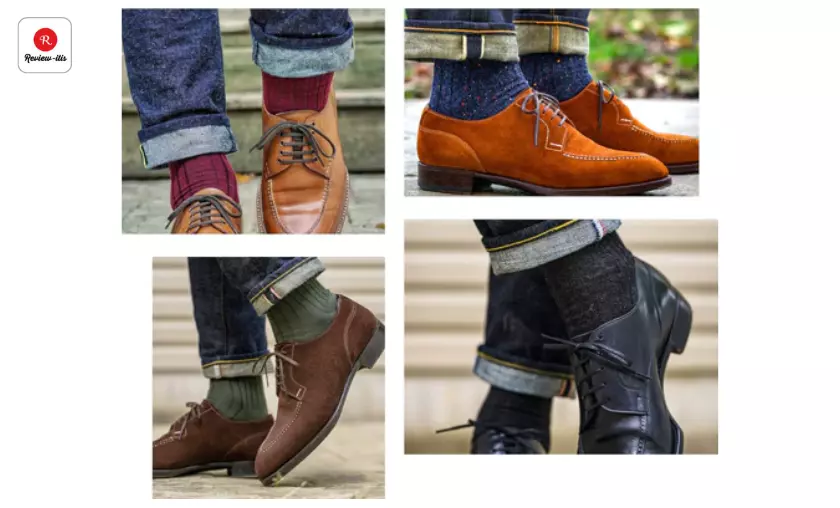 Discovering the perfect shoes to pair with your beloved jeans can be daunting. It involves selecting the right style to achieve your desired look and finding a color that harmonizes with your outfit. Creating an impeccable combination can be challenging.
Thankfully, we're here to provide you with valuable tips and tricks to assist you in achieving your ideal match. Whether you prefer trainers, boots, derby shoes, loafers, boat shoes, or Oxfords, we've got you covered. We'll show you exactly how, when, and where to rock them with your denim.
---
Boots and Jeans
When it comes to pairing shoes with jeans, boots are an excellent option that never disappoints. The key is to find the style that suits your preferences and needs. For a laid-back, urban vibe, opt for chunky hiking boots. On the other hand, if you're aiming for a smart casual look, Chelsea or chukka boots are great choices.
Remember to consider color and texture as well. Suede and brown boots generally exude a relaxed and rugged appeal, while black and leather variations offer a sleek and sophisticated appearance. So, choose wisely to achieve the desired aesthetic with your jeans and boots combo.
---
Trainers with Jeans
Thanks to the thriving athleisure trend, pairing your jeans with trainers once again is trendy. This combination effortlessly achieves a casual, comfortable look that's hard to beat. For a clean and minimalist vibe, go for plain white or black sneakers. If you prefer a more daring and vibrant style, explore boldly colored options. Keep in mind that your entire outfit matters too.
While trainers and jeans perfectly complement a T-shirt and jacket for a laid-back appearance, this dynamic duo can also be suitable for smart casual occasions when accompanied by a collared shirt and blazer. Embrace the versatility of trainers and jeans and effortlessly rock your desired aesthetic.
---
Derby Shoes with Jeans
When aiming for smart casual or semi-formal ensembles with jeans, derby shoes are a fantastic choice. This formal footwear style effortlessly balances the casual nature of denim and more refined elements. To experiment with this look, try pairing a set of derby shoes with dark-wash jeans, an oxford shirt, and a blazer. Feel free to unleash your creativity when selecting your derby shoes. While black and brown styles are timeless classics, opting for navy or grey options can result in a distinctive and incredibly stylish appearance. Elevate your denim game with the sophisticated charm of derby shoes.
---
Loafers and Jeans
Loafers are the epitome of relaxed yet refined style, making them a perfect match for jeans, particularly in smart casual and semi-formal outfits. Opt for a pair of classic leather penny loafers to achieve a timeless look. This choice will exude a sleek and sophisticated vibe that's ideal for well-groomed ensembles.
On the other hand, if you're seeking a more fashion-forward aesthetic, explore suede, tassel, or patterned loafers. These variations will infuse a contemporary and trendy touch into any outfit. Embrace the effortless luxury of loafers to elevate your jeans ensemble to new heights of style.
---
Boat Shoes and Jeans
Make sure to limit your boat shoes to chino shorts on a yacht – they can do much more! Boat shoes and jeans make an incredible combination, whether you're attending a polo match or enjoying a casual summer brunch. Pair them with other summer essentials to enhance the laid-back yet sophisticated vibe of boat shoes.
Opt for white cuffed jeans, a light blue shirt, and some stylish sunglasses. These elements will effortlessly create a top-notch smart casual outfit that perfectly complements your boat shoes. Embrace the versatility of boat shoes and jeans for a stylish and comfortable look on various occasions.
---
Oxford Shoes and Jeans
Elevate your jeans to a more formal level with the timeless charm of Oxford shoes. This classic footwear style effortlessly transitions denim from casual to chic. When choosing your Oxfords, stick to traditional designs in colors such as brown, burgundy, and black.
Additionally, consider exploring brogue-style Oxford shoes. These intricately perforated options add a touch of uniqueness to your ensemble and work exceptionally well for smart casual outfits. Embrace the sophisticated appeal of Oxford shoes to transform your jeans into a polished and refined outfit.
---
When to Wear Shoes with Jeans
Casual 
When it comes to casual occasions, jeans are the go-to option. With their laid-back appearance and durable fabric, these pants effortlessly embody a relaxed and effortless vibe. As a result, you have the freedom to choose from a wide range of styles and pair them with various casual pieces to create a fantastic weekend look. When it comes to footwear, aim for comfort and relaxation by opting for sneakers or boots.
These versatile options perfectly complement a casual denim outfit, allowing you to exude both style and ease. Embrace the inherent versatility of jeans and create a remarkable casual ensemble for any relaxed occasion.
---
Smart Casual
When it comes to smart casual events, jeans can be a winning choice if styled appropriately. The key is to strike a balance between refined pieces and more relaxed items. For example, pairing your jeans with a T-shirt and blazer creates a harmonious and put-together look, as does combining them with a button-up shirt and vest. To complete your outfit, pay attention to your choice of footwear.
Opt for chukka boots or loafers, as they exude a relaxed yet sophisticated vibe. Sneakers can also work, but make sure the rest of your ensemble is polished to avoid appearing too casual. Finding the right balance makes you feel confident about rock jeans on any smart casual occasion.
---
Semi-Formal
Mastering the semi-formal look with jeans can be challenging, but it's certainly achievable. The key lies in keeping the rest of your outfit exceptionally refined to maintain a polished aesthetic. Consider pairing your jeans with a well-fitted shirt accompanied by a blazer, vest, or suit jacket. Pay attention to the importance of your choice in footwear, too. Opting for elegant options like Oxfords, derby shoes, or loafers will elevate your look, ensuring it remains sophisticated and semi-formal.
However, it's important to note that other footwear styles, such as sneakers, can detract from the desired level of formality. By carefully selecting each element, you can confidently rock jeans at semi-formal occasions while maintaining an elegant and polished appearance.
---
What Shoes to Wear with Jeans
Here's a list of footwear options to pair with jeans for various styles:
Trainers: Create a cool and casual look by wearing trainers with jeans.
Chelsea and Chukka Boots: Ideal for smart casual outfits with jeans, these boots strike the perfect balance between style and comfort.
Loafers: Add a touch of luxury and laid-back charm to your smart casual and semi-formal jeans outfits with loafers.
Derby or Oxford Shoes: For a semi-formal style, pair your jeans with derby or oxford shoes, a collared shirt, and a blazer.
Boat Shoes: Achieve a fresh summer appearance by combining boat shoes with white jeans and a light blue shirt.
Feel free to mix and match these footwear options to create your desired look with jeans.
---
Conclusion
Your favorite pair of shoes and jeans hold the key to unlocking your style potential. With the right combination, you can create a multitude of captivating looks that suit any occasion. From casual outings to semi-formal events, pairing these two wardrobe essentials allows you to express your unique personality while maintaining a stylish edge.
Whether you opt for sneakers, boots, loafers, or Oxfords, each shoe choice brings its own distinctive touch to your ensemble. The possibilities for creating a fashion-forward statement are limitless when paired with the perfect jeans, be it skinny, straight-leg, or relaxed fit.
Embrace the versatility of your favorite shoes and jeans, allowing them to become the foundation of your style journey. Experiment with different styles, colors, and textures to discover the perfect harmony that accentuates your individuality. Remember, it's not just about the shoes or the jeans alone, but the seamless fusion of the two that truly elevates your overall look.
So, whether you're seeking a casual, smart casual, or semi-formal aesthetic, let your favorite pair of shoes and jeans guide you toward sartorial success. Embrace the power of this dynamic duo and embark on a fashion adventure that speaks volumes about your personal style. With each step you take, exude confidence and embrace the joy of fashion as you rock your favorite pair of shoes and jeans with unmatched flair.
FAQs
What kind of shoes looks good with skinny jeans?
Skinny jeans offer great versatility when it comes to footwear choices. You have a wide range of options to consider. You can go right with trainers, boat shoes, or boots for a casual look.
These options effortlessly complement skinny jeans, providing a relaxed and laid-back vibe. On the other hand, if you're aiming for a more semi-formal style, opt for loafers, Derby shoes, or Oxfords. These footwear choices elevate your skinny jeans ensemble, adding a touch of sophistication and refinement.
Experiment with different shoe styles to find the perfect match for your desired look with skinny jeans.
Do formal shoes go with jeans?
When aiming for a more semi-formal look, jeans, Oxfords, Derby shoes, and loafers are excellent choices. These footwear styles effortlessly complement jeans, adding a touch of sophistication to your ensemble.
However, ensuring that the rest of your outfit matches the desired style is crucial. Incorporate other formal elements such as a blazer, vest, or suit jacket to complete the semi-formal look. This combination will create a cohesive and polished appearance, elevating your jeans to a more refined level.
Embrace the versatility of Oxfords, Derby shoes, and loafers to achieve a stylish semi-formal look with your favorite pair of jeans.
Can you wear black shoes with blue jeans?       
Absolutely! Wearing black shoes with blue jeans is a fantastic choice that adds sophistication and grounds your overall look. It's a reliable combination that exudes timeless style.
Consider options such as black boots, high-shine Oxfords, loafers, or classic black sneakers like a pair of Converse hi-tops to elevate your ensemble. These black shoe styles effortlessly complement blue jeans, creating a well-put-together and polished appearance.
Embrace the versatility of black shoes to enhance the sophistication of your blue jeans outfits.
What kind of shoes goes with straight-leg jeans?
Every man should have a pair of classic and versatile straight-leg jeans in his wardrobe. They serve as a timeless staple that can be paired with various shoe styles.
To achieve a refined yet relaxed look, consider partnering them with classic footwear options such as brogues, boots, loafers, or sneakers. These styles effortlessly complement straight-leg jeans, allowing you to strike the perfect balance between sophistication and ease.
This combination will never disappoint whether you're aiming for a casual or smart casual outfit. Embrace the versatility of straight-leg jeans and explore different shoe choices to create an effortlessly stylish ensemble.
---
To read more similar articles, click here.
Thanks for visiting our Website. If you appreciate our work, kindly show us some support in our comments section 🙂