Surfshark, a dominant contender in the VPN industry, claims to devour its competition. But does it truly possess the power to dominate? In this Surfshark review, we'll explore whether it has what it takes to feast on the competition or succumb to being devoured itself. Boasting a no-log policy, a kill-switch feature, and a camouflage mode that conceals your online activity, Surfshark offers all the essential features one would expect from a reliable, secure, and user-friendly VPN.
Despite being a relatively new entrant, Surfshark stands out as one of the most affordable options on the market, with a mere $2.49 USD per month for a 24-month package and three months free.
With unlimited device usage and access to 15 Netflix libraries, one might question how it manages to offer such a stellar deal. Let's take a closer look to determine if Surfshark truly reigns supreme in the VPN realm.
Table of Contents
---
Overview of Surfshark VPN Review
| | |
| --- | --- |
| OVERALL RANK: | #2 out of 78 VPNs |
| USABILITY: | Very Easy To Use |
| LOG FILES: | Strict No Logging Policy |
| LOCATIONS: | 65+ countries, 3200+ servers |
| SUPPORT: | Live Chat (24/7) |
| TORRENTING: | P2P & Torrenting Allowed |
| NETFLIX: | Unblocks Netflix USA |
| ENCRYPTION/PROTOCOL: | 256-bit AES/OpenVPN, IPSec & IKEv2 & Wireguard |
| OFFICIAL WEBSITE: | www.Surfshark.com |
---
Easy Setup
For those new to Surfshark, the first step is creating an account or logging in if you already have one. Once that's sorted, the installation process kicks off, and don't worry, Surfshark guides you through each step with ease.
While we've outlined the process below, even beginners will find it a breeze to install and activate Surfshark on their own. So get ready to dive in and start your Surfshark journey with confidence.
Step 1: Choose the language that suits your preference.
Step 2: Indicate The Desired Storage Location On Your Disk For The Software To Be Installed.

Please ensure that you have 32 MB of free space before starting the installation process.
Step 3: Execute The Downloaded Software To Finalize The Installation Process And Commence The Activation.
Surfshark VPN offers several advantages, one of which is its compact, elegant, and user-friendly software.
The interface is designed to be intuitive and can be further simplified through the "mini mode" feature.
After successfully installing Surfshark, you can easily log in and click on the "connect" button to establish a connection with the fastest available server. Below, you'll find all the customizable settings that you can modify as per your preference.
---
Attractive In-App Features
When it comes to selecting a VPN provider, there are several crucial aspects to consider. Of course, security and privacy are of utmost importance, but other factors should also be taken into account. For instance, if you intend to use the VPN for streaming or gaming, speed becomes a critical factor.
Additionally, it's essential to ensure that your chosen VPN covers all the essential features like ad blocking, data security, and malware defense. Moreover, attractive extras such as a generous free trial or appealing subscription plans can greatly enhance the overall experience.
Surfshark manages to check off these boxes convincingly, making it a worthy contender. Let's delve deeper into its offerings.
Adblocking with CleanWeb
With Surfshark's integrated CleanWeb adblocker, you can bid farewell to concerns about malware and phishing attempts. Not only does it provide a seamless browsing experience without bandwidth slowdowns, but it also eliminates annoying ads and pop-ups. The greatest benefit, however, is the robust protection it offers against unauthorized access and tracking of your sensitive information.
Surfshark goes the extra mile by consistently updating its malware-infected website database, ensuring automatic detection and prevention. During my research, I discovered that they had identified and blocked over 1 million infected sites, offering you peace of mind knowing that Surfshark's VPN and CleanWeb feature have your back.
You can enjoy the CleanWeb feature across multiple platforms, including Windows, macOS, Android, and iOS.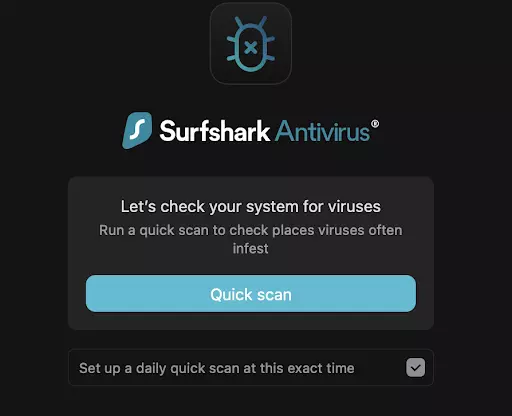 Split-Tunnel with Whitelister
With Surfshark's Whitelister feature, you have the power to personalize your browsing experience by split-tunneling your VPN. By creating a "white list," you can designate specific sites and IP addresses to bypass the VPN entirely.
This gives you control over the privacy and security of the websites that truly require protection while allowing safe sites to connect directly to the internet. It's an excellent tool to utilize if you're on a private connection. However, it's crucial to note that whitelisting any site or IP address can expose you to an unsecured connection without encryption.
This feature proves particularly useful when configuring network devices like printers or scanners, eliminating the hassle of setting them up through the VPN. Furthermore, by adding your preferred secure sites to the white list, you can avoid the need to constantly enable or disable the VPN.
In addition to the VPN, Surfshark offers premium features such as HackLock for email leak protection and BlindSearch for private searching. You can easily add these features to your existing Surfshark subscription for just $0.99 USD per month by clicking "more info."
Custom Server Locations

Surfshark stands out for its exceptional user-friendliness, offering extensive customization options for most features. When it comes to server locations, managing your preferred servers is a breeze with the Locations tab. You have the flexibility to select favorites and effortlessly switch between them. Whether you opt for the "fastest server" or the one in the "closest country," Surfshark provides an added level of personalization, allowing you to curate a selection of your preferred servers.
MultiHop Double VPN
Surfshark goes above and beyond by offering a double VPN connection, adding an extra layer of protection and security to your online activities. By utilizing two different VPN servers, typically situated in separate countries, you can enhance your privacy and effectively conceal your location.
This feature is particularly appealing for users who prioritize their online privacy to the highest degree. It's important to note that even with Surfshark's single VPN server, you can still enjoy robust protection.
The best part? Setting up the MultiHop feature is a breeze. Just navigate to the Locations tab, choose MultiHop at the top of the screen, and easily select your preferred pair of servers.
Unlimited Device Support
Unlike many VPN providers that impose limits on the number of devices allowed under a single account, Surfshark stands out with its unlimited devices feature. This remarkable capability enables you to establish simultaneous connections on all your family's devices, ensuring comprehensive privacy protection across every entry point. Whether it's smart TVs, gaming consoles, or even FireStick with FireTV, Surfshark has got you covered. Embrace the freedom of safeguarding all your devices without any restrictions.
Camouflage Mode
Forget about scammers, because your privacy matters. With Surfshark's Camouflage Mode, your online activities remain hidden from everyone, including your internet service provider. No one will have insight into what you're browsing. On top of that, Surfshark offers the ability to change your IP address, adding an extra layer of complexity for anyone attempting to trace your digital identity. Rest easy knowing that Surfshark prioritizes your anonymity, ensuring a secure and private online experience.
Kill Switch
To safeguard your data protection and privacy at all times, Surfshark offers a valuable feature called the Kill Switch. In the event of a VPN connection drop, this feature instantly cuts off your internet connection, ensuring that your sensitive information remains secure.
The Kill Switch option is available on Windows, macOS, and iOS platforms, providing widespread coverage. Whether you're handling sensitive data or engaging in torrenting activities, enabling the Kill Switch feature adds an extra layer of security. As is the case with all Surfshark features, it's designed to be remarkably user-friendly, as depicted in the screenshot below.
Step 1: Within the Surfshark app, access the Settings menu and navigate to Connectivity.
Step 2: Flip the switch to activate it, and once activated, you're good to go. In the event of an unexpected disconnection, a notification will promptly appear, terminating your internet access for your safety.
No Logging Policy

When it comes to VPNs, a no-log policy should be the norm, ensuring that your sensitive data, browsing history, IP address, traffic, and connection timestamps remain secure and private. Surfshark, following this principle, safeguards all traffic using AES-256-GCM encryption, recognized as the leading standard in the industry. This robust encryption protocol guarantees that your online activities are shielded from IP, WebRTC, and DNS leaks.
In terms of personal information storage, Surfshark discloses that it retains minimal data, namely your login details (encrypted password and email address) and basic billing information, essential for account creation purposes.
Surfshark proudly embraces transparency by openly acknowledging the collection of anonymous information, including performance data and crash reports, through their user-friendly apps. Rest assured that this data is exclusively utilized to enhance and optimize your VPN experience, ensuring you receive the best service possible. For a deeper dive into how Surfshark handles your privacy, we invite you to explore their privacy policy, where you'll find detailed insights and a comprehensive understanding of their practices.
No Borders Mode
Wherever you happen to find yourself in the vast online landscape, you might come across frustrating barriers that prevent you from accessing certain websites. But fear not! Surfshark's remarkable No Borders mode is here to liberate your browsing experience, granting you the freedom to explore the internet without any limitations or pesky geo-restrictions.
With Surfshark as your trusty companion, you'll effortlessly traverse the realm of streaming platforms and break through the chains of government-imposed censorship. Imagine the possibilities as you embark on a boundless journey, with unrestricted access to an array of captivating content. The world wide web is yours to conquer, thanks to Surfshark's unwavering commitment to providing you with the ultimate browsing freedom.
Private DNS and Leak Protection

Every server comes equipped with its own private DNS and leak protection, reinforcing an additional layer of security. This feature ensures that when utilizing the IPv4 stack, your data remains well-guarded and protected. By incorporating such measures, we enhance the overall security infrastructure, providing you with peace of mind and safeguarding your valuable information.
Encryption
Surfshark employs cutting-edge AES-256-GCM encryption, showcasing their commitment to top-notch security standards. With this robust encryption in place, you can confidently trust that your valuable information remains shielded and safeguarded. Surfshark's dedication to utilizing industry-leading encryption ensures that your data is well-protected, granting you peace of mind while you browse the digital realm.
Secure Protocols
Surfshark makes use of the widely recognized default protocol, IKEv2/IPsec, across all their applications. This choice aligns with the industry's leading VPN providers who prioritize this standard. Moreover, Surfshark goes the extra mile by offering additional options such as OpenVPN and Wireguard protocols. By providing these alternatives, Surfshark ensures that users have flexibility and can select the protocol that best suits their needs. Whether you prefer the default choice or opt for OpenVPN and Wireguard, Surfshark empowers you with versatile options for a personalized and secure browsing experience.
---
Surfshark's Killer Benefits and Advantages
The array of features offered by Surfshark left us incredibly impressed. Users not only have the ability to add multiple layers of security to their internet activity and personal data but also enjoy a wide range of customization options that go above and beyond what is typically seen in the VPN landscape.
But wait, there's more good news! Surfshark doesn't stop at just features—it delivers an abundance of benefits and advantages as well. Now, let's delve into the details and explore what makes Surfshark truly exceptional.
New Surfshark Nexus Technology
Surfshark has recently unveiled their groundbreaking and exclusive technology, known as Nexus. With Nexus, users can experience an innovative approach to VPN connectivity, as their traffic gets routed through an entire network of servers, rather than a single VPN tunnel. This cutting-edge technology paves the way for a host of exceptional VPN features that are truly one-of-a-kind. Get ready to unlock a whole new level of possibilities with Nexus-enabled Surfshark, where enhanced VPN capabilities await you.
IP Rotator: Enhance your online privacy with our cutting-edge IP Rotator. Experience the ultimate security as it seamlessly alters your IP address at regular intervals, making tracking you an increasingly challenging endeavor.
IP Randomizer: Elevate your browsing security with our revolutionary IP Randomizer. With each website you visit, a brand new IP address is assigned to you without any interruptions to your VPN connection. Stay one step ahead of online surveillance.
Dynamic Multihop: Take full control of your entry and exit points with our dynamic Multihop feature. Safeguard your online activities by handpicking the locations through which your data passes. Embrace the power to shape your digital footprint with ease.

Nexus brings you enhanced speed and connectivity, ensuring an improved experience for you, the user.
Numerous Servers Across Different Countries
Surfshark boasts an impressive network of over 3,200 servers spanning across 65 countries. This extensive reach allows you to tap into the most dependable and high-speed servers, all while enjoying the utmost security in your connections. As mentioned earlier, their strict no-logs policy aligns with the industry standard for VPNs. Moreover, Surfshark goes the extra mile by ensuring that all their servers support peer-to-peer sharing, catering to your diverse needs. What sets them apart is their innovative approach—every server runs on RAM, eliminating any data storage on hard drives. With Surfshark, you can experience unparalleled performance and peace of mind.
Minimal Speed Loss (~15-20%)
While the use of a VPN can potentially impact your internet speed, it's crucial to conduct a speed test before selecting a provider. At Surfshark, we put their performance to the test by measuring the speeds on three distinct servers. To provide a point of reference, our initial benchmark test recorded a download speed of 237 Mbps and an upload speed of 12 Mbps before engaging the VPN. Here's what we discovered: [rest of the paragraph will contain the specific findings/results of the speed test conducted with Surfshark on the three different servers
New York – US (Connect to Fastest Server)
Ping: 57 ms
Download: 161.18 Mbps
Upload: 9.07 Mbps
Sydney – Australia
Ping: 211 ms
Download: 150.01 Mbps
Upload: 5.44 Mbps
Paris – France (Faster Download Speeds Than "Fastest Server")
Ping: 108 ms
Download: 170.77 Mbps
Upload: 8.56 Mbps
Keep in mind that test results can vary depending on the time of day and the level of node saturation. In an effort to gauge the performance, we utilized Surfshark's "Fastest Server" Connect feature to compare against the already impressive speeds achieved on servers located in various countries.
To ensure accuracy, we reconnected to New York, and although the speeds were faster than the initial test, they fell just shy of Toronto by a mere 2 Mbps. This reaffirms the consistent and commendable performance of Surfshark across different server locations.
New York, Second Attempt – US (Connect to Fastest Server)
Ping: 17 ms
Download: 181.62 Mbps
Upload: 9.03 Mbps
Torrenting and P2P Use is Allowed
When it comes to torrenting, using a VPN is virtually indispensable to ensure your anonymity while downloading or seeding torrents. Surfshark proudly declares itself as the premier VPN solution for precisely this purpose. By employing a VPN, you can circumvent potential speed throttling imposed by your internet service provider, which often occurs based on the content you download or torrent.
Moreover, the added layer of security provided by a VPN is particularly crucial when engaging in torrenting activities, shielding you from the potential risks of downloaded malware. With Surfshark, you can torrent with confidence, safeguarding your online activities while enjoying unrestricted access to the content you desire.
Surfshark shares the same principle with other VPNs in terms of compatibility, but what sets it apart is its exceptional adaptability to all P2P clients, including popular ones like uTorrent, BitTorrent, Vuze, and more.
With Surfshark VPN, you can seamlessly connect to any torrent site of your choice, enabling unrestricted access to your favorite P2P platforms such as ThePirateBay and LimeTorrents. Say goodbye to limitations and enjoy the freedom to explore the vast world of torrents with Surfshark by your side.
Experience lightning-fast P2P speeds by connecting to Surfshark's high-performance servers located in the following countries:
United States (US) 
United Kingdom (UK) 
Canada (CA) 
Germany (DE) 
Italy (IT) 
Poland (PL) 
Spain (IS) 
Norway (NO) 
Denmark (DK) 
Luxembourg (LU) 
Hong Kong (HK) 
Singapore (SG) 
Netherlands (NL) 
Bulgaria (BG) 
Belgium (BE) 
Switzerland (CH) 
Slovakia (SK) 
Serbia (RS) 
Finland (FI)

When it comes to torrenting, Surfshark offers flexibility beyond just specific country servers. You have the option to reroute your connection to Netherlands, Canada, or the United States servers based on your actual physical location.
This means you can tailor your torrenting experience according to your preferences. Whether you're using streaming players like VLC or PopcornTime or torrent software such as BitTorrent, Vuze, or uTorrent, Surfshark's P2P connections have got you covered.
Furthermore, Surfshark goes a step further by allowing users to connect to the Tor network, ensuring a fully secure browsing experience. The Tor network, also known as "the onion router," guarantees complete anonymity for your online web traffic.
While the Tor network's security relies on volunteers, by combining Tor with Surfshark, you can enjoy the best of both worlds: the anonymity provided by Tor and the added security and reliability of a trusted VPN. Rest assured, Surfshark empowers you to embrace a truly private and protected online journey.
Near-Perfect Netflix Functionality
Great news! Enjoying Netflix with Surfshark couldn't be simpler. Surfshark is renowned as one of the top VPNs for Netflix, guaranteeing an exceptional streaming experience.
Netflix provides varied content across different countries based on your location. By utilizing a VPN in conjunction with Netflix, you gain the ability to unlock and enjoy content that would otherwise be unavailable to you. Expand your viewing options and access a world of exclusive content with the power of a VPN and Netflix.
Below, you'll find a list of Netflix platforms available on their respective servers:
Netflix UK  > UK servers
Netflix IN > India servers
Netflix IT > Italy servers
Netflix CA > Canada servers
Netflix DE > Germany servers
Netflix AU > Australia servers
Netflix FR > France servers
Netflix NL > Netherlands servers
Netflix BR > Brazil servers
Netflix in the United States> Reigns supreme over servers situated outside of the UK, Japan, India, Italy, Canada, Germany, Korea, Netherlands, Turkey, France, Australia, Brazil, or Singapore.
In general, 4 out of 5 tested US servers performed excellently. However, it's worth noting that there might be occasional challenges when connecting to Netflix in India and certain servers within the US.
Servers tested
New York – US: Yes
Los Angeles – US: Yes
Miami – US: Yes
Atlanta – US: No (proxy detected)
Chicago – US: Yes
Toronto – Canada: Yes
Madrid – Spain: Yes
New Zealand: Yes
Japan: Yes
London – UK: Yes
Mumbai – India: No (proxy detected)
Leak-Free Record
Just like with any VPN service, it's essential to ensure that Surfshark passes leak tests successfully, confirming the absence of IP, DNS, or WebRTC leaks. This step is crucial to guarantee your online privacy and security.

After conducting thorough tests using IPLeak.net, Perfect-Privacy.com, BrowserLeaks, and IPX.ac, we have compiled the following findings:
IPLeak.net Test – No Leak
Perfect-Privacy.com DNS Leak Test – No Leak
Perfect-Privacy.com IP Leak – No Leak
BrowserLeaks WebRTC Leak Test – No Leak
IPX.ac – No Leak
Perfect-Privacy.com DNS Leak Test – No Leak
Perfect-Privacy.com IP Leak – No Leak
BrowserLeaks WebRTC Leak Test – No Leak
IPX.ac – No Leak
Reliable Customer Support Offered 24/7
Live Chat, 24/7, FAQs, Tutorials

Surfshark provides an excellent customer support platform that offers comprehensive support documentation and step-by-step tutorials on utilizing their VPN and its features. Should you encounter any difficulties or have unanswered questions, their support team is readily accessible round the clock via live chat or email. Count on their reliable support to assist you whenever needed.
---
Physical Location Information: the Single Downside?
Surfshark's physical location appears to have limited available information, which can raise concerns regarding their transparency.
While they state that they operate under the jurisdiction of the British Virgin Islands, they do not specify the exact location within the region. It's worth noting that this lack of transparency is not uncommon in the industry, with companies like ExpressVPN and NordVPN following a similar approach.
Additionally, it is known that Surfshark is based in the Netherlands, indicating that they are not completely operating in stealth mode.
---
Multiple Pricing Plans Offered
Surfshark provides one of the most attractively priced packages in the market, starting at a mere $2.49 USD per month for their 24-month plan. Even if you prefer to avoid long-term commitments, they offer a 30-day money-back guarantee to ease any concerns. For those seeking a shorter-term option, Surfshark also offers 1-month and 12-month plans, although at slightly higher prices. With flexible pricing choices and budget-friendly options, Surfshark caters to a wide range of user preferences.
1 month only: $12.95 a month
12 months: $3.99 a month = $59.76 a year
24 months: $2.49 per month 
When it comes to payment methods, Surfshark understands the importance of flexibility. They provide a range of options to suit different preferences, including PayPal, Apple Pay, cryptocurrency, and Alipay. Whether you prefer traditional payment methods or the anonymity of cryptocurrencies, Surfshark ensures that you have convenient choices available to meet your needs.
Money-Back Guarantee

It appears that Surfshark is genuinely committed to ensuring customer satisfaction. They go the extra mile by offering a 30-day money-back guarantee, even on their 24-month plan, as long as you adhere to their Terms of Service. If for any reason you are not fully satisfied, all you need to do is contact their customer support team to initiate the refund process. Surfshark's dedication to making their customers happy is evident through their customer-centric approach.
Free Trial
While Surfshark may not have a traditional "free" trial, they provide a risk-free subscription option for 30 days. This means that if you are not completely satisfied during this period, you have the freedom to request a refund. Although it's not a typical free trial, Surfshark ensures that you can try their service without any financial risk, allowing you to assess its suitability and performance firsthand.
---
Conclusion
Surfshark impresses with its feature-rich offering, delivering what one would expect from a reliable VPN, all at an affordable price. It boasts fast speeds, an exceptionally user-friendly app, and robust privacy and security measures on par with industry leaders. Their customer support team proved knowledgeable, responsive, and helpful in addressing our queries.
Priced at less than $3 per month for its two-year package, Surfshark offers an unparalleled bang for your buck. I wholeheartedly endorse Surfshark VPN for individuals in search of a wallet-friendly solution to safeguard their data. Nevertheless, if you're keen on delving deeper, I'd suggest considering NordVPN as well, our esteemed frontrunner in the field.
FAQs
Is Surfshark free? 
No, it's not a problem at all. You have the opportunity to give it a try and request a refund within the first month if the product doesn't meet your expectations.
Is Surfshark safe? 
Absolutely, Surfshark is a secure VPN to utilize. By default, they employ 256-bit AES encryption and the IKEv2 protocol, ensuring robust protection for your online activities and data.
Is Surfshark worth the money?
Indeed, there are few options that can rival Surfshark within that price range. However, if you still have doubts, I recommend checking out our comprehensive NordVPN review for further insights and comparisons.
Does Surfshark work with other streaming platforms like: BBC iPlayer, Amazon Prime Video, Disney+, Hulu?
Absolutely, they take great pride in their prowess as one of the premier VPNs for streaming.
Is Surfshark good for Kodi & Amazon Fire TV stick?
Certainly, if you own a newer generation Fire TV device, Surfshark is an excellent choice for fulfilling your needs.
---
For More amazing articles related to VPN Check out our website Over Here
To Read more similar articles click here
---
Thanks for visiting our Website. If you appreciate our work, kindly show us some support in our comments section 🙂