VPN Proxy Master, a creation of Innovative Connecting Pte. Limited, a Singaporean firm, presents itself as an affordable VPN service. However, upon closer examination, this VPN falls short in several key areas. With a meager network of just 8 servers, it pales in comparison to the extensive server spreads offered by top-tier providers like ExpressVPN or NordVPN.
On a positive note, VPN Proxy Master does succeed in concealing your online whereabouts and safeguarding your information from online leaks. Yet, its drawbacks cannot be overlooked. The service lacks support for streaming on Netflix or engaging in torrenting activities, and its security and privacy features are rudimentary at best. Consequently, this VPN receives a lackluster rating of 1.5 out of 5.0. For more comprehensive evaluations of VPNs, we recommend exploring other options that have been thoroughly tested and reviewed.
Table of Contents
---
VPN Proxy Master Review – Rating Criteria
Based on my self-developed nine-step criteria, I have thoroughly evaluated this service, and here are my findings:
---
Jurisdiction – Where is VPN Proxy Master located?
The service operates within the jurisdiction of Singapore, which is a participating member of the Five Eyes intelligence alliance. However, it is worth noting that Singapore does not have specific data retention laws that might compromise your privacy.
Nevertheless, being a cooperative member of the Five Eyes alliance, Singapore may not be the most desirable location for a VPN provider.
---
Security – Is VPN Proxy Master safe to use?
VPN Proxy Master exclusively utilizes the OpenVPN protocol, which incorporates a default encryption level of 256-bit, providing military-grade security.
However, apart from this robust encryption, VPN Proxy Master lacks additional security features, making it disappointingly basic in terms of overall security offerings.
Does VPN Proxy Master keep logs?
VPN Proxy Master ensures the protection of customer privacy by abstaining from the retention of sensitive logs.
The provider explicitly states in its privacy policy that it refrains from gathering customer IP addresses, browser history, traffic data, or DNS-related information.

In terms of logging policy, VPN Proxy Master is commendable and adheres to privacy standards without any concerns.
---
Leaks – Does it leak IP, DNS, or WebRTC?
VPN Proxy Master undoubtedly prioritizes security by effectively preventing any leaks of your IP address, DNS, or WebRTC data online. Here are the results:
IP Leak Test:

VPN Proxy Master demonstrates a strong commitment to preventing IP leaks, as evidenced below: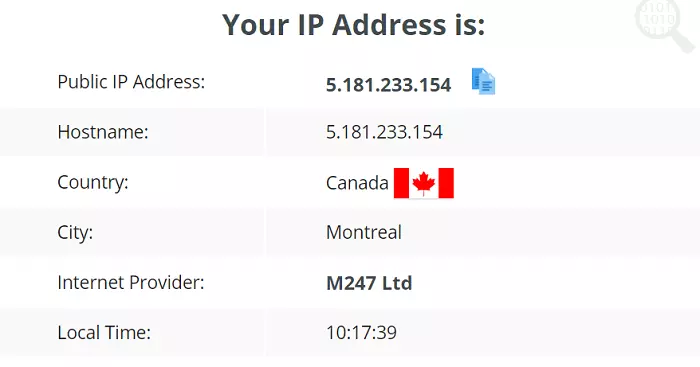 DNS Leak Test:
Likewise, the VPN successfully passed the DNS leak test, effectively concealing our actual DNS information.
WebRTC Leak Test:

During testing, the provider demonstrated a robust stance against WebRTC leaks, as it successfully prevented any information from being leaked.
---
Servers – Is VPN Proxy Master P2P compatible?
During our review of VPN Proxy Master, we discovered that the VPN offers a limited selection of only 8 servers across the same number of locations. Despite its claim of having 6000+ servers in 50+ locations, it is regrettable to note that this assertion is not accurate.

In reality, the available servers offered by VPN Proxy Master are as follows: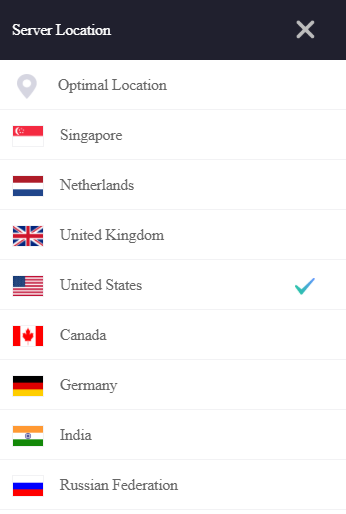 None of these VPNs are compatible with peer-to-peer (P2P) activities. Therefore, if your intention is to securely download torrents, none of these options would be suitable.
Does VPN Proxy Masterwork in China?

VPN Proxy Master is not functional in China, as it lacks the advanced technologies, such as obfuscation, required to circumvent China's Great Firewall.
Therefore, if you are seeking a VPN service for use in China, VPN Proxy Master should not be considered as a viable option.
---
Speed – How fast is VPN Proxy Master?
When it comes to speed, VPN Proxy Master exhibits significant sluggishness. To assess its performance, I conducted a speed test using a 30 Mbps connection across three distinct servers. The results are as follows:
On the US server, the provider yielded an unsatisfactory speed of only 1.93 Mbps.

Following that, I connected to the UK server and conducted the test again, only to obtain a disappointing result of 1.45 Mbps.
The performance of the Canadian server was even more subpar, registering a mere 1.38 Mbps.
As a result, VPN Proxy Master ranks among the slowest services I have encountered in terms of speed.
---
Streaming – Does VPN Proxy Master support Netflix?
Regrettably, VPN Proxy Master is not compatible with Netflix and other video-on-demand (VoD) services.
When attempting to access shows on Netflix after connecting to VPN Proxy Master's US server, the service was promptly identified and blocked.
Other VoD Services

I also put VPN Proxy Master to the test with other services like BBC iPlayer, and unfortunately, it fell short once more. When I attempted to watch Doctor Who on BBC iPlayer, access was promptly denied.
---
Compatibility – Apps and Supported Devices
VPN Proxy Master provides support for a wide range of platforms, including Windows, macOS, iOS, Android, FireTV, and a Chrome extension.
VPN Proxy Master Windows & macOS
Both the Windows and Mac applications of VPN Proxy Master share identical features and appearance. The application itself is simplistic, making it incredibly user-friendly, as there are limited options available beyond selecting a server.
VPN Proxy Master Android & iOS

The Android and iOS apps of VPN Proxy Master closely resemble the desktop applications provided by the service. From the main screen, users can conveniently select a server, and typically, the connection is established within a few seconds.
To acquire these apps, you can find them on the Play Store for Android devices and the App Store for iOS devices.
---
Pricing – How much is VPN Proxy Master?
VPN Proxy Master offers a range of pricing plans, including the most cost-effective and popular option of $3.75 per month on a 2-year plan, providing a significant 71% discount.
Additionally, there are two alternative plans available:
A one-month plan priced at $12.99 per month.
A 15-month plan available at $5.33 per month.
An advantageous aspect of this service is that it does not require any registration prior to downloading the app. However, this can also raise concerns, considering the history of privacy invasions associated with some free VPNs in the past.

---
Trustworthiness – Trustpilot Ratings, Reddit Reviews & Support
VPN Proxy Master Review has received limited feedback, with only 28 reviews on Trustpilot, and there is a notable absence of discussions on Reddit regarding this VPN provider. These indicators suggest that the provider lacks widespread recognition. The underwhelming performance and quality of the product are likely contributing factors to its relative obscurity.
Customer Support
Customer support for VPN Proxy Master is notably lacking, with virtually no presence of live chat support, FAQs on their website, or a ticket submission option. It took considerable effort, approximately 20 minutes, to locate an email address to contact their team and inquire about any concerns. The designated email for contacting them is vpnmaster@inconnecting.com.
---
Comparison between ExpressVPN & VPN Proxy Master
I have outlined the key features of both of these VPNs to assist you in making an informed decision regarding your online privacy.
Features
ExpressVPN
VPN Proxy Master
Servers
3000+ in 94 Countries
6000
Compatibility
All Devices
Windows, macOS,
Android & iOS
Jurisdiction
The British Virgin Islands
Singapore
Logging Policy
Zero logs
No logs
Customer Support
Live Chat & Email Support
Email
Trustpilot Score
4.6
3.7
Website
ExpressVPN
VPN Proxy Master
VPN Proxy Master Review By Review – itis
---
Do I Recommend VPN Proxy Master?

No, I cannot recommend VPN Proxy Master. Throughout this review, VPN Proxy Master has proven to be highly disappointing.
This VPN lacks significant redeeming qualities. It offers minimal security features, fails to bypass Netflix restrictions, operates under a jurisdiction that does not inspire confidence, demonstrates poor speeds, possesses a limited server network, and completely lacks any form of customer support.
Taking all these factors into account, I would rate VPN Proxy Master at a meager 1.5 out of 5.0 overall.
If you are interested in exploring reputable premium VPN options, I recommend referring to our comprehensive VPN reviews guide.
---
Conclusion
After conducting a thorough review of VPN Proxy Master, several crucial aspects have been examined, including jurisdiction, security, logging policy, leaks, server compatibility, performance in China, speed, streaming capabilities, compatibility with various devices, pricing, trustworthiness, customer support, and a comparison with ExpressVPN. Based on these criteria, an overall evaluation of VPN Proxy Master's reliability and suitability can be determined.
VPN Proxy Master's jurisdiction is a point of concern, and its security features are deemed basic. Fortunately, the VPN does not keep logs and performs well in IP, DNS, and WebRTC leak tests. However, its limited P2P compatibility and inability to work in China are notable drawbacks. The speed of VPN Proxy Master is underwhelming, while its streaming support for Netflix and other VoD services is unreliable.
In terms of compatibility, VPN Proxy Master offers apps for Windows, macOS, Android, and iOS, catering to a range of devices. Pricing-wise, it offers various plans, with the 2-year option being the most cost-effective. However, trustworthiness suffers due to a lack of substantial feedback on platforms such as Trustpilot and Reddit, as well as inadequate customer support.
When comparing VPN Proxy Master with ExpressVPN, it becomes apparent that VPN Proxy Master falls short in terms of performance, security, and overall quality.
Considering the comprehensive evaluation, I do not recommend VPN Proxy Master as a preferred VPN solution for users seeking a reliable, feature-rich, and trustworthy service.
---
For More amazing articles related to VPN Check out our website Over Here
To Read more similar articles click here
---
Thanks for visiting our Website. If you appreciate our work, kindly show us some support in our comments section 🙂