PureVPN, established in 2006 by its parent company GZ Systems, stands as one of the most seasoned and prominent VPN providers available today.
Starting with a modest infrastructure of just two servers, PureVPN rapidly scaled up its operations, currently proudly offering over 2,000 servers spanning across 180 diverse countries.
Their services seamlessly work with a wide range of popular devices, including:
Windows
Android
Mac
iOS
Linux
For those who prioritize optimizing their online protection, PureVPN offers a plethora of compatibility options. You can effortlessly configure PureVPN to function with various devices, such as routers, smart TVs, popular browsers like Chrome and Firefox, as well as streaming services like Roku, Amazon Fire, and Chromecast.
A notable addition is their recently introduced 'virtual router' feature designed for Windows devices. This innovative functionality empowers a Windows desktop or laptop to emulate router-like capabilities, enabling connectivity for up to 10 different devices.
In contrast to some VPN services that restrict simultaneous connections to only two, PureVPN's ability to connect to both real routers and establish virtual routers allows for a vast number of device connections—more than you would likely ever require.
PureVPN also boasts a convenient 'split-tunneling' feature, granting you the flexibility to choose how and where you direct your traffic, either through the VPN or your regular internet service provider. This empowers you to selectively split your data as needed.
While PureVPN does not offer its own TOR (The Onion Router), you have the option to utilize TOR in conjunction with PureVPN, thereby adding an additional layer of privacy and security.
To ensure unwavering privacy and anonymity, PureVPN incorporates a robust 'kill switch' feature. This fail-safe mechanism guarantees that your personal information remains protected and your privacy is never compromised.
Last but certainly not least, PureVPN includes the NAT Firewall add-on, reinforcing your security measures by effectively safeguarding against potential hacking vulnerabilities.
Table of Contents
---
Overview of PureVPN Review
| | |
| --- | --- |
| OVERALL RANK: | 53 |
| USABILITY: | Simple and easy to use |
| LOG FILES: | No Logging |
| LOCATIONS: | 140+ countries, 2000+ servers |
| SUPPORT: | Responsive Live Chat |
| TORRENTING: | Allowed |
| NETFLIX: | 2/4 Servers Worked with Netflix |
| ENCRYPTION/PROTOCOL: | 256-bit AES; OpenVPN, L2TP/IPSec, PPTP, SSTP, and even IKEv2 |
| OFFICIAL WEBSITE: | www.PureVPN.com |
PureVPN Review By Review – itis
---
PureVPN Pros
1. Supports All Major Protocols (OpenVPN, IPSec, L2TP …)

'Man-in-the-middle' (MiTM) attacks remain among the most enduring and prevalent methods employed by hackers to gain unauthorized access to sensitive information.
The disconcerting aspect is that these attacks can often go undetected, leaving victims oblivious to any wrongdoing. Unbeknownst to you, an interloper positions themselves between you and your intended connection, be it a browser or a website.
Once situated, they can surreptitiously intercept and scrutinize your emails, monitor the websites you visit, pilfer session cookies to masquerade as you on various platforms, and even obtain personal information or passwords.
Ironically, the very tools that aid in intercepting such practices, like the WiFi Pineapple, can be exploited by anyone, anywhere, including someone casually seated at your local coffee shop. Thus, indulging in browsing emails or booking a flight while leisurely sipping a latte may prove to be far less tranquil than anticipated.
This potential risk extends beyond traditional computing devices and encompasses mobile devices, apps, and even smart devices.
To combat these concerns, PureVPN offers comprehensive support for all major protocols, including OpenVPN, L2TP/IPSec, PPTP, SSTP, and even IKEv2.
While OpenVPN emerges as the optimal choice, striking a balance between security and speed, device compatibility may necessitate the use of L2TP/IPSec, or in certain specific scenarios where security vulnerabilities are less of a concern, PPTP can be considered.
2. Industry Standard 256-bit Encryption

Brute force attacks persist as an unfortunate and all-too-common practice.
In these attacks, hackers employ relentless, lightning-fast, trial-and-error combinations to eventually uncover your passwords and PIN numbers.
This technique is one of the oldest tricks in the book, aside from the simplicity of guessing your spouse's birthday or your child's name. Alarmingly, such attacks are on the rise.
To illustrate, a recent widespread assault on WordPress sites was orchestrated by a Russian company, employed by their country to launch cyber attacks—an incredulous fact that seems straight out of fiction.
In the face of such threats, the best defense is prevention. This is achieved through the implementation of 256-bit encryption, which stands as one of the most secure connections available. Its level of security is trusted and utilized by government agencies worldwide.
With this robust encryption, your tunnel becomes impenetrable, ensuring that third-party sites, Internet Service Providers (ISPs), and nefarious organizations deserving of a Bond villain status are incapable of monitoring your activities.
Furthermore, your privacy and anonymity remain intact thanks to PureVPN's 'end-to-end' connection. This safeguard extends to seamless IP switching across PureVPN's vast selection of over 80,000 options, further reinforcing your online security.
3. Some Pretty Cool Features

One aspect that truly impressed me about PureVPN is the extensive array of features and options they offer to their users.
To begin with, they provide a comprehensive set of functionalities, including a kill switch, support for all major protocols, DDoS protection, advanced port forwarding, split tunneling, and a NAT Firewall. These features grant users a wide range of possibilities to optimize and personalize their VPN experience, surpassing the capabilities of even the most esteemed VPN services.
However, it is essential to acknowledge that despite the impressive range of services in theory, some functional issues have been reported. In my personal experience, I encountered a failure with the kill switch feature. Additionally, upon exploring various forums and third-party reviews, it became evident that a significant number of customers have encountered occasional issues with some of the features offered by PureVPN. It is crucial for the company to address these concerns and refine their functionality to ensure a smoother user experience.
4. Unrestricted Torrenting

PureVPN staunchly supports and enables torrenting activities.
Why is this significant?
In light of the surge in copyright infringement lawsuits, numerous VPNs are becoming increasingly hesitant to endorse P2P servers. Many providers that still offer torrenting-friendly servers impose limitations, restricting access to only a few select options.
However, PureVPN stands apart by eliminating such restrictions entirely.
With PureVPN, you enjoy the freedom to engage in torrenting on any of their servers. Therefore, feel at liberty to proceed with your downloads without any inhibitions!
5. Quick Live Chat Support with OK responses

When entrusting your security to a VPN, it becomes paramount to have access to prompt and efficient customer support, ensuring that your queries and concerns are promptly addressed.
During our initial evaluation of PureVPN's support, we encountered dissatisfaction. Despite offering live chat functionality, the responses we received appeared to be auto-generated. However, it is worth noting that PureVPN responded positively to this feedback and made significant improvements to their customer support system. They now boast a responsive and swift live chat system that directly addresses specific questions within a minute.
To gauge their responsiveness, I initiated a simple two-question inquiry. Firstly, I inquired about the compatibility of PureVPN with the TOR network. Additionally, I sought information regarding the measures taken by PureVPN to prevent DNS leaks. The updated customer support team efficiently and directly addressed both of my questions, providing clear and satisfactory responses.

Upon reviewing the conversation above and below, it is evident that PureVPN responded promptly. However, the initial reply appeared to be a standard form response, lacking a personalized touch. The subsequent answer given also gave the impression of being a copy-paste response.
Nonetheless, it is noteworthy that once I provided further clarification and specificity regarding my questions, I received a notably improved and more tailored response.

They initially responded with a concise statement pertaining to the TOR network. However, I promptly re-clarified that I had posed a second question.
In response to my query, they provided a link that enables users to test for DNS leaks.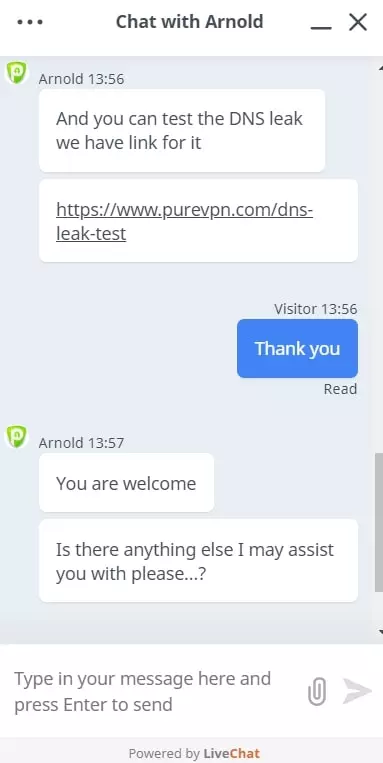 Although they did not delve into the specific details of how these issues were resolved, their response was prompt and helpful. I commend them for this noteworthy improvement, particularly when considering the previous state of their customer service.
It is evident that their customer support has made significant strides and improved by leaps and bounds.
4. 2/4 Netflix Servers Worked Properly
PureVPN proudly asserts its compatibility with Netflix, and this is actually a significant achievement.
Over the past few years, Netflix and VPNs have been engaged in a battle. Initially, users could exploit a VPN's tunneling service to access geo-blocked Netflix content from different countries. However, Netflix implemented a blocking system that effectively thwarted the majority of VPNs.
During our testing of a specific set of PureVPN servers with Netflix, we achieved an impressive 50% success rate. This outcome is remarkable considering the challenges faced in bypassing Netflix's blocking measures.
Here are the four PureVPN servers we connected to before assessing Netflix:
United States: WORKED
Canada: WORKED
United Kingdom: BLOCKED
Netherlands: NO NL SERVER

The majority of VPNs on the market struggle to provide any Netflix functionality. Therefore, the fact that we successfully accessed Netflix content on two out of the four PureVPN servers puts PureVPN in contention for our list of Netflix-friendly VPNs. This achievement stands as a significant accolade for the service.
---
PureVPN Cons
PureVPN offers an affordable service with an impressive range of features and an extensive selection of servers. However, it is crucial for potential users to consider several issues before entrusting this service with their internet security.
1. Slow Download Speed

Please note that the following Speed Test was conducted in 2019, and its accuracy may not reflect the current performance.
To ensure the accuracy of this review, I conducted a speed test using speedtest.net. Subsequently, I connected to PureVPN and repeated the tests to evaluate the impact on speed and performance.
Here are our results:
US Server (New York)
Ping: 125ms
Download: 29.41 Mbps
Upload: 29.06 Mbps
EU Server (Amsterdam)
Ping: 40ms
Download: 35.49 Mbps
Upload: 27.29 Mbps
Asia Server (Hong Kong)
Ping: 355ms
Download: 6.77 Mbps
Upload: 3.62 Mbps
UK Server (London)
Ping: 53ms
Download: 62.48 Mbps
Upload: 45.90 Mbps

Regrettably, even the fastest Amsterdam server I could find from PureVPN reached a maximum speed of only 35 Mbps out of 100 Mbps, which falls short of expectations.
This performance concern becomes even more troubling when comparing it to their top competitor, PIA, which offers servers with download speeds that exceed double the performance, all at a very similar price point.
2. No Leaks Found

When searching for a VPN, the primary and often sole reason is to ensure security.
Whether your goal is to safeguard your online activities while using public Wi-Fi or to bypass censorship laws in your country, prioritizing personal security is of utmost importance when choosing a new VPN service.
To assess PureVPN's efficacy in this regard, I conducted tests on the following websites and detected no leaks:
IPLeak.net
Perfect-Privacy.com
BrowserLeaks
IPX.ac
VirtualTotal.com
3. As of 2019 PureVPN is a Certified "No-Log" VPN

PureVPN promotes its product as a "Zero Logs" VPN, emphasizing a strong commitment to privacy.
In the past year, they underwent an audit conducted by a reputable third-party company, resulting in their certification as a "No-Log" VPN. This certification further reinforces their dedication to ensuring that no user logs or activity are stored or monitored.
---
Costs, Plans, and Payment Options

The foremost advantage of choosing PureVPN is undoubtedly its affordable pricing.
Even now, they remain one of the most cost-effective VPN options available, offering an exceptional price for customers who opt for their 1-year plan.
Let's delve into the breakdown of their pricing structure:

In addition, PureVPN offers customers the convenience of purchasing their service using a wide range of payment methods, including unconventional options like Target gift cards. Notably, they also accept untraceable cryptocurrencies as a payment option. This feature provides VPN users with the ability to make payments using an online-only form of currency that offers enhanced anonymity. This significant advantage appeals to users seeking to maintain a hidden online presence.
Apart from their affordable pricing and diverse range of payment options, PureVPN provides an added benefit of a 31-day money-back guarantee with every purchase. This guarantee ensures that customers have the freedom to try out the service and, if unsatisfied, request a refund within the specified timeframe.
---
Do I recommend PureVPN?

Regrettably, based on our review, I cannot recommend PureVPN over many of the other VPN services we have evaluated.
While PureVPN does offer an affordable service with a wide selection of servers, positive customer service experiences, and a 50% success rate with Netflix, there are alternative options that provide a more reliable and trustworthy experience.
For a high-quality product that falls within a similar price range, I recommend considering NordVPN, which has earned our recommendation (you can read the review here). If you are budget-sensitive, Surfshark is worth exploring, as it offers a competitive price of $1.99 per month.
---
Conclusion
The PureVPN review reveals a range of features and pricing options worth considering. With support for all major protocols and industry-standard 256-bit encryption, PureVPN ensures a secure browsing experience. The inclusion of cool features and unrestricted torrenting adds to its appeal. While the download speed may be a drawback, the absence of leaks and the "No-Log" certification since 2019 provide assurance of privacy.
Additionally, the availability of live chat support, though with room for improvement, contributes to customer assistance. The fact that 2 out of 4 Netflix servers worked properly is also a positive point. Overall, PureVPN presents a comprehensive package at various costs and plans, providing flexibility for users. Therefore, considering the pros and cons, I would recommend PureVPN as a viable VPN option.
---
For More amazing articles related to VPN Check out our website Over Here
To Read more similar articles click here
---
Thanks for visiting our Website. If you appreciate our work, kindly show us some support in our comments section 🙂