We've gathered here today to unveil the ultimate guide to the top 10 dress boots for men. These boots are the epitome of refined fashion, designed to elevate your ensemble to new heights of sophistication. We've got you covered whether you're seeking the perfect pair for a formal occasion or aiming to add a class to your everyday attire.
Get ready to explore a world of impeccable craftsmanship, exquisite designs, and a blend of contemporary and timeless styles. Prepare to walk confidently and leave a lasting impression as we present the finest selection of dress boots for men.
Table of Contents
These boots are the epitome of refined fashion, designed to elevate your ensemble to new heights of sophistication. We've got you covered whether you're seeking the perfect pair for a formal occasion or aiming to add a class to your everyday attire.
---
The 10 Best Dress Boots for Men

:
Thursday Boot Company Wingtip
Material: Leather
Sizes Available: 6 – 16
When it comes to finding the perfect pair of dress boots for men, you don't need to break the bank or chase after the trendiest designs. What truly matters is comfort, versatility, and finding a price tag that doesn't make you cringe. And guess what? We believe Thursday's Wingtip might just hit the mark.
Picture this: Goodyear Welt construction, shock-absorbing insoles, and a classic wingtip brogue pattern all harmoniously blending into a sturdy and handsome boot. These boots are not just meant for a specific occasion, oh no! They effortlessly elevate your style game for every occasion, except, perhaps, for tackling some serious yard work—let's leave that to the trusty dad shoes.
---
Lucchese Majestic Roper
Material: Goat Leather
Sizes Available: 7 – 15
Imagine strutting into a wedding like you own the place, rocking a pair of cowboy boots with pure confidence. And guess what? You don't need to be a pro to nail this move. All you need is the perfect pair from the right manufacturer. That's where the Majestic Roper steps in, ready to transform you into a true cowboy sensation.
Lucchese, a legendary boot manufacturer from the Lone Star State, has been crafting boots since the late 1800s. These boots have graced the feet of presidents, celebrities, and men who crave that extra touch of hidden badassery in their outfits. And guess what? That's right, partner—it's you! The Majestic Roper boasts supple goat leather and intricate stitching, blending timeless elegance with rugged versatility.
---
Shoe the Bear Dev Chelsea Boot
Material: Suede
Sizes Available: 7 – 15
The trusty Chelsea boot—a timeless blend of form and function. Whether you're on a tight budget or seeking a specific style, worry not, for there's a Chelsea boot out there for you. And if affordability is a priority, allow me to introduce you to the Dev Chelsea boot by Shoe the Bear. Handcrafted in Portugal, this boot effortlessly ticks off all the boxes of sturdy construction and comfort while exuding an undeniably handsome silhouette.
Picture this: you rocking these men's dress boots alongside a casual summer suit, exuding a laid-back elegance. Or perhaps you prefer pairing them with a pair of worn-in jeans on a crisp fall day, oozing a rugged charm. But hey, don't limit yourself to just those occasions. We're open to accepting this boot on "literally any other type of day."
---
Blundstone Chelsea Boot
Material: Leather
Sizes Available: 6 – 13
Blundstone's #1900 dress boots, here to take your winter game to the next level. Don't let their rugged appearance fool you; these boots deliver the same tough-as-nails performance you'd expect from any Blundstone Chelsea boot. But that's not all—these bad boys also boast head-turning good looks and are ready to tackle whatever your winter nights have in store for you.
Now, let's be real here. Are these the most formal winter boots you've ever laid eyes on? Probably not. But guess what? Snow is wet, and your feet have feelings too! So, cut yourself some slack and embrace the cozy comfort and reliable performance of Blundstone's #1900 dress boots. Because, in the end, your feet deserve to enjoy the winter festivities just as much as the rest of you.
---
Vionic Chase Chukkas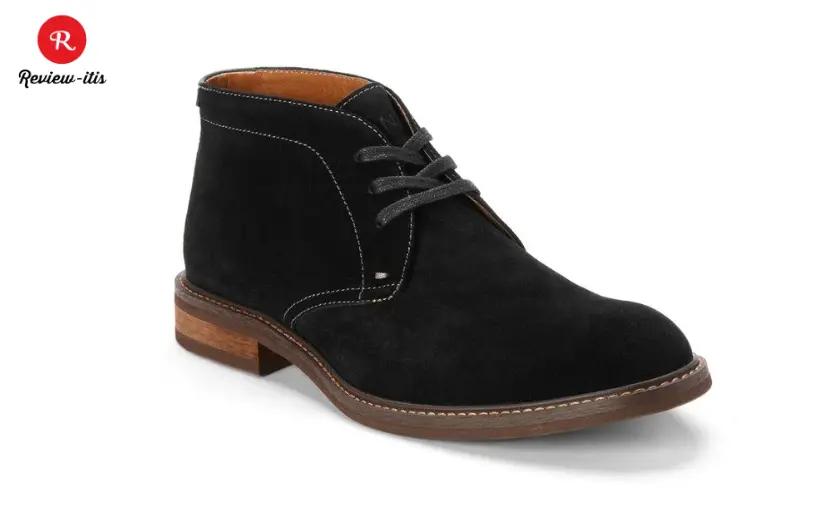 Material: Suede
Sizes Available: 7 – 11.5
The epitome of comfort in their very design. But hold on tight because these chukkas are about to take comfort to a whole new level. Brace yourself for a footbed specifically designed by a podiatrist to provide orthotic support, perfect for those who may experience foot pain. Now, before you start envisioning yourself with a cane and answering to the name Albert, let me assure you—you can be just a regular, active guy dealing with the occasional foot aggravation, like everyone else.
Here's the beauty of these cozy shoes: if you adore their look but don't necessarily require the extra support, fear not! The footbeds are removable, granting you the flexibility to customize your comfort experience. Now, let's set the scene for where these chukkas shine brightest—imagine summer evenings spent on a windswept patio illuminated by enchanting string lights. And of course, there's a glass of gin in hand, because why not? Oh, and did I mention there's definitely a date involved?
---
Johnston & Murphy Xc Flex Cody Wingtip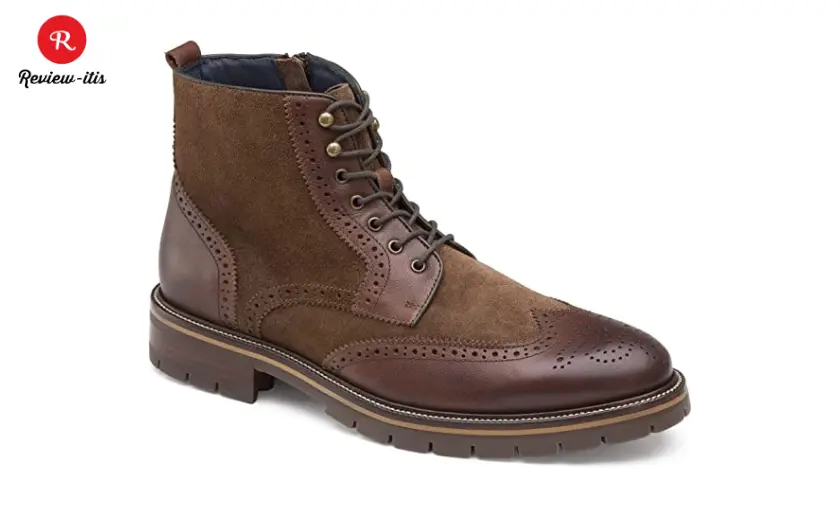 Material: Leather, Suede
Sizes Available: 8 – 13
A timeless symbol of extravagant horse track antics, high-stakes steakhouse negotiations, and clandestine world-domination schemes over a game of golf. Or so we thought. In reality, the venerable wingtip is here to be flaunted in any scenario where you crave a little peacocking action.
Let's direct our attention to Johnston & Murphy's XC Flex Cody boot, featuring an inside zipper, suede and leather construction combination, and a sheepskin lining that ensures maximum breathability. This remarkable addition to our roster of best dress boots for men strikes the perfect balance—it's formal, yet not overly formal; it's casual, yet not too laid-back. But most importantly, it's incredibly comfortable, all thanks to its memory foam insole.
---
A Day's March Chelsea Boot
Material: Leather
Sizes Available: 7 – 11
When it comes to versatility in footwear, the Chelsea boot reigns supreme. And amidst the sea of styles and colors, this black pair from A Day's March stands tall, ready to tackle any occasion you throw its way.
Feast your eyes on the beauty of Italian Mastrotto leather, just one of the many features that solidify these boots as some of the best in the dress boot realm. But that's not all—A Day's March goes above and beyond, prioritizing the environment and sparing no expense to minimize waste and leave a small ecological footprint. And let's not forget the most important detail—it'll make you look like the crown prince of Chelsea boots.
---
Wolverine 1000 Mile Plain Toe Classic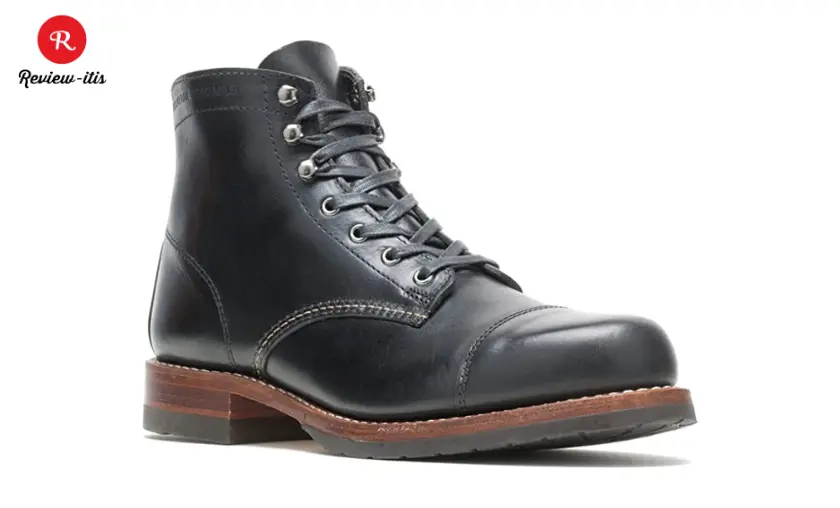 Material: Horween Leather
Sizes Available: 7 – 14
Immerse yourself in the rich tapestry of American tradition with Wolverine's 1000 Mile Classic—a true embodiment of the perfect fusion of form and function. This boot exudes a handsome and timeless silhouette, fortified by the impeccable Goodyear Welt construction and the robust leather sourced from Chicago's legendary Horween tannery. But wait, there's more to the story. To truly grasp the love and craftsmanship poured into these beauties, it's worth noting that each pair is meticulously handmade in the United States by a team of over 80 skilled shoemakers.
While these rugged dress boots can withstand the test of time and a lifetime of tilling the land, let's be real here—you'll most likely find yourself donning them for more upscale casual occasions. Picture pairing them with chinos for a refined dinner outing or slipping them on with jeans for a laid-back Sunday brewery session with your pals.
---
Beckett Simonon Elliot Balmoral Boots
Material: Leather
Sizes Available: 7 – 14
You'd easily mistake them for a regular pair of classic Oxfords. However, the row of meticulously hand-punched brogueing along the toe cap gives the Elliot Balmoral its covert and intriguing allure. And the charm doesn't stop there—up the ankle, you'll find sleek stitching adorning the calfskin leather, which hails from a renowned Italian tannery.
Now, let's talk versatility. If you're not only planning on wearing these boots with formal attire but also with jeans or chinos, then you're in for a treat. In fact, their aesthetics are so close to traditional Oxfords that it's practically a toss-up. But if you're looking for adaptability and a touch of mystery, look no further than these lace-ups from Beckett Simonon.
---
Taft Jack Boot
Material: Cotton Twill, Leather
Sizes Available: 6 – 15
If you're seeking funky, unconventional, and bohemian vibes in your footwear, my friend, Taft, has you covered. And when it comes to making a statement, the Jack Boot in the Florence colorway reigns supreme. The vibrant and colorful flower motif is designed to catch the eye without crossing the line into tackiness—especially when expertly paired with neutral trousers that partially conceal the artwork.
But let me tell you, there's more to these boots than just earning compliments (although that's certainly a delightful side-effect). Taft has engineered the Jack Boot to withstand the test of time. However, it's worth noting that these quirky specimens have a tendency to bleed in wet conditions, so I'd advise against any impromptu puddle jumping while sporting these unique kicks.
---
Conclusion
It's time to wrap up this extraordinary fashion journey, but the impact of these dress boots will continue to resonate. Each pair we've unveiled in this guide possesses its own distinctive charm and allure, offering a fusion of timeless elegance and contemporary flair. These boots are more than just footwear—they're a statement of confidence and a reflection of impeccable taste.
So, gentlemen, as you embark on your fashion endeavors, remember to embrace your individuality, take risks, and let these exceptional dress boots be your stylish companion. Let the world be your runway, and may these boots guide your every fashionable step.
---
To read more similar articles, click here.
Thanks for visiting our Website. If you appreciate our work, kindly show us some support in our comments section 🙂