TunnelBear provides its users with both free and paid VPN services, although the free version has a bandwidth limit of 500MB per month. On a positive note, their VPN software incorporates the robust OpenVPN protocol, widely recognized in the industry, along with 256-bit AES encryption for enhanced security.
Regrettably, when compared to other leading VPNs such as ExpressVPN or NordVPN, TunnelBear falls slightly short in terms of connection speed.
Nevertheless, the question remains: Is TunnelBear still a viable option amidst the multitude of VPNs available? Let's delve into this TunnelBear review to find out.
Table of Contents
---
Overview of TunnelBear Review
| | |
| --- | --- |
| OVERALL RANK: | #30 out of 78 VPNs |
| USABILITY: | 4/5 |
| LOG FILES: | No logging |
| LOCATIONS: | 8 countries |
| SUPPORT: | Ticket system |
| TORRENTING: | Allowed |
| NETFLIX: | Not working |
| ENCRYPTION/PROTOCOL: | 256-bit AES/OpenVPN, IPSec & IKEv2 |
| JURISDICTION: | Canada |
| OFFICIAL WEBSITE: | www.TunnelBear.com |
TunnelBear is a prominent VPN provider that offers both free and paid services. Established in 2011 by Ryan Dochuk (Corporate Bear) and Daniel Kaldor (Quantum Bear), TunnelBear's founders bring extensive experience from renowned organizations such as Microsoft, Goldman Sachs, RIM, and a mobile security startup, showcasing their substantial expertise in the tech industry.
Headquartered in Toronto, TunnelBear operates a vast network of over 350 VPN servers across 22 countries worldwide. These servers are strategically located in North and South America, Europe, Asia, and Australia, ensuring comprehensive coverage and reliable access for users across the globe.
---
TunnelBear Pros
1. No Logging
To begin with, TunnelBear upholds a rigorous no-logging policy, prioritizing user privacy and security. Their privacy policy is transparent and unequivocal regarding this matter:
TunnelBear unequivocally states that they do NOT collect, retain, or log the subsequent data:
IP addresses of visitors to our website
IP addresses recorded upon service connection
Comprehensive monitoring of DNS queries made during active connections
Thoroughly capturing any relevant information regarding the applications, services, or websites accessed by our users while connected to our Service
Image from: https://www.tunnelbear.com/privacy-policy
This is indeed excellent news for users who value their privacy. It signifies that TunnelBear does not engage in the sale of any user data, and in the event of law enforcement requests, they have no substantial information to provide.
However, it's important to note that TunnelBear, similar to WindScribe, is obligated to comply with Canadian law, which necessitates the surrender of any collected personal information. (Canada may not be considered an ideal jurisdiction for VPN providers in terms of privacy protection.)
In their privacy policy, TunnelBear outlines specific details such as your name, email address, operating system version, data usage statistics, and the last four digits of your credit card number.
Although they do not retain your complete credit card number, they do have the ability to access it through their PCI-compliant payment partners.
2. No Leaks Detected
TunnelBear stands out as a reliable VPN option, offering a user-friendly interface and robust encryption that ensures a leak-free experience.
By default, TunnelBear utilizes OpenVPN, coupled with the industry's most advanced and impregnable encryption standard, AES-256.
With its charming and whimsical cartoon bear, TunnelBear consistently emphasizes the protection of your browsing activity.
Thankfully, TunnelBear proved steadfast and unwavering throughout our comprehensive testing.
Don't just take our word for it—explore TunnelBear's capabilities yourself:
Furthermore, its installation software demonstrated exceptional resilience, delivering flawlessly pristine results.
3. Free Plan & Works on Multiple Devices
However, it is worth noting that the free plan offered by TunnelBear is limited to a mere 500MB of data.
Despite this limitation, the free plan allows users to explore the application and conduct their own speed tests, enabling them to assess its performance.
TunnelBear provides dedicated applications for Windows, Mac, Android, and iOS, ensuring a seamless user experience across various platforms. Additionally, there are browser extensions available for both Chrome and Opera, along with a tracker-blocking extension that complements their services or can be used independently.
4. Extremely Safe and Secure

Naturally, regardless of the affordability of a VPN, ensuring its safety is paramount.
TunnelBear employs the widely recognized industry-standard OpenVPN protocol on Windows, Mac, and Android devices, providing a secure connection for users.
By default, OpenVPN is the recommended option for TunnelBear. For recent iOS versions, IPSec/IKEv2 is utilized, while older versions rely on IPSec (although it is not the recommended choice in this case).
TunnelBear utilizes encryption methods that meet expectations for secure VPN connections.
The combination of OpenVPN and IPSec/IKEv2 protocols ensures robust 256-bit AES protection, which is on par with the encryption standards employed by the US government for data security. This level of encryption instills confidence in the reliability of the protocol.
TunnelBear also incorporates strong data authentication and secure Diffie-Hellman key exchange, guaranteeing that your connection is established with a legitimate TunnelBear server rather than being intercepted by malicious individuals.
An impressive feature offered by TunnelBear is VigilantBear, which safeguards your data during connection and disconnection processes. This acts as a kill-switch, preventing any data from being transmitted over an unsecured connection if your Wi-Fi drops or you switch access points.
In a detailed analysis conducted by Hackernoon in January 2017, TunnelBear's code was thoroughly examined for vulnerabilities, with no significant issues or surprises discovered. The inclusion of features to detect DNS and IPv6 leaks was also commended, as it enhances privacy protection.
TunnelBear has a commendable track record, with no major leaks or evidence of compromised encryption. All indications point to TunnelBear being an extremely secure VPN service.
It is worth mentioning that the Diffie-Hellman key exchange method may have certain flaws. While the desktop, Android, and iOS 9+ versions of TunnelBear employ 2,048-bit DH groups, which are considered secure, older versions of iOS use a 1,024-bit DH group. There is a possibility that well-resourced attackers at the nation-state level could potentially exploit this key exchange vulnerability.
5. Nice Features
TunnelBear brings forth an impressive array of exceptional features, including:
Kill-Switch (VigilantBear)
Anonymous IP
5 Simultaneous Connections

The issue of certain websites blocking VPN traffic can be frustrating, resulting in an ongoing battle between VPN providers and these websites to gain an upper hand.
To address this challenge, TunnelBear offers the GhostBear feature, which strives to conceal the fact that you are using a VPN. While this can successfully deceive some businesses and governments, it may not bypass all restrictions.
If you encounter difficulties accessing a specific website through the standard TunnelBear connection, it is advisable to consider using GhostBear. However, it's worth noting that enabling GhostBear to hide your VPN usage may slightly slow down your connection. Therefore, it is not recommended to keep it activated at all times.
6. Easy to Use
TunnelBear's primary objective revolves around simplifying VPN usage for all individuals.
In my assessment, they have undeniably accomplished this goal. The application is exceptionally straightforward and user-friendly. While it may not offer an extensive array of advanced settings found in premium VPNs, it serves as an ideal choice for those new to encrypted browsing, streamlining the entire process and making it more accessible.
By default, TunnelBear presents only essential information, displaying your current location, the tunnel being utilized, and the apparent browsing location.
While there are additional settings available, you need not delve into them if you prefer a hassle-free experience. The interface maintains a simplistic and uncluttered design, allowing you to appreciate its clean and straightforward nature.
This simplicity extends to the browser extensions as well. Simply activate them and let them run in the background. It couldn't be easier than this.
7. Independently Audited for Security

In recent years, certain VPN providers have faced significant negative publicity, with issues such as selling bandwidth, data logging, and exaggerated security claims undermining trust in the industry. To combat this, TunnelBear has taken a unique approach by subjecting their VPN service to independent security audits.
This practice is relatively rare within the industry, and it demonstrates TunnelBear's willingness to embrace transparency and accountability. The results of these audits have been made available for public viewing online, fostering trust and confidence among users.
TunnelBear proudly asserts that they are the first and only VPN service worldwide to offer such audits, and in my experience, I have not encountered any other VPN provider that offers this level of transparency. However, it's important to note that the last audit period was in July 2017, and the company has yet to provide an updated audit report.
8. Allows Torrenting & TOR

Previously, TunnelBear had strict restrictions on torrenting services. However, it appears that their stance has undergone significant changes in recent times.
While the official TunnelBear website does not provide extensive information regarding torrenting services, I obtained clarification from a TunnelBear representative through their customer service department.
During a conversation with a representative, it was confirmed that TunnelBear has made significant strides by allowing both torrenting and the use of the TOR network. This progressive shift marks a substantial departure from their previous stance, where P2P file sharing was strictly prohibited. It's truly gratifying to observe TunnelBear adapt to the evolving demands of users and wholeheartedly embrace this crucial service sought after by many VPN enthusiasts.
TOR, short for The Onion Router, is a private and encrypted web browser. Some users prefer to combine a VPN with TOR to enhance their anonymity. It's worth noting that some VPNs completely disallow the use of TOR, but TunnelBear permits its usage. However, the representative cautioned that using TOR may result in significantly reduced connection speeds.
9. Responsive & Thorough Customer Support
Another aspect of TunnelBear's service that didn't initially meet our expectations was their ticket-based customer support system.
Regrettably, TunnelBear has yet to introduce live chat support. As a result, we assess their ticket system based on two key factors:
Response time: How long will it take for them to get back to me?
Quality of response: Will they provide a comprehensive and satisfactory answer to my query?
I must say that I was genuinely impressed by both of these aspects. TunnelBear's renewed commitment to customer support has elevated their standing among the various ticketed support systems we have tested, making it one of my personal favorites.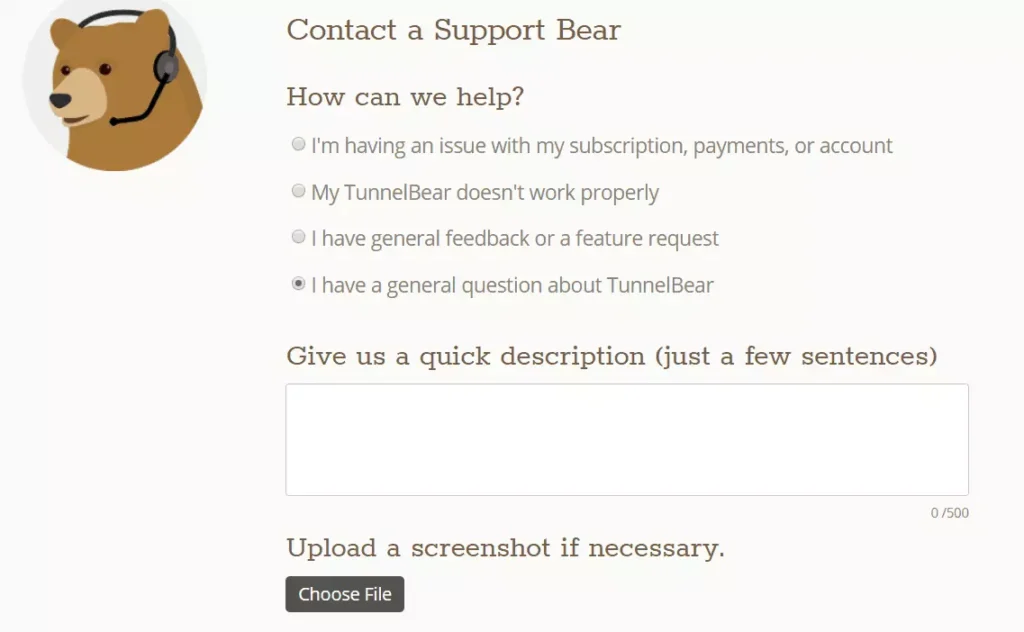 Let's start by acknowledging the delightful cartoon bear sporting a cute little headset! Take a moment to appreciate its charm.
Did you enjoy that pun? Well, get ready for more, because TunnelBear's customer service department is filled with them.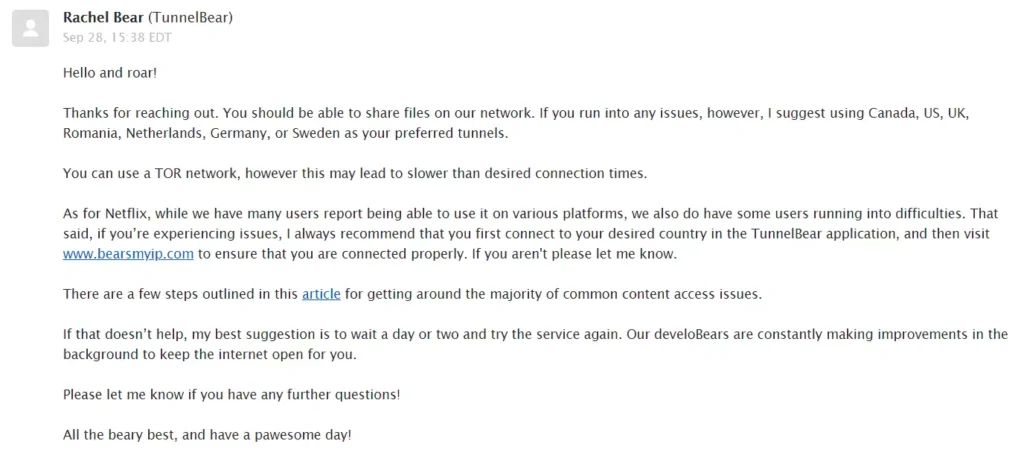 I reached out to inquire about torrenting, file sharing, TOR, and Netflix, and I must highlight the time it took to receive a response before delving into its content (and the delightful puns within).
Initially, a generic timeframe of 48 hours was given, and I anticipated a less-than-ideal experience. However, to my surprise, I received a response within just two hours—remarkably swift for ticket-based support!
Now, let's discuss the response itself. It was comprehensive, infused with personality, and included helpful links to assist me further. From a customer service standpoint, I couldn't have asked for more, except perhaps the addition of live chat support.
But let's appreciate the progress being made—baby-bear steps, if you will. Being told to have a "pawsome" day is guaranteed to bring a smile to your face.
---
TunnelBear Cons
1. Speed Problems (Slow)

TunnelBear had been performing admirably until it came time to evaluate their server speeds.
While certain users have reported satisfactory download speeds, our test revealed a significant decrease in performance. When connected to the EU servers, my 100 Mbps connection dropped down to 52.26 Mbps.
This drop in speed is quite substantial.
Here are a few of the results obtained during the test, using a 100 Mbps connection:
US Server (New York)
Ping: 120ms
Download: 33.38 Mbps
Upload: 15.04 Mbps
EU Server (Amsterdam)
Ping: 39ms
Download: 52.26 Mbps
Upload: 27.20 Mbps
Asia Server (Hong Kong)
Ping: 345ms
Download: 7.54 Mbps
Upload: 2.63 Mbps
UK Server (London)
Ping: 44ms
Download: 50.10 Mbps
Upload: 48.36 Mbps

It's important to anticipate some speed reduction when using a VPN. However, the drop observed in TunnelBear's case is considerable and can have a noticeable impact on your browsing experience.
While TunnelBear's speed performance is not the worst we've encountered, it falls behind when compared to more dependable VPN providers we have reviewed, such as NordVPN and ExpressVPN.
2. No Netflix

Regrettably, Netflix continues to enhance its ability to detect and block VPN services.
Numerous prominent VPN providers, including PIA (Private Internet Access), have been effectively blocked by Netflix, even with their extensive server networks spanning various locations worldwide.
Although TunnelBear's support team mentioned that some users have achieved success in bypassing Netflix's restrictions, none of the servers we tested were able to function properly for this purpose.
If your primary requirement is a VPN that can reliably unblock Netflix's geo-restrictions, we recommend referring to a list of top VPNs known to be 100% effective in this regard.
3. No Router Installation

Unfortunately, TunnelBear does not offer support for directly installing its VPN software on your router. If this was not a consideration for you, it may not be a significant concern. However, if you were specifically interested in utilizing a VPN in this manner to enhance protection and convenience, you will need to explore alternative providers that cater to this requirement.
---
TunnelBear Pricing, Plans, & Facts

TunnelBear's pricing and plans mirror the simplicity and user-friendliness of their app.


Having a free option at your disposal to explore the app and service is undeniably advantageous. It's important to bear in mind, though, that the free version comes with a restricted bandwidth allowance of 500 MB per month.
The first paid plan, Unlimited, offers unlimited data for a monthly cost of $3.33.
For teams of two people, the Team plan is available at a monthly rate of $5.75, providing unlimited VPN service.
Each plan allows protection for up to five devices, making TunnelBear a suitable choice for covering your entire family's needs.
In terms of pricing, TunnelBear is relatively affordable. However, there are a few alternatives like the current deal from NordVPN that offer even better value.
It's important to mention that TunnelBear does not offer any refunds or money-back guarantees. Instead, they encourage users to utilize their free version, so it's crucial to make an informed decision before upgrading to a paid plan.
No logging: Yes.
Ease of the VPN software: Their app is quite simple and straight-forward.
Hidden fees & clauses: No refunds.
Upsells: No upsells..
Instant access after payment: Yes.
DNS leaks: None.
Jurisdiction: Canada
Tunneling Protocols: OpenVPN, IPSec, and IKEv2
Yes Kill-switch: Yes.

When it comes to payment options, TunnelBear offers several convenient methods. You can make payments using major credit cards such as Visa, Mastercard, and American Express. Additionally, they accept popular payment platforms like PayPal. For those who prefer alternative payment methods, TunnelBear also supports Bitcoin, a form of digital cryptocurrency known for its enhanced privacy features.
As for the mention of accepting jars of honey, it appears to be a playful remark, likely intended as a humorous anecdote.
---
Do We Recommend TunnelBear VPN?

Is TunnelBear worth using? Well, it depends on your specific VPN needs.
If you're seeking a VPN that prioritizes simplicity and user-friendliness, without overwhelming you with complex options and interfaces, then TunnelBear is an excellent choice. While you might experience some decrease in speed, there's no denying that it provides easy-to-use functionality and reliable security.
However, if you require more advanced features or faster speeds, it would be advisable to explore other VPN options. It's worth noting that TunnelBear has made significant improvements in areas such as customer service and support for torrenting, addressing previous concerns.
Nevertheless, due to its somewhat lackluster speed performance, I cannot wholeheartedly recommend TunnelBear as a one-size-fits-all solution for everyone.
If you're looking for a more comprehensive VPN experience, consider investing in NordVPN, which offers competitive pricing at $3.49/month.
---
Conclusion
After conducting a thorough review of TunnelBear VPN, it is evident that the service offers several commendable features and advantages. With its strict no-logging policy and the absence of any leaks detected, TunnelBear prioritizes user privacy and security. The availability of a free plan that works across multiple devices makes it accessible to a wide range of users. The service is highly regarded for its safety measures, user-friendly interface, and independent security audits. Additionally, TunnelBear allows torrenting and TOR, while maintaining responsive and thorough customer support.
However, it is important to note some limitations of TunnelBear. Users may experience speed problems, as the service can be slow at times. Furthermore, TunnelBear does not support Netflix streaming and does not provide router installation options.
Considering the general information, pros, and cons, as well as the pricing, plans, and facts, it is clear that TunnelBear VPN is a reliable and secure option for those seeking privacy and security in their online activities. While it may have certain limitations, the strengths of TunnelBear outweigh its drawbacks. Thus, we recommend TunnelBear VPN as a suitable choice for users looking for a user-friendly and trustworthy VPN service.
---
For More amazing articles related to VPN Check out our website Over Here
To Read more similar articles click here
---
Thanks for visiting our Website. If you appreciate our work, kindly show us some support in our comments section 🙂