Hey everyone, Today we will dive into a detailed HostMetro Review, a specialist in shared hosting since 2012.
Here's something impressive: they're one of the only web hosts with a 'guaranteed price lock.' Your pricing won't skyrocket by 200% when it's time to renew.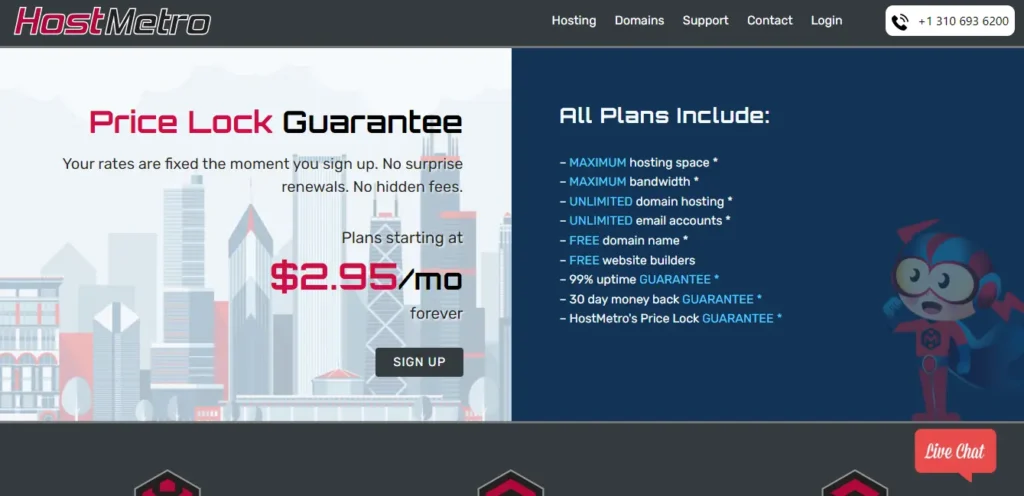 And that's not all! HostMetro proudly boasts a 99.9% uptime, making it an attractive choice for budget-conscious customers.
But hold on a second, are these claims too good to be true?
We rolled up our sleeves and set up a basic WordPress website on the HostMetro Mega Max Plan to find out. We monitored and analyzed their performance over an extended period, compiling important results, including uptime and speed.
And now, my friends, it's time to present you with this unbiased review. Let's get started and uncover the truth about HostMetro!
---
Table of Contents
---
General Info & Hosting Overview
| | |
| --- | --- |
| Our Rating: | Our Verdict: 3.0 ★★★ |
| SPEED: | 823 ms  |
| UPTIME: | 99.99%  |
| SUPPORT: | 24/7 Live Chat, Phone, Email, Knowledge Base |
| APPS: | WordPress, Joomla, Weebly, Drupal, phpBB, etc. |
| FEATURES: | Get ready for a powerhouse of features, my friends! With HostMetro, you'll enjoy unlimited bandwidth, storage, websites, and email accounts. And that's not all—brace yourself for their website builder, Softaculous 1-click installs, Let's Encrypt SSL certificate, and much more. |
| HOSTING PLANS: | Shared Plan |
| SITE TRANSFER: | Free (within 30 days of account creation) |
| PRICING: | Starting at $2.95/month (no higher renewal fees) |
---
Pros of Using HostMetro Hosting
Ladies and gentlemen, let's talk about the impressive perks that HostMetro brings to the table. First and foremost, their price lock guarantee is a winner in our book. And let's remember their improved uptime, music to our ears.
But wait, there's more! What else does HostMetro have in store for us?
Well, friends, look closely and uncover all the juicy details.
---
1. Decent Customer Support
When it comes to customer support, HostMetro goes above and beyond. They offer round-the-clock assistance with their 24/7 live chat, email support, and comprehensive knowledge base. And guess what? They even have weekly phone support from 8 am to 8 pm (CST).
But let's get to the juicy part—we tested their live chat, and boy, were we impressed! Our experience with HostMetro's customer support started on the right foot. The agent connected promptly and answered all our questions promptly and satisfactorily.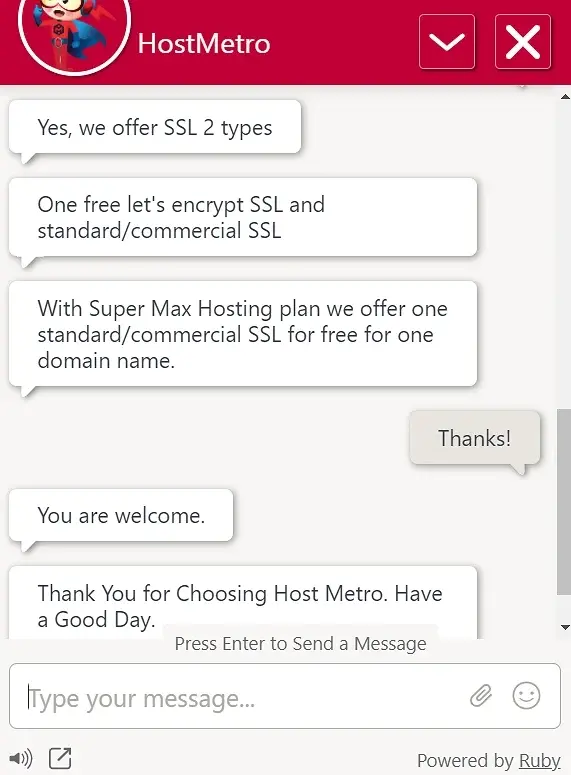 Now, here's an important point to consider. Before you embark on your live chat journey with HostMetro, they require your personal information. This includes your name, email address, and primary domain name. It's essential to ensure you're comfortable sharing this information before proceeding with the chat.
---
2. Price Lock Guarantee
Folks, let's talk about something that often leaves us feeling frustrated. Most hosting providers lure you in with unbelievably low rates during your initial sign-up. But when it's time to renew, brace yourself for a shocker—the low rate vanishes, and your price can skyrocket overnight.
But hold on! HostMetro breaks free from this trend and offers something remarkable. They guarantee your initial registration rate, even for future renewals.
That's a tremendous deal, providing a massive price advantage for those planning to stick with them long-term.
For the best month-to-month hosting experience, my recommendation is Dreamhost.
---
3. Free Website Transfer (With Limitations)
Great news, folks! HostMetro offers a complimentary website migration service to transfer your existing site to their servers—free.
However, as with any offer, there's a catch.
The free migration service applies only if your site is at most 3 GB in size.
Additionally, it's important to note that the site migration must be requested within 30 days of creating your HostMetro account.
Now, what if your site doesn't fit within these guidelines?
Not to worry, my friends. HostMetro has got you covered with their premium site transfer option. However, remember that this service comes with a one-time fee of $29.99, which is non-refundable.
---
4. 99% Uptime Guarantee
Prepare yourself for a rollercoaster, my friends, as we delve into most hosting providers' dreaded Terms of Service page.
It's where optimism often takes its final breath and questionable policies rear their ugly heads.
But fear not! Occasionally, you stumble upon something that renews your faith in certain companies.
Deep within HostMetro's Terms lies their Uptime Guarantee policy—a beacon of positivity.
Here's the deal: if their annual uptime average falls below 99%, they'll credit your account with a free month of hosting. While this uptime mark may be slightly lower than we've seen with other hosts, it's still an impressive policy demonstrating their commitment to standing behind their service.
Of course, there are a few standard exceptions, which are common in the industry. Extraordinary events like natural disasters or major hacks won't be factored into the average uptime calculation. It's essential to keep these factors in mind.
Stay vigilant, my friends, and let's navigate the twists and turns of the hosting world together.
---
5. 30-Day Money-Back Guarantee
Here's the scoop, my friends: if you are dissatisfied within the first 30 days of being a new HostMetro customer, you can request a full refund. That's something to celebrate!
However, there are a few factors to consider that can impact the amount of your refund.
First off, refunds only apply to hosting plans. So, unfortunately, other add-ons like backup services or domain names are non-refundable.
But here's the silver lining: if you paid for a domain name, you can transfer it to another host. That way, you will get that investment.
On the flip side, if HostMetro provides you with a free domain name, they may deduct the standard cost of the domain from your refund balance. Additionally, they can also subtract the cost of any free SSL certificates. It's crucial to double-check the details of your plan when it comes to these seemingly 'free' extras because they could come back to haunt you when it's time to request a refund.
Stay informed, my friends, and be aware of these considerations to ensure a smooth refund process.
---
6. Unlimited Features Included With Their Cheapest Plan
Hold on to your hats, folks, because HostMetro brings unlimited goodness even with its most affordable plan.
Here's the scoop: you'll enjoy unlimited websites, email accounts, and FTP accounts. Talk about flexibility.
Now, when it comes to bandwidth and storage, there is a quota for maximum hosting space. However, HostMetro says 95% of their customers will never reach this limit. Impressive, right? But in the rare event, you get the quota, fear not. Just reach out to their customer support, and they'll graciously increase it for you, completely free of charge, as long as you're within their terms.
Now, let's take a moment to appreciate this fact: while many other hosts in the market like to restrict their cheapest plans, HostMetro breaks free from that mold. We're thrilled that they prioritize providing unlimited features without unnecessary limitations.
It's time to spread your wings and unleash your online potential with HostMetro.
---
7. Easy-to-Use Control Panel and Dashboard
Navigating around HostMetro's backend is a breeze, my friends. It's a familiar sight that you'll encounter with many other hosts on the market. Once you're in, you'll easily access your domains, billing information, and other essential services. Plus, you'll find useful usage statistics right on the main page. And guess what? The control panel login is conveniently located under "Actions" on the left side of the client area. Get ready to take control of your hosting experience.
My friend, HostMetro, has covered you with the traditional cPanel as their control panel. It's a user-friendly interface where you'll find everything you need for seamless website hosting without any difficulty. And to make your experience even smoother, they've included a handy search bar. It's time to navigate quickly and unleash your hosting journey's power.
---
Cons of Using HostMetro Hosting
Now, folks, let's dive into the nitty-gritty of HostMetro's offerings. While there are undoubtedly several aspects to appreciate, it's only fair to address the downsides of their services.
A concerning issue is first up on the list: a slow response time.
---
1. Too Average Speed
Hold on tight, my friends, as we unveil the page loading times of HostMetro over the past 6 months. Brace yourselves because it clocks in at a rather lengthy 823 ms.
Prepare for a jaw-dropping revelation, my friends: HostMetro lags behind A2 Hosting, coming in at a sluggish three times slower speed.
Now, here's where things get interesting. When you consider that a mere one-second delay can lead to a significant 7% drop in conversions, it becomes clear that HostMetro's slower speed could end up costing you more in lost sales than what you're paying for their service.
But wait, there's a glimmer of hope! HostMetro has shown a slight improvement in its speed data. However, despite this progress, they must be more balanced and stable to earn a coveted spot in our pros section.
---
2. Poor Uptime
HostMetro's average uptime over the past 6 months was 98.23%, unfortunately falling among the worst uptimes we've encountered, with three days of downtime and 34 outages.
Last 6-month average uptime:
August 2022: 99.47%
July 2022: 97.94%
June 2022: 96.92%
May 2022: 99.94%
April 2022: 99.97%
March 2022: 99.89%
---
3. Backups Are Not Free
ow, my friends, let's talk about the vital topic of backups because we all know that issues can rear their ugly heads occasionally. Most hosts offer some form of backup service, free or paid.
According to HostMetro's Terms, they graciously provide "free backup services as a courtesy."
Sounds great. Having regular backups at your disposal can save you many headaches if your site falls victim to hacking.
However, my friends, there are three significant hiccups with this claim:
This backup service only runs once a month, which is different from the ideal daily or weekly backups you should aim for.
They will only back up 1 GB of data. That's not a very generous allowance, and you'll likely exceed it at some point.
And here's the worst part: if you need to restore a backup, it will cost you a whopping $39.95.
Now, my friends, if you desire weekly backups for your sites, you'll need to shell out $19.95 annually unless you opt for their Super Max Plan, which includes free weekly backups.
---
4. Only Shared Hosting
Let's dive into HostMetro's hosting offerings, but brace yourselves for a limited selection. They solely provide two shared hosting plans, with no VPS, cloud, or dedicated hosting options in sight, making it challenging to scale your infrastructure if you outgrow their offerings, potentially leading to a future migration to another web hosting company.
---
5. Restrictive Free Domain Offer
Here's the scoop, my friends: HostMetro throws in a free domain name for you when you sign up, but there's a catch—you must use their "free domain" coupon code to unlock this perk.
However, when renewing your domain name or purchasing additional ones, be prepared to shell out $14.49 each time, which is pricier than what you'll find at many other reputable domain name registrars.
---
6. Short-Term Plans are More Expensive
Listen up, my friends, because HostMetro has a pricing strategy you need to know. They advertise a tempting $2.95/month rate, but here's the catch—you'll have to commit to a hefty three-year term to lock in that price.
Hold on because there's more: They don't offer plans shorter than a year; even the one-year option will cost you $4.95/month. However, if you're up for a biennial commitment, you can snag a slightly lower monthly rate of $3.95.
---
HostMetro Review Pricing, Hosting Plans & Quick Facts
Let's talk about HostMetro's bread and butter: shared hosting. Here's a rapid rundown of their shared hosting plans, my friends:
Mega Max Plan
Super Max Plan
Pricing
$2.95/month
$6.95/month
Websites
Unlimited
Unlimited
Bandwidth
Unmetered
Unmetered
Storage
Unmetered
Unmetered
Email Accounts
Unlimited
Unlimited
Other Features
–
• Free SSL and SiteLock Security
• Anytime Backups Included
---
Quick Facts
Free Domain: Yes (for the 1st year)
Ease of Sign-up: The sign-up process could be smoother, my friends. It's on the difficult side.
Payment Methods: You can pay with Credit Card or PayPal.
Money-Back: Fear not; they offer a 30-day money-back guarantee.
Hidden Fees and Clauses: Watch out, my friends. Free site migration and backups have their limitations.
Upsells: Brace yourself for a few upsells along the way.
Account Activation: Be prepared, as activation can take a while. But if you're in a hurry, you can speed things up with a $5 fee.
Control Panel and Dashboard Experience: Fear not, my friends, for they use the trusted cPanel for all your control panel needs.
Installation of Apps and CMSs (WordPress, Joomla, etc.): No worries, my friends, for they offer an easy 1-click install of popular apps and CMSs through Softaculous.
---
Do We Recommend HostMetro?
Yes and no, my friends.
HostMetro's customer service is decent, I must admit.
Their price lock guarantee is pretty cool, giving you peace of mind.
But alas, HostMetro suffers from slow loading times and unreliable uptime. This can seriously impact your user experience, search engine rankings, conversions, and, ultimately, your income.
Many web hosts offer faster page loading times, more stable uptime, and better features for the same (or less) cost. Please don't settle for less, my friends.
---
FAQs
Can I get my money back if I'm not satisfied with HostMetro?
Absolutely! HostMetro offers a generous 30-day money-back guarantee, allowing you to request a full refund within the first month if you're unhappy with their services.
What payment options are available with HostMetro?
HostMetro makes it easy to pay for its services by accepting major credit cards and secure PayPal payments, ensuring a hassle-free checkout experience.
Can I transfer my existing website to HostMetro's servers?
HostMetro provides free website migration services, allowing you to seamlessly transfer your current website to its hosting platform. Remember the size limitations and ensure you make the migration request within 30 days of creating your account.
Which control panel does HostMetro use for account management?
HostMetro uses the popular and user-friendly cPanel control panel, empowering you with easy access to manage your hosting account, domains, and other essential features.
Does HostMetro offer regular backups for websites?
HostMetro does offer free backup services as a courtesy. However, it's important to note that these backups are performed once a month and have a size limit of 1 GB. Restoring a backup incurs a fee of $39.95. For more frequent backups, you can upgrade to weekly backups by paying an additional annual fee of $19.95.
---
Thanks for visiting our Website. If you appreciate our work, kindly show us some support in our comments section.
Did you have some experience in any of these hosting companies? If so, please leave a review, positive or negative, below.
To read more similar articles, Click here.