ScalaHosting may not be a household name in the industry, but it certainly deserves recognition for putting some hosting providers to shame. With its powerful managed VPS hosting that comes at a price comparable to shared hosting (well, almost), ScalaHosting has caught my attention. In this Scala Hosting review, I decided to take the plunge and test their service to determine if it can outperform the commonly known shared hosting options.
In theory, everything sounds fantastic. After all, VPS hosting is renowned for its high performance and robust capabilities. If you can get these benefits at an affordable price and with a user-friendly control panel, why not seize the opportunity?
Today, I'll be examining exactly that. I purchased a plan and subjected ScalaHosting to a battery of tests. I delved into pricing and security, explored the ease of use, monitored speed, and even put their customer support to the test.
So, does ScalaHosting offer a game-changing deal, or should it keep its servers to itself?
But fret not; I understand that reading through the extensive 4,000-word review may only be feasible for some. If you're pressed for time, here's your chance to jump straight to the verdict.
---
Table of Contents
---
General Info & Hosting Overview:
| | |
| --- | --- |
| ⭐ Rating: | 4.2 ★★★★☆ |
| 💲 Price: | Prices start at $29.95/month |
| ▶️ Uptime: | 100% |
| 🏘️ Hosting types: | Managed VPS, shared, self-managed VPS |
| 🌎 Server locations: | US and Europe |
| 👨‍💻 Support: | 24/7 live chat, email, tickets, and phone |
---
Pros & Cons Of Scala Hosting
Pros
Cons
VPS hosting is easy to use.
Customer support is knowledgeable and fast.
100% uptime result.
A straightforward control panel is included.
Steep price increase upon renewal.
Some UX choices in interfaces could be improved.
---
ScalaHosting pricing
ScalaHosting offers reasonably affordable hosting services, with shared hosting plans starting at just $5.95 monthly. Moreover, their managed VPS, their most popular solution, is competitively priced and considered one of the cheapest options. For more advanced users, ScalaHosting also offers unmanaged VPS hosting.
| | |
| --- | --- |
| Hosting Type | Best for |
| Managed VPS Hosting | Excellent performance with the same ease of use of shared plans. |
| Shared Hosting | Small websites and users that need ease of use. |
| Reseller Hosting | Agencies or freelance web designers looking to sell their services. |
| Unmanaged VPS Hosting | Complete server control for advanced projects. |
Regarding hosting recommendations, ScalaHosting primarily suggests its managed VPS services, and it's a logical choice. While their shared hosting service may have a higher price tag, the Managed VPS plans offer significantly more power. The best part? It's just as user-friendly, making it accessible even for beginners.
In today's discussion, I'll be focusing on the Managed VPS option because, quite frankly, it offers the best bang for your buck among all ScalaHosting services.
You'll enjoy many impressive features with any Managed VPS plan you choose. These include a free domain, unmetered bandwidth, SSL certificates, daily backups, and a convenient control panel called SPanel. Additionally, you have the flexibility to configure your server to meet your specific needs, and you can select from three server locations: New York (US), Dallas (US), and Europe. ScalaHosting truly knows how to deliver a comprehensive package with its Managed VPS offering.
| | | |
| --- | --- | --- |
| Plan | Features | Price |
| Start plan | 2 CPU Cores, 4GB RAM, and 50GB SSD. | $29.95/mo |
| Advanced plan | 3 CPU Cores, 6GB RAM, and 80GB SSD. | $63.95/mo |
| Business plan | 5 CPU Cores, 10GB RAM, and 160GB SSD. | $121.95/mo |
| Enterprise plan | 9 CPU Cores, 18GB RAM, and 320GB SSD. | $179.95/mo |
If you're launching your first website or have been using shared hosting thus far, start with the minor plan available and upgrade as your needs grow. By opting for a dedicated account with ScalaHosting, you'll have all the resources exclusively allocated to your website, resulting in enhanced performance and reliability.
On the other hand, if you prefer a different approach, ScalaHosting also offers the option to resell DigitalOcean and AWS hosting services. This alternative provides comparable server resources, advanced features, simplicity, and a broader range of server location choices.
Best Value
If you're looking for the most affordable option, select the smallest package of Managed VPS hosting and opt for a 1-year term. This plan starts at $29.95 per month, allowing you to enjoy the benefits of Managed VPS hosting at a budget-friendly price.
When it comes to pricing, ScalaHosting falls within the average range for both initial and renewal rates. However, what sets them apart is the value you receive in return. With complete server management and a complimentary domain, the overall worth of their hosting services increases significantly.
It's important to note that ScalaHosting offers a 30-day money-back guarantee for new clients, allowing you to receive a full refund if you're not satisfied. However, it's worth mentioning that certain purchases, such as renewals, transfers, or domain registrations, may not be eligible for a refund.
Taking everything into consideration, ScalaHosting's pricing can be considered average compared to other managed VPS hosting providers. The higher renewal rates are indeed a drawback. Nevertheless, there is a market for plans like this, especially for less technically inclined users prioritizing reliable performance.
---
Hosting management – is it easy to use?
When it comes to ScalaHosting's managed VPS plans, they provide a control panel that simplifies the management of your VPS. The provider takes care of the backend, ensuring a user experience as easy to navigate as your typical shared hosting account. However, there is room for improvement, as only some actions within the control panel are 100% intuitive.
After creating your account, you'll gain access to the main management area, where all of your services and domains are conveniently listed. Within this area, you can effortlessly reach out to their support team and manage your billing details.
While ScalaHosting's control panel interface is generally acceptable, a few aspects need to be more accurate. For instance, you would be mistaken if you assumed that clicking on the SPanel logo next to the cloud VPS service would take you to the control panel. Unfortunately, the logo is merely decorative and not clickable.
To access the actual control panel, you'll need to select the blue "Manage" button and then click on "Manage Service" in the drop-down list.
Speaking of the control panel navigation…
---
What does ScalaHosting control panel look like?
Scala Hosting utilizes its custom-designed control panel called SPanel for hosting management. The great news is that SPanel resembles cPanel, so if you're familiar with cPanel, you will feel safe. However, it's important to note that the login details for SPanel are separate from your other account credentials. Rest assured, upon purchasing a plan, Scala Hosting will promptly send you the login details for SPanel via email.
Conversely, setting up a VPS server differs slightly from shared hosting.
You're granted immediate access to your hosting management area with shared hosting. However, with VPS, the initial interface you encounter is the server management interface.
Within this interface, you can monitor the server's usage and perform restarts when necessary.
Nevertheless, it's important to note that this interface doesn't provide options for managing website-related tasks, such as WordPress installations. To handle those aspects, you must create an account for your website within this server management interface. Click on "Create an Account" to initiate the process.
Within this section, you must input your domain name, choose an account name, and allocate storage and other resource limits.
This process mirrors how shared hosting operates—each user receives a designated portion of the server's resources. However, with VPS hosting, the entire server instance belongs solely to you, granting you complete control over all the help. This level of control even allows you to venture into the realm of reseller business, offering VPS resources in smaller portions to others.
Regardless of your specific setup, if you wish to access the regular control panel, navigate to the "List Accounts" section and select "Login" from the drop-down list of available actions.
At long last, we've arrived at the real deal—the control panel for your website. And here it is, presenting the sleek and user-friendly SPanel interface:
When it comes to the user interface, SPanel shares a striking resemblance to cPanel, if not with a more minimalistic design. However, in terms of functionality, all the management modules remain consistent:
Within the control panel, the Email module empowers you to establish a professional mailbox using your domain name. It also enables you to effortlessly manage email forwarding and autoresponders.
The Databases module lets you conveniently view, create, and manage your databases.
In the Settings module, you can change passwords and manage various aspects of the control panel.
Within the Domains module, you can easily assign new domain names, create subdomains, and make necessary edits to DNS settings.
You'll discover the file manager, backups, and FTP (File Transfer Protocol) options within the Files tab.
The Tools tab is home to essential utilities such as the SSL manager, Softaculous installer (ideal for effortless WordPress and other app installations), and a PHP manager.
For those who are new to website management, the Tools tab within the control panel will prove to be an invaluable resource. This is where you can kickstart creating your website and shaping it according to your vision.
Now, let's take a closer look at how the management of your website unfolds from the inside:
---
How to add an SSL with ScalaHosting?
ScalaHosting offers free SSL certificates, but it's up to you to activate them using the SSL Certificates installer in the Tools section of cPanel.
Once you're inside, you'll find your domain listed, and installing the free SSL certificate is a breeze—select "Install free SSL" from the Actions drop-down menu and confirm your choice in the convenient popup.
Rest assured, the installation process shouldn't take more than a couple of minutes, and in no time, your domain will be securely protected with the SSL certificate in place.
---
How to install and manage WordPress with ScalaHosting?
When installing WordPress on ScalaHosting, you have two convenient options: you can opt for the standard Softaculous installation or choose Scala's one-click installer called WordPress Manager.
If you choose Softaculous, you'll experience the standard and widely-used installation process. This popular tool handles WordPress and other content management systems such as Joomla, Drupal, PrestaShop, and more.
On the other hand, I chose to explore Scala's WordPress Manager this time. This tool simplifies the installation by providing a straightforward form where you can select your domain, username, email, and password. From there, the WordPress Manager takes care of the rest, making the process hassle-free.
I completed the installation in mere minutes, granting me access to the WordPress admin panel by simply appending "/wp-admin/" to my domain.
However, one aspect was slightly inconvenient about the WordPress manager. Once the installation was complete, my website appeared at the bottom of the WordPress manager page. While this may seem useful, it lacks the standard WP-admin login button in other auto-installers. To access your panel, you must manually add "/wp-admin/" to your domain.
Nonetheless, this tool offers valuable features. For instance, you can activate the security lock, which protects against code injections and other malicious activities on your website.
Additionally, within the actions menu, you can clone your website, creating a duplicate that can be utilized as a staging environment for testing purposes.
In summary, ScalaHosting's control panel and management bear a striking resemblance to cPanel. As a result, the interfaces are user-friendly, enabling you to carry out essential hosting management tasks effortlessly. The key distinction from shared hosting lies in the access granted to the server management area, where you can oversee both accounts and the server itself.
---
Performance – is ScalaHosting fast?
When evaluating Scala Hosting, performance takes center stage in this review. Determining if the provider lives up to its promises regarding speed and reliability is essential. I conducted comprehensive tests focusing on server monitoring, speed, and stability to ascertain this. The results revealed that ScalaHosting is impressively reliable, swift, and capable of effortlessly managing substantial traffic, even on their most affordable plan.
Now, let's delve into each test to provide a more in-depth analysis.
---
ScalaHosting uptime and response time
Having diligently monitored ScalaHosting for over 2 weeks, I can confidently say that it has demonstrated impeccable reliability, maintaining a 100% uptime throughout this period. While expecting any provider to sustain uninterrupted uptime for an entire year or more would be unrealistic, I will keep you informed about the ongoing situation.
It is worth noting that ScalaHosting's official uptime guarantee promises 99.9%, and I am pleased to report that it has exceeded this expectation, further solidifying its impressive track record.
When it comes to response time, Scala Hosting showcased a promising start with a swift 300ms. However, it experienced a slight increase shortly after. Nevertheless, the average response time settled at an impressive 443ms, which is commendable in its own right. The initial peak in speed suggests there may be room for server-level optimizations.
Nevertheless, the speed eventually stabilized. Coupled with its flawless track record of 0 outages, I wholeheartedly commend Scala Hosting for its exceptional reliability.
---
ScalaHosting speed
To evaluate the speed of ScalaHosting, I conducted tests to compare the loading time of an empty WordPress installation from various locations. Hosting my website in the European data center, I observed the fastest results when testing from this region. Specifically, individuals in London can expect a mere 1.1-second wait for the primary content (Largest Contentful Paint) to be fully loaded.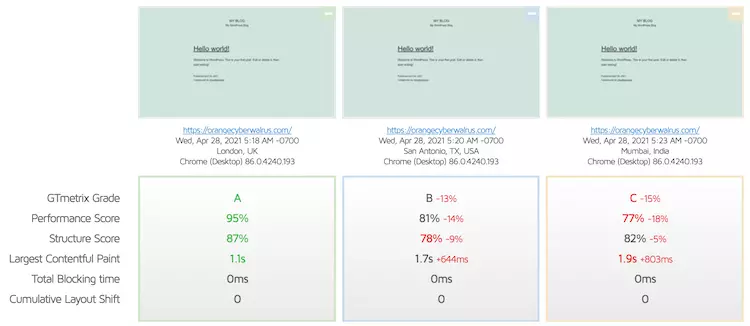 In comparison, loading times from other locations are slightly slower. Visitors from the United States would experience a wait of around 1.7 seconds, while visitors from India would have to wait approximately 1.9 seconds.
So what do these numbers indicate?
In today's digital landscape, internet users have high expectations for website speed, a sentiment supported by industry giants like Google and Facebook. For instance, Google considers websites with Largest Contentful Paint (LCP) times up to 2.5 seconds good. In this regard, ScalaHosting passes the test across all tested locations. While it may not be the fastest I've seen, it meets the threshold for good speed.
Moreover, let's consider the warning popup Facebook displays if a page loads slowly within its app. The platform advises users to leave such pages promptly. Impressively, I encountered this warning within mere seconds.
Given these factors, it becomes evident that speed is crucial for websites, especially those with business purposes.
Speaking of business websites, I have installed a professional theme on my site, complete with demo content. This naturally results in heavier pages, causing the Largest Contentful Paint time to increase to around 1.5 seconds. Nonetheless, this is still within the realm of good performance.
On the flip side, Speed Visualizations provide further insights into how the website is loaded.
For instance, the first checkmark, Time to First Byte (TTFB), indicates how long it took for the server to respond when the software requested to open the page. In this case, it took approximately 705ms, a significant duration.
In terms of the fully loaded time, it clocks in at around 1.8 seconds. According to benchmarks from Google and Facebook, it is considered good if a site loads within 3 seconds.
While ScalaHosting may not be the absolute fastest provider I have tested, it still performs admirably and meets industry standards for website speed.
---
ScalaHosting stress testing
An empty website may load quickly, but what happens when multiple people browse it simultaneously? Each visitor needs to be "served" just like at a restaurant – they send requests (orders), and the server (the kitchen) must prepare them. If the restaurant becomes overwhelmed, it will slow down.
I deployed 50 virtual users (bots) to my website to simulate this restaurant scenario. I'm pleased to report that ScalaHosting performed admirably and passed the test with flying colors.
In this graph, we can observe the behavior of server speed (represented by the blue line) as the number of visitors increased (indicated by the grey line).
Although ScalaHosting successfully passed the test (as the red line indicates no failures), the server did experience some slowdown. As the number of visitors grew, the blue line steadily increased and fluctuated, suggesting that the server faced considerable challenges.
So, what does this mean?
Considering that we had 50 users, which is a significant number, ScalaHosting performed admirably, despite some slowing down. This is a very positive outcome, especially for the cheapest plan.
Therefore, if your website experiences occasional spikes in traffic, Scala servers will handle them efficiently.
Overall, Scala Hosting demonstrated commendable performance results. It exhibited high reliability, delivered fast website loading times, and effectively managed heavy traffic. These outcomes align with our expectations for VPS hosting. However, Scala has room to implement performance optimizations that would further enhance its results.
---
Security – is ScalaHosting secure?
With ScalaHosting's managed services, you can rest assured that security is well-handled in the backend, even though you may only witness a few aspects in action. Nevertheless, the range of features is extensive, encompassing SSL certificates, backups, and server security.
While free SSL certificates are included, you must activate them yourself.
One notable security package called SSHield diligently monitors websites and promptly alerts you in the event of a hack, boasting an impressive 99.998% attack-blocking capability, as claimed by ScalaHosting.
Daily backups are automatically performed and securely stored on a separate server for added security. This allows for seamless restoration of files, email accounts, and databases whenever needed.
In addition, ScalaHosting stores two comprehensive snapshots, enabling you to swiftly restore your entire account within minutes, regardless of its size or complexity.
Every VPS server comes with a dedicated IP as a default feature. This enhances your privacy and empowers you to make the most of a professional email account. Since your reputation is not shared with other users, you can avoid being blocked as spam.
To combat spam effectively, ScalaHosting offers SpamAssassin through the control panel. This handy tool filters your emails, ensuring your mailbox remains free of unsolicited messages.
When it comes to backups, SSL certificates, and spam protection, ScalaHosting is well-equipped and prepared.
Although we may not directly witness the effectiveness of SSHield, the provider's proprietary solution, unless an incident occurs and triggers a notification, it remains an integral part of their security measures. However, it does not specify which types of web attacks SSHield covers—DDoS, malware, or brute force. Nonetheless, considering the positive feedback found in numerous Scala Hosting reviews, it seems to be working effectively, as there are no complaints regarding inadequate security.
All in all, ScalaHosting prioritizes security and adequately addresses all major aspects of web security. While the transparency of the SSHield solution could be improved, I cannot complain since there were no security issues during my testing with the provider.
---
Will ScalaHosting customer support help me?
When it comes to supporting, ScalaHosting offers various channels available 24/7, including live chat, email, tickets, and phone support. They also have a comprehensive knowledge base covering a wide range of web hosting management topics.
To be completely transparent, I encountered no issues during my management tasks with ScalaHosting. Everything went smoothly, which is excellent. However, I needed to test their support in a real-life scenario.
To put their support to the test, I decided to conduct an interview with them regarding the SSHield security solution. I wanted to understand better how it works and the protection it provides.
The live chat icon is conveniently located at the bottom right corner of almost every page. In my experience, the support agents responded promptly, joining the chat immediately.
During the interview, the support agent at ScalaHosting was beneficial and took the time to explain the intricacies of the security package without redirecting me to external resources. I always appreciate it when support goes the extra mile. Furthermore, he mentioned that future updates would bring additional management options to SSHield, which is promising.
Based on this interaction, if you have any questions about ScalaHosting, their support team is readily available to assist you. I speculate that the same level of readiness extends to addressing actual technical issues.
Alternatively, you can explore their extensive knowledge base for further guidance and information.
ScalaHosting, equipped with its proprietary control panel, has curated comprehensive documentation to support its users. With up-to-date resources, you'll find all the relevant topics on web hosting management covered efficiently.
In terms of customer support, ScalaHosting offers a variety of channels, all accessible around the clock. The contacted support agents were pleasant and helpful, adding to the positive experience. Additionally, you can always turn to their knowledge base for self-help options, providing a wealth of information and assistance.
---
The Final Verdict
ScalaHosting stands out as a straightforward and reasonably priced managed VPS option. This Scala Hosting review proceeded seamlessly without encountering any technical hurdles. It's worth noting that such smooth experiences are only sometimes expected, even with shared hosting, which is generally considered more superficial. Therefore, ScalaHosting deserves high commendation in this aspect.
Here is a summary of the test results in the table below:
| | | |
| --- | --- | --- |
| Feature | 4.2★★★★☆ | Great all-round hosting provider |
| Pricing | ★★★★☆ | ScalaHosting offers a range of services, including shared and VPS hosting, with the highlight being their managed VPS option. Starting at just $29.95 per month, it offers excellent affordability. However, it's worth noting that the price may increase after the initial term. |
| Ease of Use | ★★★★☆ | SPanel, the control panel designed by ScalaHosting, is free of charge and operates flawlessly. While there may be room for improvement in intuitiveness, these minor issues maintain the panel's overall functionality. Alternatively, users can upgrade to cPanel for an additional cost. |
| Performance | ★★★★★ | ScalaHosting impressively showcased a reliable 100% uptime, along with speedy response time (443ms) and load time (1.8s), highlighting its exceptional ability to handle website traffic effectively. |
| Security | ★★★★☆ | When it comes to security, ScalaHosting ensures the basics are covered, including SSL certificates, daily automatic backups, and spam protection. Additionally, the default inclusion of SSHield provides monitoring for incoming traffic, enhancing overall security measures. |
| Support | ★★★★☆ | Thanks to its exceptional performance, support needs are often minimal. However, ScalaHosting offers 24/7 support if assistance is required through various channels such as live chat, email, tickets, and phone. The support agents are known for their helpfulness and expertise in addressing customer inquiries. |
Who do I recommend ScalaHosting to?
ScalaHosting has designed its managed VPS to be incredibly user-friendly and intuitive, ensuring a seamless experience for users. Not only that, but it's also affordable, making it an excellent choice for individuals with limited technical expertise who require robust and secure server hosting for their websites. These plans will particularly benefit those running online stores, commercial blogs, and businesses.
---
FAQs
What is ScalaHosting?
ScalaHosting is a fantastic web hosting provider that specializes in managed VPS hosting. It aims to make VPS accessible to everyone, even those without technical expertise.
Is ScalaHosting reliable?
Absolutely! ScalaHosting has a proven track record of reliability, with over ten years of experience and an impressive reputation among users. Throughout my tests, it showcased exceptional reliability, boasting a flawless 100% uptime. Furthermore, all interfaces performed flawlessly.
Do I get cPanel with ScalaHosting?
ScalaHosting doesn't come with cPanel by default, as it offers its custom-built control panel called SPanel. However, if you prefer to use cPanel, you have the option to purchase it during the checkout process.
---
Thanks for visiting our Website. If you appreciate our work, kindly show us some support in our comments section.
Did you have some experience in any of these hosting companies? If so, please leave a review, positive or negative, below.
To read more similar articles, Click here.