ProtonVPN is developed by the brilliant minds of CERN scientists and Harvard Physics PhDs, the same team behind ProtonMail, the world's largest encrypted email network.
Having successfully created a free-to-paid encrypted internet privacy service, it's reasonable to expect that they can replicate their achievements in the VPN space as well.
In order to uncover the truth, we have conducted extensive testing of ProtonVPN's OpenVPN protocol, encryption connection standards, speed, security, pricing, and other important aspects over the past few months.
In this ProtonVPN review, we will provide you with an honest account of the good, the bad, and the ugly, leaving no stone unturned.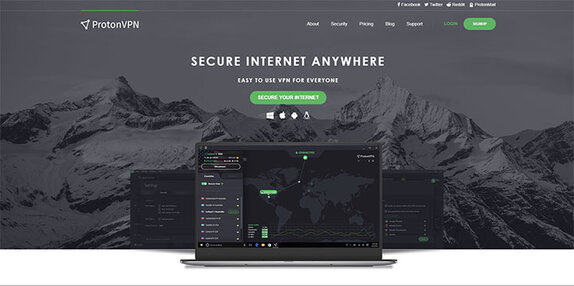 Table of Contents
---
Overview of Proton VPN Review
| | |
| --- | --- |
| OVERALL RANK: | #19 out of 78 VPNs |
| USABILITY: | Very Easy, Supports All Devices |
| LOG FILES: | No Logging Policy |
| LOCATIONS: | 32 countries, 345+ servers |
| SUPPORT: | Ticket system, Decent response times |
| TORRENTING: | Limited Torrenting |
| NETFLIX: | Yes 1/5 |
| ENCRYPTION/PROTOCOL: | AES 256, OpenVPN only protocol offered |
| OFFICIAL WEBSITE: | www.protonVPN.com |
---
ProtonVPN Pros +
ProtonVPN's foundation is built upon the expertise of security professionals, ensuring that their protocol and encryption standards are of the highest quality. Moreover, they excel in several other crucial aspects such as customer service and providing a reliable, steadfast connection.
Let's dive in and explore these noteworthy features.
1. Exceptional Security & Privacy Standards
ProtonVPN offers a robust selection of protocols, including OpenVPN (UDP/TCP) and IKEv2, coupled with the highly secure AES-256 encryption.
These encryption standards are on par with those used in the banking industry and represent the pinnacle of modern encryption technology.
To put it simply:
With ProtonVPN's encryption, the chances of any breach are extremely slim. In fact, breaking through this level of encryption has never been accomplished.
Consequently, hackers are more likely to explore alternative avenues, such as attempting to guess your password reminders, rather than attempting to crack this formidable encryption.
2. Strict No-Logging Policy
Over the past few years, we have meticulously examined 118 VPN logging policies.
While this task may be deemed tedious and arduous, its significance cannot be overstated.

Through our extensive examination of numerous terms and privacy policies, we have gained valuable insights into the evasive tactics employed by VPNs to conceal their privacy practices.
For instance, our findings indicate that approximately 7% of VPNs frequently log your connection data, while over 30% of VPNs have ambiguous logging policies that lack transparency. These VPNs often employ obscure technical terminology or legal language to create ambiguous clauses that could potentially have negative repercussions for users.
However, we can confidently state that ProtonVPN has earned a reputable standing based on their past endeavors.
Furthermore, we have conducted thorough investigations and can affirm that when ProtonVPN asserts a "no logging" policy, it is genuinely trustworthy.
3. Decent Customer Support
Typically, ticket-based support systems tend to elicit a sense of apprehension in us.
This is primarily due to the all-too-familiar experience of enduring extended delays, with each email exchange spanning several days and a week-long process to address even the simplest of inquiries.
As I glanced at Proton's support options, that initial concern crept into my mind.
Reluctantly, I completed the form with a few straightforward questions and clicked "Send."
To my pleasant surprise, I received a response in my inbox within approximately 24 hours.
Even more astonishing was the fact that the reply didn't merely consist of a generic link to a knowledge base article on their website.

While it may not have been awe-inspiring, that was not a requirement in this case.
The support response simply needed to be reasonably prompt and straightforward, and that's precisely what it delivered.
Overall, it was a rather positive experience.
4. Leak-Free Connection

DNS and Web-RTC leaks have the potential to inadvertently reveal your actual IP address. These leaks often occur due to connection conflicts, creating a small opening through which your data can escape.
While this may seem like a minor issue, it is far from insignificant.
These leaks enable your internet service provider (ISP), governments, and even amateur hackers to easily identify your location, compromising the effectiveness of your VPN usage.
What makes it more concerning is that you might remain oblivious to these leaks.
Fortunately, ProtonVPN's connection successfully passed all our tests without any leaks. Feel free to verify it for yourself.
No WebRTC leaks either:
But there's more.
In addition, we subjected ProtonVPN's installation files to thorough scrutiny using VirusTotal.com, and we can confirm that they are entirely clean and devoid of any malicious software.
5. One Netflix Server Worked (Out of Five)

According to ProtonVPN's website, they mention that Netflix will function on "specific servers."
The challenge lies in identifying which servers those are.
Many VPNs make such claims boldly, but only a few can truly substantiate them. Moreover, even the VPNs that manage to unblock Netflix may not sustain this accomplishment for long. Netflix consistently strives to impede VPNs by blocking access to its region-restricted content.
Each Netflix library is exclusive to its respective geographic area. Netflix has agreements with content providers that allow different shows and movies to be available in different regions worldwide. For instance, your Netflix library in the United States would differ significantly from that of someone trying to access it from the Netherlands.
To counter the unauthorized access to its restricted content, Netflix has implemented a robust VPN detection and blocking system across the internet. This system has had a profound impact on the VPN landscape, eliminating numerous services from the world's largest streaming platform. However, despite this crackdown, a few VPNs have managed to partially circumvent Netflix's efforts.
In our initial review of ProtonVPN, we tested five servers: two in the US, one in the UK, one in Canada, and one in the Netherlands. During that time, only one out of the five servers, specifically the one in the Netherlands, successfully connected to Netflix. We conducted another test in August 2019, where once again, only one server out of five provided access to Netflix. However, it was a different server this time.
Previously problematic, the UK server functioned perfectly upon login, while the Netherlands server, once a reliable option, unfortunately did not work during our latest test.
ProtonVPN receives credit for achieving success with one server, as mentioned in the Pros section. However, it's important to consider that your options for accessing Netflix may be somewhat limited.
6. Easy to Install and Use
When selecting a VPN provider, the last thing you want is to encounter an excessively complex system that requires you to possess the knowledge of a computer scientist to comprehend. That's why the best VPNs are often the simplest ones. While ProtonVPN may not appear extremely user-friendly initially, appearances can be misleading. Despite a longer-than-average download time, ProtonVPN proves to be a straightforward installation process, with a user-friendly interface once you become accustomed to its visually busy dashboard.
Upon registering for ProtonVPN, you will be directed to the client dashboard. From there, you can easily download the platform that suits your preferences.

Upon choosing the Windows download option, I was redirected to another download page to select the specific Windows client and initiate the installation process. While this didn't consume much time, it did feel peculiar that I had to make a selection for the program to download, only to be redirected to yet another page where I had to repeat the selection process.
Upon completing the initial selection process, the download of the ProtonVPN software commenced. Normally, VPN software takes approximately 10 to 30 seconds to download on my computer. However, in this case, it took a considerably longer duration, with a waiting time of nearly two minutes. Nevertheless, this slight delay is not a major concern, as the installation process proceeded swiftly once the download was completed.


Upon encountering the sign-in screen, I was greeted with a pristine and uncomplicated interface—a highly sought-after trait when it comes to using a VPN. This streamlined design allows you to swiftly log in without wading through an array of convoluted options. Just input your username and password, and voila! You'll be connected. Moreover, for added convenience, you have the choice to configure your VPN client to remember your login details (though it's not advisable on shared computers) or to seamlessly initiate upon Windows startup.

During the initial login, ProtonVPN goes the extra mile by providing a unique feature that I haven't encountered in many other VPNs: an interface tour. This tour proves to be exceptionally beneficial, especially because, as you'll soon discover, the interface can appear slightly daunting at first glance.

The guided tour takes you through several essential features of ProtonVPN.
One notable feature is the option to create profiles, which enables you to save your preferred settings for easy access. This is particularly beneficial for users who wish to quickly connect to their favorite Netflix server or one that offers exceptional speed. Once you are connected to a server, you'll notice a green link in the upper left corner that says "Set as Profile." By clicking on this link, you can conveniently save any servers you enjoy without the need to manually search for them in the server list again.
The tour also covers the ProtonVPN Secure Core feature, which allows you to enhance the security of your browsing session by adding additional layers of protection. It's important to mention that this service is exclusively available to subscribers who purchase ProtonVPN's Plus or Visionary plans.

After completing the aforementioned steps, I proceeded to click on "Quick Connect" located in the upper left corner, and within moments, I was seamlessly connected to the fastest server available in their network.
Although the interface may resemble a NORAD computer screen, it is actually much simpler than it initially appears. Everything you need is conveniently located on the left-hand side. This includes the button to connect and disconnect, the server list, saved profiles, and the option to activate Secure Core.
An enjoyable feature is that the flag of the country you choose is displayed in the upper left corner. The map, which occupies the majority of the interface, primarily serves to visually depict the geographical location your signal is traveling to. Additionally, it provides monitoring of essential information such as speed, data volume, and session duration. These details are significant and often omitted by many other VPN providers.
Switching servers is effortless. Simply locate the desired server country from the list on the left, click on it, and you will be automatically connected to the optimal server within that region. Furthermore, you have the flexibility to expand the server list country by country to select specific servers.
Overall, despite a slightly longer setup time than average, ProtonVPN offers a user-friendly and efficient VPN experience.
---
ProtonVPN Cons –
ProtonVPN receives commendable praise for its meticulous focus on security. However, our thorough analysis has revealed a few drawbacks that warrant discussion. Now, let's delve into each of them extensively.
1. They are Located in Switzerland
Switzerland has long been regarded as a "neutral" country that prioritizes the privacy protection of its citizens and avoids involvement in domestic conflicts. These aspects hold true, and Swiss laws generally safeguard privacy. However, it's important to acknowledge that Switzerland is also a participating member of the extended Eyes security alliance.
The Eyes alliance is a global agreement that facilitates cooperation among government agencies for the purpose of surveillance in the name of "global security." It's worth noting that this collaboration has been in place for several decades, and it's not merely a conspiracy theory.
Therefore, while choosing a Swiss-based location for your VPN service generally offers a high level of privacy and security, it's essential to keep in mind that there is a possibility of government intervention. ProtonVPN, fortunately, adheres to a minimal customer data retention policy. Nonetheless, it's prudent to remain aware that under certain circumstances, Swiss authorities may exert pressure on the company to comply with governmental cooperation.
2. The Price Doesn't Match The Server Speeds, Which Are Too Slow.

Speed is a crucial factor that can level the playing field among VPN providers. When all other aspects such as pricing, features, and security protocols are comparable, opting for the fastest option becomes imperative. After all, speed enables various activities like seamless streaming, efficient torrent downloads, or smoothly managing multiple browsing sessions.
Regrettably, ProtonVPN's overall speed score ranks them at 48th out of 78 VPN companies, indicating room for improvement in this aspect.
Let me share with you the process we follow to obtain that data:
To obtain an accurate measurement of our baseline internet connection without a VPN, we rely on SpeedTest.net. During the time of conducting this review, we achieved a download speed of 97 Mbps and an upload speed of 53 Mbps.
Subsequently, we establish connections with several ProtonVPN servers, aiming for a diverse selection across various global locations. Our goal is to ensure an impartial and equitable assessment.
Finally, by comparing the results obtained from these VPN server connections with our initial benchmark, we derive a comprehensive score. This score is then ranked against all the previous reviews we have conducted, ensuring a comprehensive evaluation.
Interested? Dive into the detailed analysis of each server test now.
U.S. Servers (East & West)

ProtonVPN's U.S. servers exhibited a notably sluggish performance, particularly in terms of download speed, which would significantly impede most torrenting activities.
Ping: 190 ms
Download: 24.6 Mbps (75% slower)
Upload: 36.4 Mbps (31% slower)
EU Servers (Switzerland)
In contrast, the EU servers provided a satisfying performance and lived up to expectations. This positive experience could be attributed, at least in part, to the closer proximity between us and these servers. It's worth noting that even factors as seemingly minor as physical distance between the user and the connected server can influence overall performance. However, credit is certainly due to ProtonVPN in this regard.
Ping: 66 ms
Download: 54.46 Mbps (44% slower)
Upload: 37.86 Mbps (29% slower)
Asia Servers (Hong Kong)
While we found the speed of the U.S. servers to be disappointing, it was nothing compared to the Asian servers based in Hong Kong. The performance of these servers was significantly worse, with a staggering 85% decrease in speed across the board.
Ping: 317 ms
Download: 16 Mbps (84% slower)
Upload: 6.4 Mbps (88% slower)
UK Servers
Lastly, the performance of a UK server fell somewhere in the middle, though regrettably, it didn't lean towards the favorable side of the spectrum.
Ping: 46 ms
Download: 52 Mbps (46% slower)
Upload: 47 Mbps (11% slower)
The results obtained were universally disheartening. While the consistency of the speeds was commendable, consistently slow speeds are far from desirable.
In comparison, other providers such as ExpressVPN, PIA, and Trust.Zone offer superior speed at significantly lower prices, making them more attractive options.
3. Limited Device Compatibility
The top-tier VPN providers we've evaluated offer ready-to-use applications for a wide range of devices, ensuring a seamless user experience with no technical expertise or manual setup required. ProtonVPN follows suit by providing pre-built apps for Mac, Windows, Linux, and Android devices.
However, there are a few limitations to consider. Unfortunately, ProtonVPN is not compatible with TOR, which may disappoint users relying on this network. Additionally, while they now offer a native iOS app, there are no pre-built options available for smart TVs or gaming consoles.
On a positive note, ProtonVPN has expanded its support for routers and now allows installation on DD-WRT, AsusWRT, and Tomato routers. With 345 servers across 32 countries, torrenting enthusiasts may find the limited server selection to be a drawback.
One advantage worth mentioning is that ProtonVPN's paid plans allow for up to ten simultaneous connections, which is quite generous compared to other providers we've reviewed.
4. Limited Torrenting Available

Unfortunately, ProtonVPN does not offer unlimited torrenting capabilities.
On their free plans, torrenting is strictly prohibited. The rationale behind this decision is that peer-to-peer (P2P) activities would increase server load, hindering their ability to subsidize free accounts with revenue from paid ones.
For paid plans, torrenting is allowed, but with limitations. It is only permitted on specific servers that are designated for P2P traffic. These servers are strategically located in neutral and "safe" countries.
However, it's important to note that ProtonVPN highlights Swiss law in this context. According to Swiss regulations, file sharing is only allowed for personal, non-commercial use.
So while ProtonVPN does permit torrenting, there are several restrictions and considerations in place that may make it less practical for some users.
5. Limited Protocols (OpenVPN Only)

This aspect is a bit tricky.
ProtonVPN exclusively offers the OpenVPN protocol, which is technically a commendable choice. It is widely recognized as the industry standard and is recommended for optimal security. Using OpenVPN is highly recommended for most users across different platforms.
However, the reason this appears as a downside is that not all devices support the OpenVPN protocol. Older devices or certain budget-friendly options like some Chromebooks may not have built-in OpenVPN support yet.
In such cases, users would have to resort to alternative protocols like L2TP or PPTP, which are less secure and generally not recommended.
The issue here is the lack of flexibility. Users may not always have the option to use their preferred protocol, and they may have to settle for a less secure alternative due to device limitations.
Therefore, ProtonVPN may not be suitable for a significant portion of potential customers who require compatibility with devices that do not support OpenVPN.
---
ProtonVPN Pricing, Cost & Payment Methods

ProtonVPN offers a range of four plans for users to choose from, and they also provide the option of annual payment with a discounted rate.
The prices listed below already reflect the annual subscription discount of approximately 20%.
Free: $0/month

Indeed, ProtonVPN does offer a free VPN service, although it is relatively basic in terms of its features.
The free plan provides access to only three server locations: The Netherlands, USA, and Japan.
Additional features are not included in the free plan.
However, it does offer a valuable benefit of a seven-day free trial for their paid plans. This allows you to explore ProtonVPN's offerings without any financial commitment. It can be a great opportunity to test the waters and experience ProtonVPN firsthand without spending a single cent.
Basic: $4/month (we bought this)

Proton's Basic plan offers a modest improvement over the free plan. While it provides access to all countries, it excludes Plus, Secure, or Tor servers. The speed access is classified as "high" but not the "highest."
Moreover, the Basic plan allows only two simultaneous device connections, which may be limiting for some users.
Overall, it might not be the most exciting option, so you may want to consider skipping over this choice.
Plus: $8/month

Proton's Plus plan expands your device limit to five connections. It offers the highest speed and grants access to Plus, Secure Core, and Tor servers. This plan is likely the recommended choice.
The Visionary plan is similar to Plus but includes a cross-sell for ProtonMail. If you're interested in both encrypted options, this plan at $24/month (paid annually) is a decent option.
Payment options for all plans include credit card or PayPal. Other methods like cash or bitcoin are not available, as far as we know.
ProtonVPN provides a 30-day money-back guarantee. However, the refund is prorated based on the unused portion of your subscription. For instance, if you use the service for 10 days, you'll receive a refund for the remaining 20 days.
When comparing ProtonVPN's refund policy to that of other VPN providers like CyberGhost, which offers a comprehensive "no questions asked" money-back guarantee, it becomes evident that ProtonVPN's refund policy may not be as advantageous.
Refunds will be issued in the original currency or payment method used.
---
Do I Recommend ProtonVPN?

No, we don't.
ProtonVPN offers an impressive connection with top-notch security measures. Their customer service is commendable, and Netflix even works on one of their servers.
However, it's in a few other areas where ProtonVPN falls short in the end.
While having a home base in Switzerland is generally advantageous for privacy, their cooperation with other intrusive government agencies worldwide raises concerns.
Unfortunately, the server speeds were subpar, and the device options are limited.
Moreover, even with a 20% annual discount, the pricing remains relatively high compared to what you receive in return.
There are simply far better alternatives available that offer similar connection strength, faster performance, support for more devices, and all at a lower cost.
---
Conclusion
This Proton VPN review highlights the features, pricing, and more of the service. ProtonVPN offers exceptional security and privacy standards, thanks to its strict no-logging policy and leak-free connection. The service also boasts decent customer support and is easy to install and use. However, there are some drawbacks to consider. ProtonVPN is located in Switzerland, which may raise concerns for some users.
Additionally, server speeds are often too slow for the price, and there is limited device compatibility and torrenting availability. Moreover, the service offers limited protocols, supporting only OpenVPN. When it comes to pricing, ProtonVPN offers various plans and payment methods to choose from. Taking all factors into account, the decision of whether to recommend ProtonVPN ultimately depends on individual needs and priorities.
---
For More amazing articles related to VPN Check out our website Over Here
To Read more similar articles click here
---
Thanks for visiting our Website. If you appreciate our work, kindly show us some support in our comments section 🙂