The solid color T-shirt and jeans combo has stood the test of time as an iconic and classic look, regardless of the season. Yet, a touch of stylishness can elevate this combination, as not all T-shirt and jeans pairings are created equal. T-shirts and jeans have earned their reputation as versatile wardrobe staples, and when skillfully combined, they form a fantastic ensemble suitable for various occasions.
Whether you're heading out for a social gathering, tackling work from the comfort of your home, or even stepping into the office, the heavenly match of high-quality T-shirts and jeans radiates an air of casual confidence.
Now, if you're feeling unsure about where to begin, fear not! Let's delve into some of the top-notch T-shirt and jeans combinations. However, before we dive in, it's important to touch upon some general guidelines for matching tops with bottoms. Once you grasp these "rules," you'll have the freedom to experiment, break them, and develop your own unique style.
Table of Contents
How to Look Good in a T-shirt and Jeans
---
Avoid Busy T-shirts and Busy Jeans
When constructing your outfit, striving for a balanced and uncluttered appearance is crucial. In the event that your bottoms boast vibrant hues or intricate patterns, opt for a top that embraces solid, neutral colors or possesses a simpler overall design. Similarly, if your top is already making a bold statement, it's wise to complement it with jeans that feature a straightforward design and color scheme.
Remember to leave those flashy Ed Hardy jeans at home in such cases. By adhering to this principle, you'll effortlessly achieve a harmonious ensemble that exudes style and sophistication.
---
Always Wear T-shirts and Jeans That Fit Well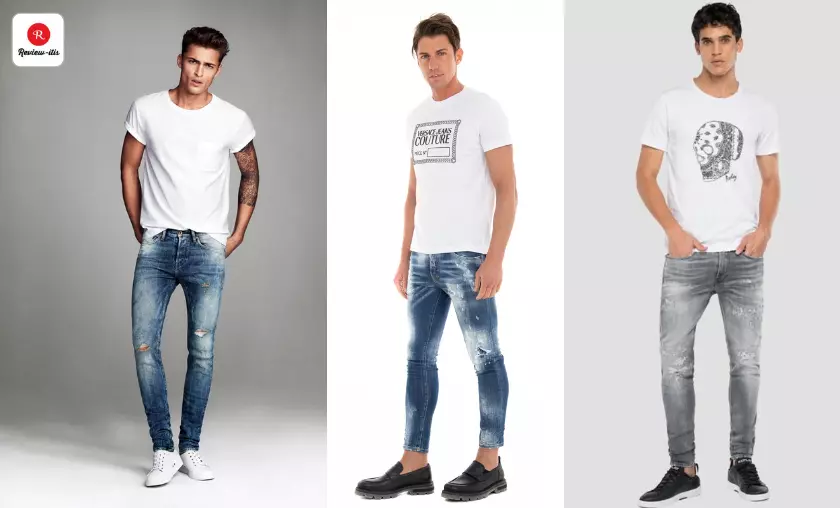 Achieving the perfect fit is absolutely crucial when it comes to rocking a fantastic look. For instance, when selecting skinny jeans, it's important to avoid purchasing a pair that uncomfortably clings to your body. If the pockets have to stretch excessively just for the jeans to fit, chances are they need to be tight enough. On the other hand, it's equally important to steer clear of jeans that are overly large and loose. If you're aiming for a baggy jeans aesthetic, opt for a pair explicitly designed to achieve that look.
The right fit is also key when it comes to T-shirts. Ensure that your T-shirt isn't excessively loose or tight around your neck and shoulders. Your arms should have ample freedom of movement without the sleeves riding up excessively. Striking the right balance ensures both comfort and style, allowing you to exude confidence in your outfit.
---
Can Light T-shirts Go With Light Jeans?
You may have heard the conventional wisdom that advises against combining light-colored T-shirts with light-colored jeans, except when both items are white. Well, let's toss that advice out the window! Playing it safe by pairing light-colored jeans with a dark top and avoiding overly bright hues isn't always necessary. Your personal style and comfort should take center stage, allowing you to mix and match colors to your heart's content freely.
In the realm of minimalist fashion, nude tones like copper, blush, or sand are currently en vogue and blend beautifully with light-colored jeans. Also, don't be afraid to go for a dark-on-dark combination, especially with black shoes. Embrace your creativity and express yourself boldly through your fashion choices.
---
Related: 18 Reasons Why a Classic T-shirt Will Be Your New Favorite Shirt.
1. White T-shirt and Denim Jeans
The timeless combination of a white T-shirt and denim jeans never fails to impress. Effortlessly wearable and understatedly chic, the classic white tee paired with denim jeans is an essential ensemble that should grace everyone's wardrobe. This outfit choice transcends seasons, with a particular knack for shining during summer.
The white top exudes a refreshing coolness and beautifully stands out under the radiant sun, adding that extra pop to your overall look. Embrace this iconic duo and revel in its versatility and enduring style.
---
2. White T-shirt and Ripped Black Jeans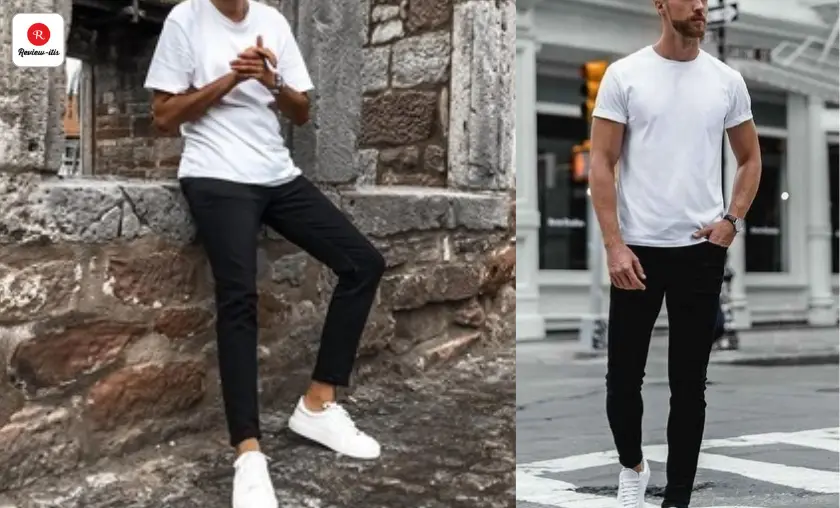 One more fantastic option is to rock a plain white T-shirt alongside ripped black jeans. The choice of a white tee ensures that your upper half takes center stage, creating a striking and crisp contrast against the ruggedness of the torn jeans. This particular combination pays homage to the iconic signature look of James Dean.
In case the temperature drops, consider layering with a sleek blazer or a denim jacket that matches the color of your jeans. This simple addition allows you to add extra layers while effortlessly maintaining a chic appearance. So, embrace this ensemble and exude effortless style with every step you take.
---
3. Plaid Shirt, White T-shirt, and Light Blue Jeans
As the crisp autumn breeze starts to make its presence known, why not experiment with a stylish ensemble? Grab yourself a pair of effortlessly cool light jeans and team them up with a classic white crew neck T-shirt. Here comes the magic touch: throw on an open blue plaid shirt on top. Trust me, the contrasting colors of the white tee and the blue plaid match fashion heaven. If you're feeling a bit more adventurous, go for a green or red open shirt, but keep an eye on the fabric.
We want you to look like something other than a rugged lumberjack, especially if your plaid shirt is on the thicker side. Remember, simplicity is key here, my fashion-forward friend. And remember, layering is always an option to further elevate your style game.
---
4. Black T-shirt and Black Jeans
Nothing quite matches the impact of an all-black outfit when it comes to exuding confidence through your attire. Picture this: a sleek black crew neck T-shirt paired with stylish black jeans. This combination is a winner for anyone, regardless of body type. While it may not be as common during scorching summer days, black-on-black truly shines during summer nights and those cooler seasons. And here's a pro tip: take into account the power of layering!
You'll find that most jackets effortlessly complement a black crew neck and jeans, allowing you to easily enhance your style and adapt to changing temperatures. Embrace the allure of black, my fashion-forward friends, and watch your confidence soar.
---
5. Black V-neck T-shirt, Washed Blue Jeans, and Blue Puffer Jacket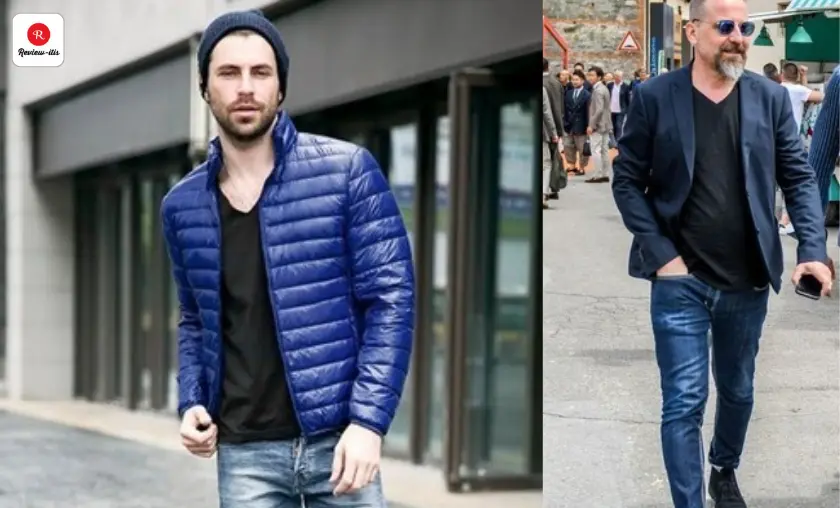 Let's talk about the fashion versatility that V-neck shirts bring to the table, regardless of whether you're a man or a woman. Having a few of these in your wardrobe is a smart move. Now, picture this: a sleek black V-neck paired with a pair of washed light blue jeans. It's an effortlessly stylish combination that serves as a solid foundation for any outfit. The best part? You can rock this look with any jacket you desire.
But if you're looking to make a statement and elevate your ensemble to the next level, consider throwing on a stylish blue puffer jacket. Trust me. It's a winning combination that'll make heads turn. So go ahead, embrace the versatility of V-neck shirts, and create outfits that speak volumes about your impeccable fashion sense.
---
6. Pink T-shirt and Blue Jeans
If you're looking to make a bold and confident fashion statement, a pink T-shirt is the way to go. This vibrant color exudes a sense of fun and flair that's hard to ignore. Here's the secret to rocking a pink tee: find the perfect jeans to complement it. A slightly washed pair of jeans is ideal for a light pink crew neck T-shirt. The combination is clever and playful and exudes an air of self-assurance. To complete the look, slip into a pair of stylish white sneakers.
Trust me, when you put it all together, you'll be strutting around with an undeniable aura of confidence, turning heads, and feeling like a million bucks. So embrace the boldness of pink, and let your fashion choices speak volumes about your unapologetic style.
---
7. Light Henley Shirt and Black/navy Jeans
When it comes to timeless and popular looks, you can't go wrong with a light-colored Henley shirt paired with either black or navy jeans. This classic combination effortlessly straddles the line between casual and formal attire, making it incredibly versatile. Opt for a pair of stylish boots to elevate the outfit even further. Trust me; it's a bold choice that adds a touch of rugged sophistication to your ensemble. In fact, this outfit can even hold its own in a professional setting.
Picture this: a day at the office, with your Henley shirt peeking out from underneath a casually worn suit. It's a statement that exudes confidence and shows that you understand the power of dressing well. So go ahead, embrace the timelessness of the Henley shirt, mix it with your favorite black or navy jeans, slip into those sleek boots, and conquer the world with your impeccable sense of style.
---
8. Dark Blue V-neck T-shirt and Black Jeans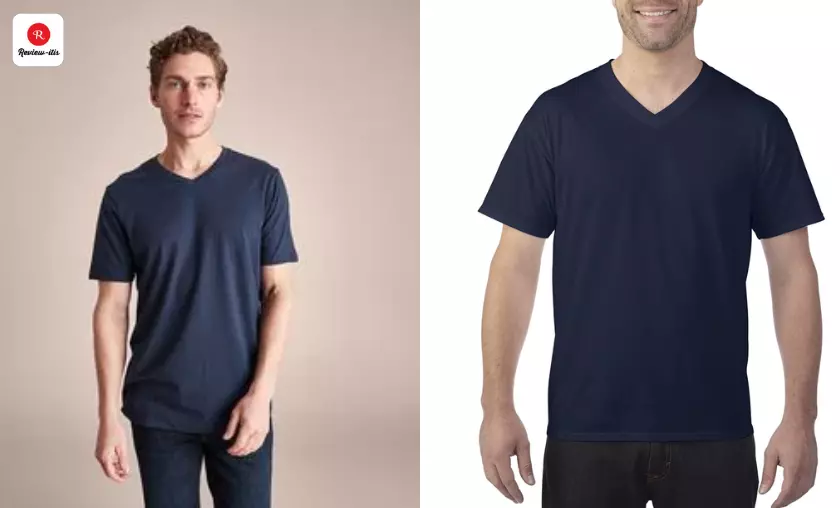 While it's true that black and white T-shirts are often hailed as the champions of versatility, let's not overlook the undeniable charm of a navy blue V-neck. This understated yet stylish piece deserves a spot in your wardrobe as a staple item. When you're aiming for a chic and sophisticated look, consider pairing a navy or dark blue V-neck with a classic pair of black jeans. The combination is effortlessly cool and exudes a sense of refined elegance. But here's a little secret: you can switch things up by opting for darker navy jeans instead of black.
The result? A sleek and polished ensemble that rivals its black counterpart in terms of style and sophistication. So, don't underestimate the power of navy blue, my fashion-forward friend. Embrace it, experiment with different pairings, and watch your style reach new heights of effortless elegance.
---
9. Black T-shirt and White Jeans
In a world filled with black and blue jeans, it's time to embrace the power of white denim and diversify your style. Owning a pair of white jeans opens up a world of killer combinations and fresh looks. One outfit idea that never fails is a timeless black crew neck T-shirt paired with well-fitted white jeans. The contrast between the black tee and the crisp white denim creates a striking visual impact that's hard to ignore. To complete your ensemble, opt for black boots and accessories that add a touch of ruggedness to your overall look.
Trust me; this combination exudes a cool and confident vibe that will turn heads wherever you go. So step out of the traditional black and blue jeans zone, my style-savvy friend, and explore the sartorial possibilities of white denim. You will be satisfied with the versatile and fresh looks you can create.
---
10. Denim Jacket, White T-shirt, and Denim Jeans
Going for the double denim look is an absolute must-have in any wardrobe. The beauty of this style is its effortless appeal, and achieving it is as simple as finding a perfectly matched pair of jeans and a jacket with the same pattern and color. Now, when it comes to choosing the right T-shirt to complete your ensemble, opt for a light-colored crew neck or V-neck.
While the classic white tee is a popular choice that never disappoints, we're also big fans of the understated charm of a grey shirt. Either way, you'll be nailing the double denim look and exuding a cool, confident vibe that's hard to ignore. So, my fashion-forward friend, embrace the timeless allure of double denim and rock this iconic style with flair.
Here's a classic tip to keep in mind: if you're planning to rock the double denim outfit, it's best to steer clear of wearing a blue T-shirt. Why? Well, the shirt's blue hue can clash with your denim jacket and denim jeans. To maintain a harmonious and polished look, it's advisable to opt for a T-shirt in a different color that complements the denim ensemble.
Doing so ensures that each element of your outfit shines individually while still coming together flawlessly. So, remember to be mindful of color choices and select a T-shirt that adds a stylish contrast to your double-denim look.
---
11. Black Bomber, Grey T-shirt, and Black Jeans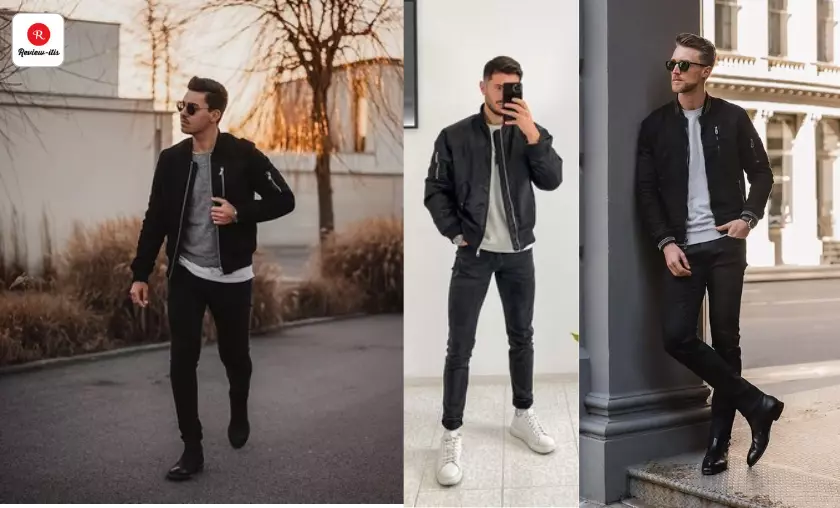 Get ready to channel some retro vibes and rock a sleek, undeniably stylish outfit that's tailor-made for the fall season. The winning combination is a black bomber jacket, black jeans, and a grey or white T-shirt. Picture yourself in this ensemble, with the bomber jacket adding a touch of coolness to the overall look. To complete the outfit, opt for slightly washed black boots that elevate your style game to the next level. Whether you're hitting the bars at night or simply strolling around town, this outfit will ensure you stand out from the crowd.
And here's the best part: if the temperature rises and it's time to shed some layers, taking off the bomber jacket reveals a classic white T-shirt paired with black jeans. It's an iconic combination that never fails to impress. So, embrace the retro vibes, my fashion-forward friend, and get ready to turn heads with this effortlessly cool and timeless ensemble.
---
12. Green T-shirt and Dark Blue Jeans
While light colors are great, feel free to venture into the world of darker shades. For a refreshing twist, consider pairing a medium-toned green T-shirt with your trusty blue jeans. This combination creates a casual and effortlessly simple outfit that's perfect for low-key occasions, such as a friend's cookout. Slip into a pair of clean white sneakers to add the finishing touches. Not only will they provide a striking contrast to the rest of your look, but they'll also elevate your style game to new heights.
So, venture beyond the basics, my fashion-savvy friend, and embrace the allure of darker shades like the medium-toned green. You'll be surprised at how effortlessly stylish and distinct your outfit becomes.
---
13. Burgundy T-shirt and Grey Jeans
The rising trend of red and burgundy crew necks is worth noting. These vibrant hues pair exceptionally well with grey or black jeans, creating a meticulously planned yet effortlessly stylish ensemble. However, don't limit yourself there – experimenting with blue or denim also yields fantastic results. This combination exudes a more laid-back, approachable, and warm vibe, making it ideal for casual occasions.
Plus, it truly shines during the fall season, perfectly capturing the cozy and inviting atmosphere of the time. So, embrace the popularity of red and burgundy crew necks, my fashion-forward friend, and discover the joy of creating simple yet striking outfits that capture the essence of comfort and style.
---
14. Faded-purple Long-sleeve T-shirt and Navy Jeans
Long sleeve T-shirts become a go-to option for a classic and timeless look. Just like their short sleeve counterparts, they pair beautifully with jeans. You can apply the same stylistic choices mentioned earlier or take it a step further by exploring the combination of light Earth tone tops with denim. For instance, try rocking a faded-purple long-sleeve V-neck or crew neck T-shirt with your trusty navy jeans.
This subtle contrast adds a touch of sophistication to your outfit while keeping it simple and effortless. Embrace the versatility of long sleeve T-shirts, my fashion-savvy friend, and discover the joy of creating effortlessly stylish looks that are perfect for the colder weather.
---
15. Dark Green Jacket, Light Green T-shirt, and Khaki Jeans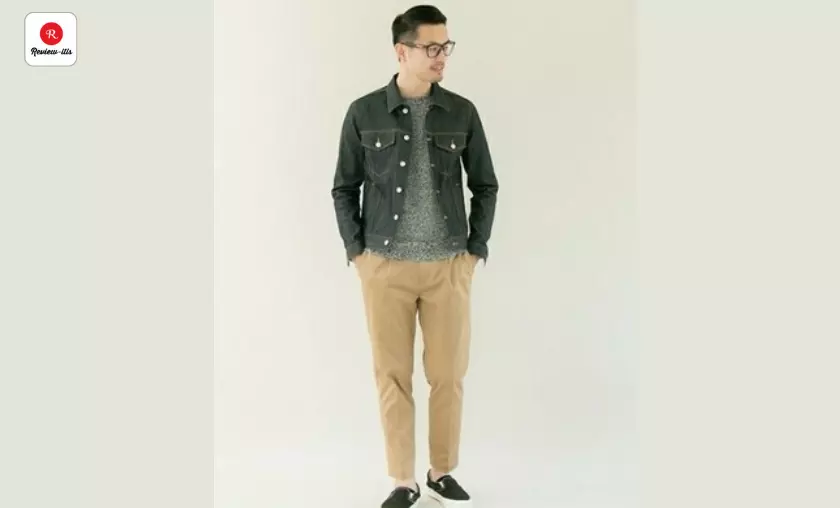 Khaki jeans make for a bold choice, but they can pay off handsomely when paired with the right clothing items. If you're looking to make a statement, grab a pair of khaki jeans and combine them with a lighter-toned green T-shirt. Both crew neck and V-neck styles would work well with this outfit. To add a touch of contrast, opt for a jacket in a different color, such as a dark green. If you want to elevate the outfit further and showcase your meticulous fashion sense, consider incorporating a light plaid shirt as an additional layer.
This not only introduces patterns but also adds a subtle change to the overall look. As for footwear, keep it casual and light-colored for those summer vibes, or opt for boots during the winter months. So, be bold and confident in your style choices, my fashion-forward friend, and create an outfit that exudes thoughtfulness and attention to detail.
---
16. Navy T-shirt and Burgundy Jeans
A wardrobe stocked with blue, black, white, and khaki jeans is truly enviable due to its versatility. However, if that feels too much for you, let me suggest the inclusion of a burgundy pair of jeans. Trust me, it will make you stand out from the crowd effortlessly. What's great about this color is its compatibility with both light and dark-colored T-shirts. Pair the burgundy jeans with a simple white T-shirt for a sleek and clean look. If you're in the mood to exude a touch of edginess, opt for a black T-shirt instead.
Either way, the resulting outfit will strike the perfect balance between style and simplicity. So, consider adding a burgundy pair of jeans to your collection, my fashion-savvy friend, and unlock a whole new realm of versatile and effortlessly stylish outfits.
---
17. Navy Pink Patterned T-shirt and Dark Denim Jeans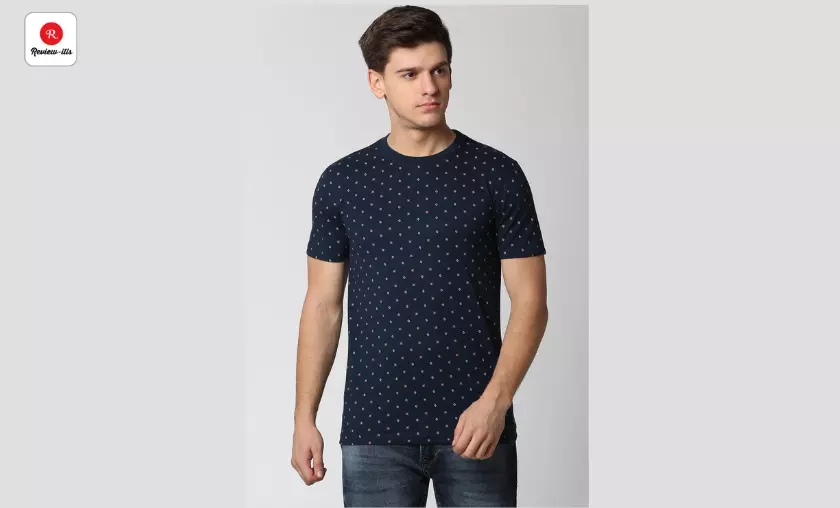 Here's an ingenious fashion hack for you: seek out T-shirts with contrasting colors to your jeans, and you'll achieve a striking and well-balanced look. When it comes to contrasting with dark denim, Earth tones, and nude tones work wonders. Imagine grabbing a sky blue T-shirt and pairing it with a pair of dark blue denim jeans. The contrast created by this combination is nothing short of magnificent and can be effortlessly worn for any occasion. It's particularly ideal for summer days and nights, and you can complete the ensemble by adding a dark blue or black jacket for an extra touch of style.
Now, if you want to wear a T-shirt to work, consider opting for a refined combination of copper and dark blue jeans. This sophisticated pairing exudes a sense of professionalism while still maintaining a fashion-forward aesthetic. It's also a fantastic choice for the fall season, capturing the cozy and warm essence of the time. So, my fashion-savvy friend, embrace the power of contrasting colors and unlock a world of endless outfit possibilities that are sure to make a statement.
---
18. Navy Blazer, White T-shirt, and Blue Jeans
While T-shirts and jeans are often associated with casual wear, it's worth noting that they can be elevated to create a surprisingly professional look when paired with the right items. Allow me to introduce you to a winning combination: a navy blazer, a white T-shirt, and blue jeans. This ensemble strikes the perfect balance between class and professionalism, making it suitable for occasions that call for a more polished appearance. To add an extra touch of sophistication, opt for off-color suede brown boots that provide a contrasting accent to your outfit. This subtle choice will elevate your overall look and showcase your refined sense of style.
So, don't underestimate the power of T-shirts and jeans, my fashion-forward friend. With a well-chosen navy blazer, a crisp white T-shirt, and the perfect pair of boots, you can effortlessly transform your casual attire into a refined and professional ensemble that will make a lasting impression.
---
How Will You Wear Your T-shirt With Jeans?
T-shirts and jeans are the timeless essentials that every wardrobe deserves. The beauty lies in their versatility, allowing for endless combinations when you invest in high-quality T-shirts and a diverse collection of jeans. Whether channeling the spirit of iconic figures like James Dean or blazing a trail with your unique style, the possibilities are limitless. So, don't hesitate to go beyond what we've discussed and fully embrace your personal style. With the perfect Classic T-shirt as your canvas, you have the freedom to express yourself and create outfits that reflect your true essence.
Remember, the power to curate a wardrobe that speaks volumes about who you are lies within your hands. So, go ahead and embrace the timeless allure of T-shirts and jeans, my fashion-savvy friend, and let your personal style shine through.
---
To read more similar articles, click here.
Thanks for visiting our Website. If you appreciate our work, kindly show us some support in our comments section 🙂