The new year is here, and it's time to celebrate! This year, we're particularly thrilled to get dressed up and spend time with our loved ones. No matter how you choose to enjoy the colder months, dressing for the occasion is always a blast.
Whether you're hitting the slopes or cozying up in a cabin with a cup of hot cocoa, we've got you covered with a wide range of outfits. From comfy sweats to elegant dresses, here are 11 winter looks for every occasion.
Table of Contents
Top 11 Outfits for Winter
---
Winter White Party Look
I'm a big proponent of the high-low fashion approach:
Mix and match items from different price ranges to create stylish looks.
When it comes to this particular ensemble, go all out on the main piece and complement it with affordable accessories.
Prepare to make a statement at your winter parties with this stunning mini dress adorned with feather trims.
Complete the look with accessories in evergreen hues for a touch of seasonal flair.
---
Après Ski
Rock this Perfect Moment jumpsuit in style, whether you're hitting the slopes or lounging by the fireside at a cozy bar. Pair it with a snug turtleneck and chunky boots for the perfect winter ensemble.
---
Facing the Elements
Ready for a snowball fight? Stay toasty with L.L. Bean's ultrawarm long coat, designed to keep you cozy in chilly conditions. Layer it over long underwear for added insulation, and complete the look with a comfortable alpaca sweater and a snug beanie. Embrace the winter season while staying warm and stylish.
---
Plaid Puffer Coat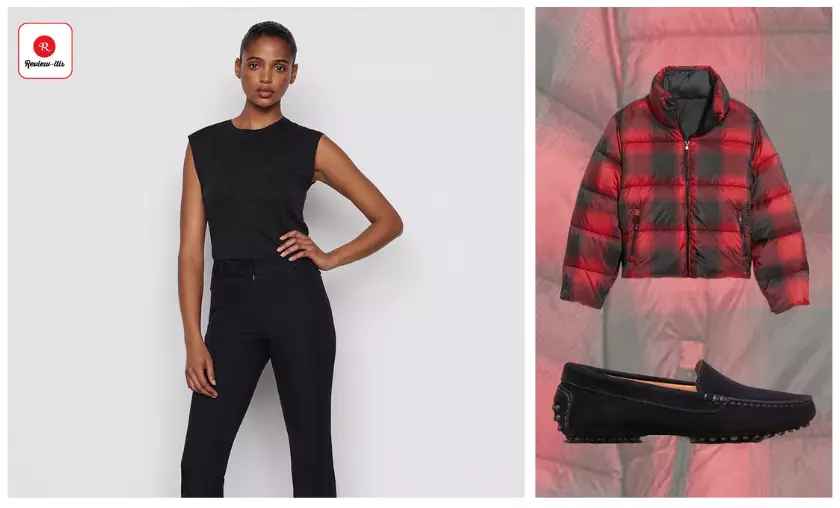 Planning to visit a brewery with your pals? Keep up with the latest trends by sporting a stylish red and black plaid puffer coat paired with comfy suede moccasins. This jacket is not only water-resistant but also ideal for layering during those quick outdoor excursions.
Here's a pro tip: enhance your winter ensemble by styling it with flared jeans for an extra touch of dimension. Stay fashionable while enjoying your time outdoors!
---
Sweater Dress
Get ready to make a grand entrance in the fabulous Mila sweater dress. This dress comes with a waist tie to highlight your figure, and we've paired it with raspberry-colored accessories for a vibrant and eye-catching look. The lowland boots provide a comfortable fit that you can effortlessly layer over tall socks. Stand out from the crowd in style with this stunning ensemble.
---
Padded Vest
Achieve a sporty chic winter athleisure look with utmost comfort. Layer a hooded puffer vest over a sweatshirt of your preference, and complete the ensemble with stretch denim and a pair of stylish Jordans. This combination blends coziness and style seamlessly, allowing you to rock a fashionable and relaxed outfit.
---
Teddy Bear Jacket
If you're seeking both protection from the elements and a touch of style, consider opting for a teddy bear jacket as a cozy and warm alternative to the traditional puffer jacket. The drop sleeves of this jacket are ideal for layering over a chunky sweater, adding to its overall appeal.
To complete your teddy bear vibe, pair it with a form-fitting Vince cable knit sweater made from luxurious materials. Embrace comfort and fashion effortlessly with this combination.
---
Cozy in Co-Ords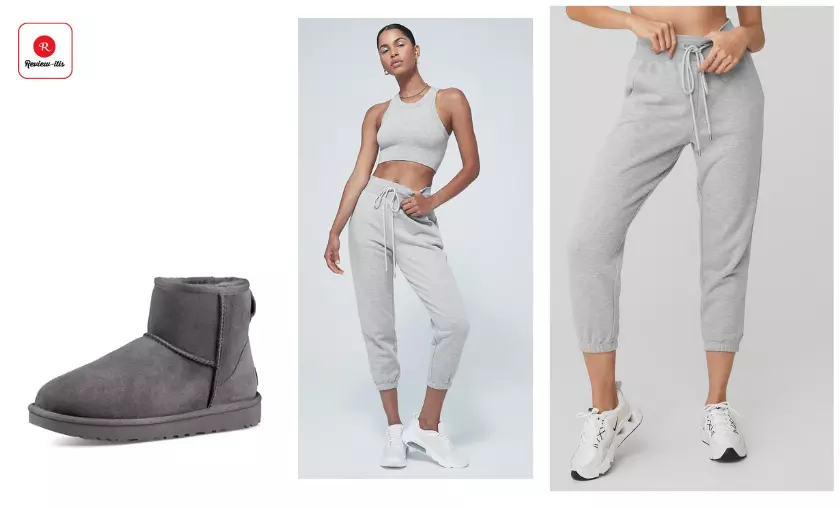 Elevate your off-duty style to new heights with the trendy joggers and waffle henley from Alo. Combine these comfortable pieces with Ugg's iconic classic mini boot in a delightful shade of gray. This combination not only exudes a relaxed and effortless vibe but also adds a touch of sophistication to your look. Embrace the ultimate blend of style and comfort with this ensemble.
---
Luxe Layers
Create a quintessential dreamy winter ensemble with luxurious layers and soft nude tones. The oversized fit of the Magnea sweater adds a touch of elegance, while fleece-lined leggings provide both comfort and warmth. Add a cozy pullover and wrap a scarf around your neck for added style to complete the look. Embrace the beauty of winter with this effortlessly chic outfit.
---
Trendy Tights
If you're in need of a glamorous ensemble for a fancy night out on the town, this one's perfect for you. Start by styling the Shayla velvet mini dress, an exquisite choice that exudes elegance. Pair it with fishnet tights that have a subtle sparkle, adding a touch of allure to your legs.
Lastly, complete the look with festive heels that bring an extra pop of glitz and glamour. Get ready to turn heads and make a dazzling impression with this stunning outfit.
---
Ruby Red
For a cozy yet chic festive look, combine Sanctuary's cropped cable sweater with Agolde's 90's recycled leather pants. This combination creates a seamless blend of comfort and style. To elevate the ensemble, finish off with Bottega Veneta's striking red sock booties and accessorize with a mini shearling bag. Embrace the holiday spirit while exuding fashion-forward confidence with this fabulous outfit.
---
Conclusion
When it comes to winter fashion, staying warm doesn't mean sacrificing style. We've curated a collection of the top 11 outfits that will keep you both cozy and fashionable throughout the season. From casual and sporty looks to elegant and glamorous ensembles, we've covered all bases to suit every occasion.
Whether you're hitting the slopes, enjoying a night out, or simply embracing the chilly weather, these outfits are designed to make a statement. Each outfit has been carefully selected, from cozy sweaters and trendy jumpsuits to chic dresses and outerwear, to ensure a perfect blend of comfort and style.
Feel free to mix and match high-end pieces with affordable accessories, creating your unique and personal winter style. Layer up with versatile essentials such as puffer coats, turtlenecks, and fleece-lined leggings, and finish off your looks with stylish boots, cozy beanies, or statement scarves.
This winter, let your fashion choices reflect your personality and embrace the joy of dressing for the season. Stay warm, stay stylish, and make a lasting impression wherever you go with these top 11 winter outfits.
---
To read more similar articles, click here.
Thanks for visiting our Website. If you appreciate our work, kindly show us some support in our comments section 🙂