Panda Dome stands as an impressively efficient antivirus solution, embodying ease of use as its core principle. With each plan, the company has gone above and beyond to include a plethora of invaluable features, guaranteeing you receive all-encompassing defense against malware, viruses, and hackers.

While the interface and icons may not match up to those of its peers, Panda Dome compensates for this with its provision of advanced security measures and premium support. Moreover, its credibility is further enhanced by proven lab results. Although it may not immediately outshine its competitors, Panda Dome possesses the potential to emerge as a formidable contender among industry leaders.
---
Overview of Panda Dome Antivirus Review

Panda Security, formerly known as Panda Software, has been a prominent player in the antivirus industry since its establishment in 1990. In January 2019, the company introduced Panda Dome, a robust security solution boasting an impressive array of features.
From cross-platform protection and a free VPN to Wi-Fi network security, parental control, identity protection, data shield, advanced threat protection, password management, and a cleanup tool, Panda Dome leaves no stone unturned in delivering comprehensive security measures.
Recent test results have substantiated the product's efficacy, assuring users of reliable protection. However, one aspect that warrants consideration is the pricing. The cost of 1-device protection on their entry-level "Essential" plan is set at $44.24 for the first year.
It's worth noting that for a lower price, one can acquire 5-device protection under the premium Trend Micro plan. Pricing, therefore, emerges as a significant concern when evaluating Panda Security's offerings.
Table of Contents
---
How to Set It Up and Uninstall
Setting up the software is a breeze. Prior to downloading Panda, ensure that your device fulfills the minimum requirements. Then, proceed with the following steps to complete the installation:
1) Go to the official website and download the package.
2) Once downloaded, select the desired options and click on Accept & Install.
3) Once the installation is completed, you need to enter the Activation Code to fully activate the product and its features (the code is sent on your registered email).
4) After successful validation, you're ready to use Panda Dome. The initial scan will take some time after the installation is complete.
Uninstalling the product from your Windows device is simple as well.
From the Menu, open Apps and Features
Select the program.
Click Uninstall.
Reboot the device when prompted.
---
Features

Panda Dome possesses the key qualities of an excellent antivirus solution. It boasts an abundance of features, offers user-friendly functionality, and ensures uninterrupted security for an unlimited number of devices. The premium plan stands out with its notable offerings such as Parental controls, VPN, Process Monitor, comprehensive antivirus capabilities, malware protection, safe browsing, password management, and a firewall. However, there is room for improvement, particularly in the area of the VPN, which is provided by a third-party.
Panda Dome presents itself as a solid and comprehensive product. However, it falls short when compared to industry leaders like Bitdefender or Norton. While it may not surpass the competition, it remains a commendable choice for users seeking a well-rounded antivirus solution.
General
| | |
| --- | --- |
| Money-back Guarantee | Yes, up to 30 days from the date of purchase. |
| Free Version | ✔️ |
| Platform | Windows, MacOS, Android |
| Parental Controls | ✔️ |
| Email Protection | ✔️ |
| Chat | ✔️ |
| VPN Services | ✔️ |
| Smartphone Optimizer | ✔️ |
| USD Virus Scans | ✔️ |
| Automated Virus Scans | ✔️ |
| Game Mode | ✔️ |
| Safe Browser | ❌ |
| Passive Mode | ✔️ |
Panda Dome Antivirus Review By Review – itis
Threat Protection
| | |
| --- | --- |
| Anti-Spyware | ✔️ |
| Anti-Worm | ✔️ |
| Anti-Trojan | ✔️ |
| Anti-Rootkit | ✔️ |
| Anti-Phishing | ✔️ |
| Anti-Spam | ✔️ |
| Adware Prevention | ✔️ |
Scanning

Panda Dome offers users three convenient scan modes: full scan, custom scan, and the specialized "Critical Areas Scan." This diverse range of options allows for quick analysis and personalized scanning based on individual needs. During our in-depth scans, we observed that the software operates with minimal consumption of system resources, setting it apart from many other antivirus products. Although there was a slight increase in CPU utilization compared to idle mode, it remained within acceptable limits.
Once the scan is completed and potentially corrupted files are removed, the solution automatically halts its operations. Notably, Panda Dome excels in detecting various types of threats, including malware, ransomware, and other malicious files and folders. Its robust scanning capabilities ensure comprehensive protection for users' systems.
Pricing
Plan
Price
Number of Devices

Top Features

Panda Dome Essential
$44.24/1st year
1
Antivirus Protection, Wi-Fi Protection, Free VPN (150 MB/Day)
Panda Dome Advanced
$53.24/1st year
1
Identity Protection, Parental Control, USB Scan
Panda Dome Complete
$80.24/1st year
1
Password Manager, Data Shield, Ransomware Protection.
Panda Dome Premium
$125.21/1st year
1
Premium Support, Premium VPN, Clean Up Tool.
Discounts
Discount

Panda Dome features a pricing structure that proved to be the most intricate among the products we evaluated. With four distinct plans available, the cost varies depending on the number of devices chosen. However, there is a noteworthy 25% discount offered to new customers who opt for an annual subscription.
To illustrate, the entry-level 'Essential' plan is priced at $44.24 for the first year for a single device, while it costs $53.24 for three devices, $62.24 for five devices, $80.24 for ten devices, and $89.24 for unlimited devices. In our assessment, we found the Complete package to be one of the most advantageous options for those looking to safeguard five devices, with a cost of $98.24 for the first year. This pricing arrangement allows users to select the plan that best aligns with their specific device needs while considering the associated value and benefits.
Privacy and Security
Privacy – is a top priority in Panda Dome, as it offers a range of features to protect your devices and preserve your online and offline history. While the Data Shield is a valuable feature, it requires manual activation. Another notable inclusion is the Wi-Fi Protection, which provides smart home monitoring capabilities. Although not as intuitive as Bullguard or ESET, Panda Dome still delivers commendable performance in ensuring privacy. With features like a firewall and VPN, enhanced privacy is further supported. While there isn't a dedicated browser, the provided extensions effectively serve their purpose. The identity protection feature is particularly valuable for maintaining privacy during online shopping, browsing, and banking activities.
Security – Panda claims a 100% virus detection rate. Standout features such as the Virtual Keyboard and Rescue Kit contribute to its competitive edge. With real-time scanning operating continuously, the software effectively detects and removes malware, viruses, and ransomware. Additionally, essential features like parental controls, firewall, password manager, and data shield play crucial roles in safeguarding devices and data from all threats.
The product's performance was last evaluated by AV-Test in December 2018, receiving an impressive cumulative score of 17 out of 18. Notably, it achieved a perfect detection rate of 100% for the utilized 0-day malware samples, surpassing the industry average of 99.6%. This reinforces Panda Dome's reliability and effectiveness in combating emerging threats.
---
Performance and Protection

Panda stands out as an exceptionally lightweight antivirus solution. It operates with minimal impact on system resources, running discreetly in the background without causing noticeable disruptions.
In the October 2019 Performance Test conducted by AV-Comparatives, Panda participated alongside 15 other products. It earned the esteemed AV-Comparatives ADVANCED+ rating, receiving an impressive impact score of 9. This achievement positions Panda alongside renowned brands such as AVG and Avast, further solidifying its reputation for superior performance and reliability.
Malware Protection

The antivirus module of Panda Dome empowers users with robust capabilities to identify and thwart malware and cyber threats, offering a range of customizable options. With features like blocking potentially unwanted programs (PUPs), behavioral blocking choices, and real-time comparison of infected files with samples from the Panda Security Cloud, the software excels in detecting and eliminating malware threats.
In the September 2019 Malware Protection test conducted by AV-Comparatives, Panda Dome showcased its effectiveness by successfully blocking an impressive 99.9% of 10,556 malware samples. However, it is worth noting that the software exhibited a relatively higher number of false positives, indicating room for improvement in this aspect. Nonetheless, Panda Dome's advanced malware protection capabilities demonstrate its commitment to safeguarding users against malicious software and cyber threats.
Ransomware Detection

Regrettably, the lower plans of Panda Dome lack ransomware detection, which we consider a significant drawback. However, the software compensates for this limitation by offering real-time threat detection and quarantine capabilities, which is indeed a valuable bonus. The URL blocking feature, while somewhat basic in its functionality, works in conjunction with the firewall and VPN to ensure protection against ransomware attacks.
To provide users with comprehensive security, Panda Dome incorporates additional functionalities such as a browser extension, identity protection, and data shield. These added layers of protection contribute to safeguarding your online and offline activities, ensuring a holistic approach to your security needs. Despite the absence of ransomware detection in lower-tier plans, the combination of these features strives to deliver the necessary measures to keep you well-protected.
Phishing Detection

In addition to the VPN provided with the premium plan, Panda Dome showcases an average phishing URL detection rate. Notably, it lacks email scanning and anti-spam features. However, it offers a dedicated extension called Safe Web, which encompasses a wide array of options such as a tracker blocker, ad blocker, and web health monitor, among others. The inclusion of identity protection is another notable feature that activates during online browsing, shopping, and transactions, bolstering user security.
In the October 2019 AV-Comparatives Real-World Protection Test, the product received a respectable ADVANCED rating. This ranking positions Panda Dome above competitors like F-Secure and ESET, underscoring its effectiveness in real-world protection scenarios.
Spyware Detection

Aside from its real-time detection capabilities, Panda boasts a standout feature known as the Virtual Keyboard. This innovative keyboard program serves as a safeguard against keyloggers, ensuring that your credit card details and confidential logins remain secure while typing. The browser extension offers convenient functionalities such as a tracking blocker, ad blocker, and spyware protection, enhancing your overall online security.
The Process Monitor provides users with a comprehensive view of blocked and allowed processes, offering valuable insights into system activity. While Panda's antivirus software delivers efficient protection, we believe that some adjustments are necessary to match the level of security provided by top performers like Avira and F-Secure. Fine-tuning the protection aspect would elevate Panda's overall performance and enhance its competitive position in the market.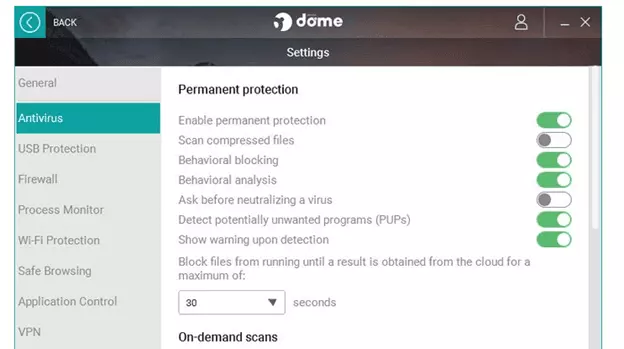 Firewall Protection

The firewall in Panda Dome offers a user-friendly configuration process. Not only does it enable basic settings customization, but it also provides access to over 18 related settings, granting users full control over the network usage of various applications. With the software, you can specify which programs are granted access through the device's ports when connecting externally.
One aspect we particularly appreciated was the level of control it offers compared to many other products in the market. While advanced features such as two-way protection may not be available, the firewall still performs admirably, ensuring effective protection for users. Overall, Panda Dome's firewall delivers a commendable performance, combining ease of use with ample control over functionality.
---
Lab Test Results
Panda has established its credibility through recent independent lab test results. In the 2019 AV-Comparatives yearly summary, it earned two ADVANCED+ ratings and three ADVANCED ratings based on comprehensive tests conducted throughout the year.
Notably, in the 2019 Real-World Protection Test, Panda achieved an ADVANCED rating with an impressive overall blocking rate of 99.6% (703 samples). However, it did generate a relatively higher number of false alarms (12) compared to industry leaders like Kaspersky or Avira.
The company's performance was also evaluated in the November to December 2018 AV-Test Product Review and Certification Report, where it achieved a commendable total score of 16.5/18 across the parameters of Protection (6), Performance (5), and Usability (5.5).
One of Panda's strengths lies in its lightweight system impact, as confirmed by the AV-Comparatives October 2019 Performance Test, where it received an impact score of 9 and was granted the prestigious ADVANCED+ rating.
Furthermore, in the same lab's September 2019 Malware Protection Test, Panda demonstrated solid performance with a 99.99% online protection rate, securing the 4th-best score. Although Avast, AVG, and Trend Micro topped the charts with 100% rates, Panda still achieved an ADVANCED rating despite a relatively higher number of false positives (21 cases). These test results highlight Panda's strong performance and reinforce its position as a reliable antivirus solution.
---
Ease of Use and Interface

Panda presents itself as a lightweight package, boasting a compact installer that is merely 2MB in size. The initial installation process is impressively swift, typically taking no more than 2-3 minutes. One notable aspect we appreciated was the software's ability to customize browser settings prior to installation, providing users with a convenient opportunity to tailor their experience.
While the user interface (UI) of Panda is easy to navigate and straightforward, we did find it to be overly cluttered with large iOS-style icons. This abundance of icons detracts from the overall simplicity and can potentially make the interface feel crowded. Nevertheless, once familiarized with the UI, users can easily access the desired features and functionalities provided by Panda.

The interface of Panda presents users with a changeable background, adding a touch of visual appeal. However, one notable aspect is the surplus of white space at the top, which results in a congestion of options at the bottom part of the dashboard. Despite this, it is worth mentioning that all the essential features are thoughtfully organized and readily accessible.
Upon clicking on the Settings tab, a new tab opens, where users can find various functions neatly grouped for easy navigation. For those who prefer a straightforward setup, sticking with the default configuration will suffice. However, advanced users will appreciate the opportunity to customize the antivirus down to the finest details, providing a tailored experience.
Upon opening the main screen, users are greeted with a comprehensive display of every feature and tool, along with their immediate status. Clicking on each icon allows users to access additional settings and specific features. Overall, we found that the new interface greatly enhances the ease of locating all the necessary components, contributing to an improved user experience.
---
Customer Support

Panda goes above and beyond to offer users a comprehensive technical and customer support network. They provide multiple avenues for assistance, including phone, email, and online chat services. Their commitment to customer satisfaction is evident through their extensive online resource library and dedicated forums, which effectively categorize frequently asked questions and provide helpful how-to guides.
For premium clients, Panda ensures round-the-clock support, 24/7/365, with a range of services including phone assistance, remote computer takeover, remote virus removal and tune-up, and complete system maintenance. On their main support page, users can find both regular and premium phone support numbers, as well as a guide to the email form for further inquiries.
During our research, we discovered that Panda is not BBB accredited and holds a D- rating on their profile. However, they do have a claimed profile on Trustpilot, where they have received a commendable TrustScore of 4.4/5 based on 5,283 customer reviews. This positive feedback from users speaks to the quality of their support services and overall customer satisfaction.
---
Pros
Lightweight and minimal system impact.
Advanced threat protection.
Free VPN.
Parental controls..
Firewall protection.
Quick system scans.
Device cleanup.
Device locator.
Cloud storage and backup.
No commitment subscription option.
Cons
Complicated pricing structure.
Cluttered interface.
150 MB capping on VPN.
Premium support costs extra (unless you have the Top-Tier plan).
---
Conclusion
The review of Dell Endpoint Antivirus in 2023 provides a comprehensive analysis of its features, pricing, and more. The overview of Dell Endpoint Security Suite Enterprise highlights its robust capabilities in threat protection, scanning, and firewall protection. The review also covers the pricing options, including discounts, and emphasizes the importance of privacy and security. Additionally, the performance and protection aspects are examined, with a focus on malware, ransomware, phishing, and spyware detection. The review includes lab test results, indicating the effectiveness of Dell Endpoint Antivirus. Ease of use and interface, along with the availability of reliable customer support, further enhance the overall user experience.
---
For More amazing articles related to Antivirus Check out our website Over Here
To Read more similar articles click here
Thanks for visiting our Website. If you appreciate our work, kindly show us some support in our comments section 🙂