Have you ever thought about the nutrition for the traveling, as an athlete, you should think about that. Here we're shown something for you…
Maintaining a high-quality sports nutrition plan is essential for health and performance. But that's not always easy when you're on the road. Whether you're traveling by foot, bike, bus, car, or plane, it's important to stick to your normal training diet.

Depending on your mode of transportation, you might encounter challenges like a lack of suitable foods and fluids, food contamination, flight delays, special dietary needs, altered sleeping patterns, and jet lag. Here are some suggestions to ensure you follow your nutrition plan away from home… and keep performing at your best!
Table of Contents
Nutrition for the Traveling: How Will You Get There?
Travelling by Foot
Oh my goodness, remember the importance of having a nutrition plan, even if you're not jetting off somewhere! Whether you're embarking on a long hike, bike ride, or run, you need to ensure you have plenty of fuel to keep you going.
Pack some high-carb snacks that are simple to carry, like energy bars, sports gels or beans, and sports drink powder or oral rehydration solutions to make things easy. And remember to plan your route with pit stops in mind – you'll need to refill that water bottle along the way!
Travelling by Bus or Car
When traveling by bus or car, dehydration is a major nutrition concern you must watch out for. Those air-conditioned vehicles may keep you cool, but they also increase your fluid needs, which makes it even more important to stay hydrated. To avoid dehydration, aim to drink at least one cup of fluid for every hour of travel and choose water more often than other beverages. Keep caffeine to a minimum and avoid alcohol altogether.
If you want to stay healthy on the go, it's crucial to pack your own meals and snacks so you don't have to rely on fast food restaurants. And, to keep your food at a safe temperature, bring along coolers or insulated bags with plenty of ice or ice packs. And, if you're traveling out of the country, make sure you know what foods you're allowed to bring across the border and have a plan in place to stop at a grocery store once you reach your destination.
Travelling by Plane
Attention, travelers! If you're hopping on a plane anytime soon, you should know that dehydration is a real concern due to the low humidity and cabin pressure. To combat this, aim to drink at least one cup of fluid for every hour you're in flight, and steer clear of caffeine-containing beverages that can worsen the problem. Remember to bring your own refillable water bottle, and ask for more water from the flight attendant once you're done!

To avoid jet lag, stick to your usual meal schedule and set your watch or phone to the destination time. This will help you adjust to the new time zone more quickly. Keep yourself entertained with books, magazines, and games to avoid snacking out of boredom. And remember to pack some hand sanitizer and wash your hands frequently to reduce your risk of getting sick while traveling.
Consider packing the following portable travel foods:
Trail mix, chocolate milk, canned tuna, crackers, granola bars, dried cereals, nut butter, instant oatmeal, tortillas, sports drink powder, trail mix, applesauce, dried fruit, beef jerky, skim milk powder, spices
Nutrition for the Traveling: Where Will You Eat?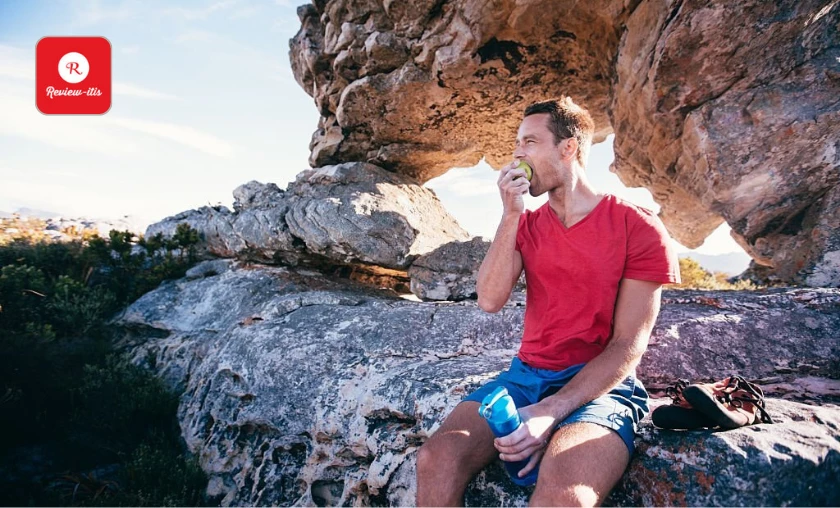 Hey, travelers! Before you embark on your next adventure, take a moment to do some research on the cooking amenities that will be available at your hotel. This will help you plan your meals and avoid surprises once you arrive. Make sure to consider where you'll be eating most of your meals, and take note of what kinds of food are available in the area. With a little preparation, you'll be able to enjoy some delicious meals and make the most of your trip!
What restaurants and grocery stores are near the hotel or venue, and what hours are they open?
Is breakfast served at the hotel? What time is it available and what's the food selection like?
Are the hotel rooms equipped with fridges/freezers, microwaves and kettles?
Eating in the Hotel Room
If you're following a sports nutrition plan, preparing some of your meals and snacks in the comfort of your hotel room can be a smart and healthy choice. This way, you can have greater control over the ingredients and portion sizes, ensuring that you're getting the right balance of nutrients to support your training and recovery.
So, don't hesitate to pack some of your favorite snacks and cooking tools before you hit the road. Your body will thank you for it!
Here are some suggestions for how to plan & prepare nutritious meals & snacks in the hotel room:
Pack a can opener, utensils, napkins, Ziplock bags & disposable dishes.
Use the microwave to make scrambled eggs, oatmeal or a muffin in a mug.
Keep fridges stocked with nutritious foods (fruit, yogurt, milk, veggies).
Use the coffee maker to make steamed rice or broccoli.
Make a grilled sandwich/wrap with cheese/hummus/canned tuna by using the hotel room iron (turn off steam!). Place ingredients in between two slices of bread and lightly butter the outside. Wrap in tinfoil and lightly press iron down and heat until outsides are golden brown.
If you're looking for fun and inventive ways to stay healthy while on the go, you have to check out these 10 amazing healthy food hacks specifically designed for travelers like you. These tips are packed with great ideas, including instructions for cooking up some delicious eggs right in your hotel room coffee maker! So, be sure to give them a try & see how easy it can be to eat well, even when you're away from home. You won't be disappointed!
Eating at a Dining Hall or Buffet
When you're faced with a wide range of tempting foods at the dining hall, it can be easy to get distracted and overindulge in items that don't support your performance goals. That's why it's so important to go in with a plan. Before you hit the dining hall, take some time to review your sport nutrition goals and decide what kinds of foods will help you achieve them.

With the clear plan in place, you'll be able to navigate the options more easily and make choices that will support your body and your performance.
Consider these tips for choosing wisely at the buffet:
Eat like you would at home; have one meal, following the same serving sizes you would typically have.
Avoid overeating by first looking at all of the options available before putting them on your plate.
Once you've finished your meal, leave the dining hall to avoid eating out of boredom.
Limit high-fat items such as foods that are fried, crispy, creamy, buttery or au gratin.
Opt for healthier choices that are baked, broiled, steamed, poached or in tomato sauce.
Eating at a Restaurant
When you're eating out, finding foods that align with your sports nutrition plan can be a real challenge. With so many options to choose from and often oversized portion sizes, it can take a lot of work to stay on track. But don't worry – with some planning and smart choices, you can still enjoy delicious meals that support your performance goals.
Some ideas for making good nutrition choices when eating out:
Review the menu ahead of time & choose a meal that fits your sports nutrition plan.
Choose quality carbohydrates such as rice, pasta & whole-grain bread. Include lean protein such as chicken, beef, fish, beans or tofu, & add steamed or raw veggies.
If you're going to the same restaurant multiple days in a row, avoid flavour fatigue by choosing different meals each day.
Ask for a pitcher of water to have on the table to ensure you stay hydrated.
Take some time to research restaurants in advance and look for menu items that align with your needs. And when you're there, don't be afraid to ask for substitutions or adjustments to ensure your meal is right. With a little bit of effort, eating out can be a fun and satisfying part of your sport.
---
Conclusion
With this complete guide to nutrition for the traveling athlete, you're well on your way to staying fueled, healthy, and ready to perform no matter where your travels take you.
By planning ahead, choosing smart options, and staying true to your sports nutrition goals, you can make the most of your journey and come out on top. So pack those snacks, stock up on fluids, & get ready for the adventure of a lifetime – you've got this!.
---
For more amazing articles related to Health, Checkout Now with a click
To read more similar articles, click here.
Thanks for visiting our Website. If you appreciate our work, kindly show us some support in our comments section. 🙂