Get ready to dive into my all-inclusive guide, "Create Your Own Home Gym On A Budget," resulting from over 200 hours of thorough research. As a bonus, I'll be sharing valuable insights based on my extensive experience with home gym equipment.
We all know that setting up a personal fitness sanctuary can be quite a challenge, especially when you're on a budget. The vast sea of information out there can be overwhelming, making it difficult to distinguish between essential equipment and mere gimmicks designed to empty your wallet. But fear not! I'm here to be your guiding light through this cacophony of choices. So, let's not waste any more time and jump right into the exciting world of creating a budget-friendly home gym!
Table of Contents
---
Create Your Own Home Gym on a Budget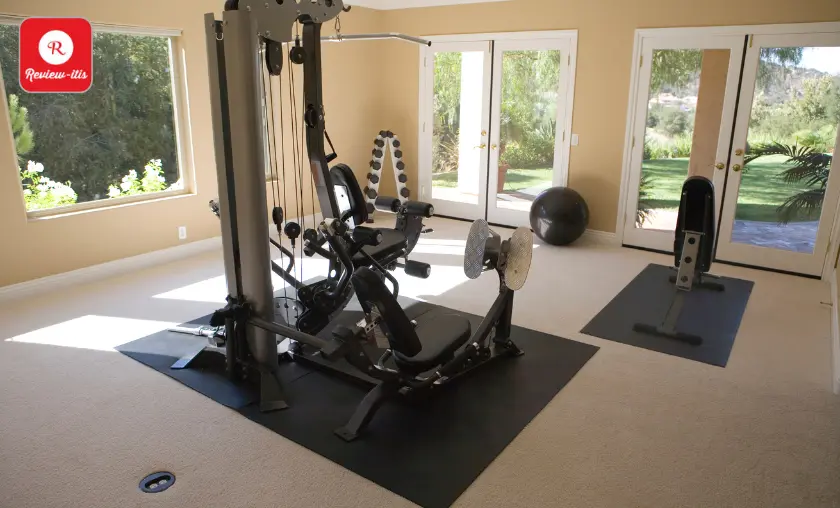 Let's get one thing straight: having a home gym is not a mandatory requirement. You've got many options at your fingertips – hitting up a local gym, embracing the great outdoors for a run, following those free bodyweight workout videos on YouTube, or even embracing your inner couch potato. It's your call, really.
That's why the first crucial step in this journey is all about nailing down your personal fitness goals. What do you want to achieve? Once you've clear those objectives in your mind, only then can you decide whether creating a home gym is the way to go.
Regardless of your decision, allow me to highlight a few advantages that I personally have found in having a gym at home:
Family Proximity: Spend more time with loved ones
Enhanced Discipline: Develop stronger self-control
Time Efficiency: Save valuable time
Stress Relief (Bye-bye, Annoying Gym Folks): Alleviate stress and avoid bothersome encounters
Enhanced Appearance and Well-being: Improve our overall look and feel
Active Gym Usage: Ensure regular utilization of the gym
Financial Benefits: Save money
---
Does a Home Gym Actually Save Money?
Prepare to witness the revelation that a fully equipped home gym can be established for under $1,000 with brand-new equipment.
Now, let's dive into some enlightening statistics for you to weigh:
By eliminating the gym membership expense, you could save money month after month in just 18 months. And mind you, this calculation is based on purchasing new home gym equipment, with a gym membership costing $50 per month and the total gym cost estimated at $904.
Oh, and don't forget to explore our Black Friday gym equipment guide if you happen to love finding great deals!
However, the advantages extend beyond the mere absence of a membership fee:
Dress as you please; there's no dress code to adhere to.
You'll likely have the gym to yourself (or maybe just a few friends and family members).
Being in close proximity to your fridge allows you to enjoy real post-workout meals, reducing the need for excessive supplements.
Free online resources like YouTube provide a wealth of content that can replace personal trainer guidance. Alternatively, you can explore our comprehensive workouts here to find one that suits your needs.
---
How Much Does a Home Gym Cost?
When it comes to purchasing shiny new home gym equipment, the majority of folks tend to fall within the range of $500 to $3,000. Sure, there are those high rollers who splurge on top-of-the-line gear, but most of us venture into home gyms as a way to save some hard-earned cash.
However, here's a word of caution: setting a budget of $500 might seem tempting, but be aware that you may need to invest in future upgrades, making it less cost-effective in the long haul. To shed some light on this matter, I conducted a survey involving over 1,300 individuals and found that the average cost of a home gym came in at a whopping $3,141.
Nevertheless, conducting thorough research can significantly reduce this cost. After investing countless hours into comprehensive research and equipment testing, here are the approximate costs you can expect:
Price Range
Barbell
Plates
(250 lb set)
Mid-range
Bench
Total
Budget
$100
$250
$155
$50
$555
Mid range
$255
$450
$350
$250
$1,305
Upgrade
$495
$710
$850
$499
$2,554
Elite
$1,100
$1,700
$2,000
$935
$5,735
Our Best Pick
Mid
Budget
Mid
Budget
$905
While you could purchase numerous additional items for your home gym, I'll explain later why we suggest starting with these four specific items.
---
Where to Buy Home Gym Equipment
The prices mentioned in the table above reflect the costs of brand-new equipment, which can be purchased from various sources such as:
Amazon
Physical stores
Online stores (check out reputable brands listed in the "how to choose home gym equipment" section)
However, if you're conscious of your budget, here are some clever ways to save a substantial amount of money:
Consider Buying Used Equipment From:
Facebook Marketplace (my personal favorite)
Craigslist
OfferUp
LetGo
Local garage sales or estate sales
Gumtree (UK)
If you possess a knack for handiwork, you can even construct your own equipment, including:
A Platform using stall mats and plywood
Power racks (yes, some people actually do this!)
Reverse hypers (watch the video below to understand what I mean)
Plate holders
DIY pulling blocks
And much more!
Believe it or not, some individuals have managed to set up a complete home gym for under $100. In fact, my friends Rob and Melissa have even made money by flipping items like home gym gear!
---
Where to Build Your Home Gym
I'm sure you've already contemplated this, but for most individuals, the three options to consider are:
Garage (or basement) vs. spare room vs. outside.
Each of these areas has its own advantages & disadvantages when it comes to setting up your home gym.
Garage (or Basement)
Pros:
Doesn't occupy space inside the house.
Typically offers ample room for equipment.
Often features concrete flooring that is resistant to damage.
Cons:
Prone to being cold in the winter and hot in the summer.
It can be easily overlooked since it's located outside of the main living areas.
Garage space can become cluttered and unappealing if not organized properly.
---
Spare Room
Pros:
Greater convenience.
Ability to control the temperature.
Offers the most visually appealing environment.
Cons:
Occupies space within the house.
Potential safety concerns with small children present.
The requirement to protect the flooring from potential damage.
---
Outside
Pros:
Enjoy the fresh air while working out.
Benefit from ample space for your equipment.
Reduced risk of damaging indoor flooring.
Cons:
Potential impact on the aesthetic appeal of your garden.
Dependence on weather conditions for outdoor workouts.
Equipment may be susceptible to rust and damage due to outdoor exposure.
---
Conclusion
Creating your own home gym on a budget is not only feasible but also an incredibly rewarding endeavor. By carefully considering your fitness goals, exploring cost-effective options, & making smart choices when it comes to equipment and space, you can build a home gym that suits your needs without breaking the bank.
Whether you opt for second-hand equipment, DIY solutions, or strategic purchases, remember that the ultimate goal is creating a space to prioritize your health and well-being.
So, go ahead and embark on this exciting journey to establish your very own budget-friendly home gym, and let the benefits of convenience, savings, and personalization enhance your fitness routine.
---
FAQs
What Are Some Cost-effective Alternatives to Expensive Gym Equipment?
There are plenty of affordable alternatives to expensive gym equipment. Resistance bands, bodyweight exercises, and DIY solutions can be just as effective as their pricier counterparts. You can also explore second-hand options or consider renting equipment to save money.
How Can I Find Affordable Gym Equipment?
To Find affordable gym equipment, consider checking out local garage sales, online marketplaces, or sporting goods stores during sales and discounts. You can also join fitness communities or social media groups where people often sell or trade their used equipment at lower prices.
Can I Use Household Items as Workout Equipment?
Absolutely! Many household items can double as workout equipment. For example, cans of food can be used as weights, a sturdy chair can serve as a workout bench, or a towel can be used for resistance exercises. Get creative & make use of what you already have.
Do I Need a Lot of Equipment to Have an Effective Workout?
You can use a limited array of equipment to have an effective workout. Bodyweight exercises like push-ups, squats, and lunges can provide a challenging full-body workout. Incorporating resistance bands or dumbbells can add variety and intensity to your routine.
What Are Some Space-saving Options for a Small Home Gym?
If you have limited space, there are space-saving options available. Look for compact and foldable equipment that can be easily stored when not in use. Utilize vertical space by mounting equipment on walls or investing in wall-mounted storage solutions.
For more amazing articles related to Fitness, Checkout Now with a click
To read more similar articles, click here.
Thanks for visiting our Website. If you appreciate our work, kindly show us some support in our comments section. 🙂