Need help to decide between Bluehost and GoDaddy for your web hosting and domain registration needs? These two providers have gained significant popularity, but be aware of their similarities. They have a lot of differences when it comes to the user experience.
To make the right choice, you should prioritize long-term reliability, customer support, and overall satisfaction. That's why we're here to present a detailed comparison between Bluehost and GoDaddy. By examining their advantages, disadvantages, and pricing, we'll help you determine which provider stands out in every aspect. Bluehost vs GoDaddy Comparison
Table of Contents
---
Bluehost vs GoDaddy Comparison
Bluehost, established in 1996, is one of the longest-standing and most prominent web hosting companies worldwide. With over 2 million websites powered by their services, they have built a solid reputation for reliability and trustworthiness. Their association with WordPress.org as an official recommendation further validates their credibility.
Regarding affordability, Bluehost shines as the top choice for budget-friendly hosting. Their competitive rates, user-friendly features, and business growth scalability make them our preferred option.
Bluehost is dedicated to excellence, continually enhancing its server hardware infrastructure and overall hosting experience. They prioritize ease of management for your hosting plan and domain names, offering convenient features like 1-click WordPress installation, website builder tools, and professional email services. All of these can be conveniently accessed through their user-friendly dashboard.
Bluehost emerges as a platform packed with features, designed for user-friendliness, and committed to delivering reliable hosting services.
GoDaddy hailed as one of the global leaders in domain name registration and web hosting services, has garnered significant acclaim, particularly among novices. Their introductory prices for domain registration are remarkably competitive, presenting an enticing choice for newcomers.
What sets GoDaddy apart is its exceptional round-the-clock customer support, specifically tailored to assist beginners in their online journey. Their user-friendly dashboard and cPanel (control panel) provide effortless management of hosting, domains, and websites.
While GoDaddy offers plenty of positives, being cautious about a few aspects is essential. They tend to complicate the signup process with excessive add-ons and upsells that may not be necessary when you start.
On the positive side, GoDaddy provides various valuable tools, including a website builder, professional email accounts, and a comprehensive digital marketing suite. Additionally, their hosting performance is consistently reliable and fast.
The question remains: which host is the right choice for you?
Let's delve into our comprehensive comparison of Bluehost and GoDaddy to find out.
---
Bluehost vs. GoDaddy – Ease of Use
Bluehost takes pride in providing users with an exceptionally user-friendly dashboard. As soon as you log into your account, you'll be greeted by a fresh and neatly organized dashboard, ensuring a seamless experience locating the required features. Accessing your sites, email, domains, and marketing tools is quick and hassle-free, thanks to the intuitive design of the dashboard.
Bluehost goes above and beyond by providing advanced options that lead you to a personalized cPanel. Within this cPanel, you'll discover many possibilities, including 1-click installation options for popular website builders such as WordPress, Joomla, Drupal, Magento, Weebly, Prestashop, and numerous others.
Furthermore, the convenience continues with the inclusion of the Softaculous app installer within your cPanel dashboard, enabling you to swiftly install a diverse range of applications and tools onto your website.
Simply put, this centralized dashboard empowers you to effortlessly manage all aspects of your website from a single, unified location.
GoDaddy is the ultimate hosting solution for beginners, primarily due to its unbeatable affordability for starting. Additionally, they boast one of the most user-friendly management sections available. Navigating through their intuitive interface is a breeze, thanks to their neatly categorized sections, allowing you to locate what you need swiftly and effortlessly.
Within GoDaddy's cPanel, you gain complete control over your websites. From managing existing websites to adding new domains, creating subdomains, running backups, and beyond, all these essential tasks can be seamlessly handled within the GoDaddy ecosystem.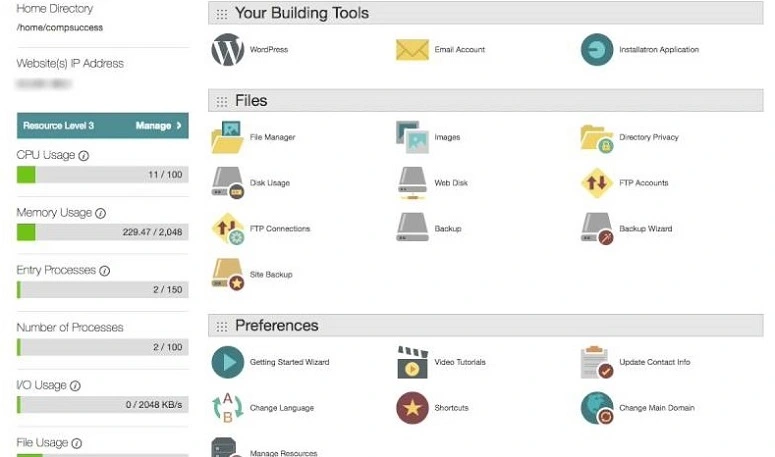 GoDaddy extends support for many user-friendly platforms, including cPanel, Softaculous, CentOS, and Microsoft Office 365. These platforms offer convenience and versatility to users, enhancing their overall experience.
However, compared with Bluehost, the GoDaddy dashboard may appear slightly outdated. While it still delivers functionality and usability, some users may find that the visual aesthetics could benefit from a more modern touch.
Winner: Bluehost
---
Bluehost vs. GoDaddy – Features
Both Bluehost and GoDaddy present feature-rich hosting plans that cater to diverse needs. Now, let's quickly overview the highlights of their offerings.
Cost-effective hosting options
Tailored plans specifically for WordPress & WooCommerce
Complimentary domain name registration
Included CDN + SSL at no additional cost
Effortless WordPress installation with a single click
Intuitive website builder featuring drag-and-drop capabilities
Cutting-edge website templates powered by AI
Unlimited storage capacity
Top-of-the-line hardware for optimal performance
Round-the-clock chat and phone support
30-day money-back guarantee for your peace of mind
The higher-end plans from both Bluehost and GoDaddy come packed with benefits. You'll enjoy optimized CPU resources and a complimentary dedicated IP address, ensuring top-notch performance for your website. Additionally, these plans provide a timely boost for your online business by granting easy access to Google Ads and Google My Business.
Regardless of your chosen plan, both providers offer a comprehensive domain manager that simplifies domain management tasks. You can effortlessly handle everything from a centralized dashboard, from updating and transferring domains to purchasing new ones. To add to the convenience, free website migration is available for any WordPress site, making the transition hassle-free.
Now, let's take a closer look at the standout web hosting features offered by GoDaddy:
Most economical hosting options available
Hosting plans specifically designed for WordPress with enhanced performance
Guaranteed 99.9% uptime for uninterrupted service
Intuitive and user-friendly backend interface
Unlimited bandwidth to accommodate your website's needs
Constant security monitoring and DDoS protection to safeguard your online presence
Flexible monthly billing option for convenience
Round-the-clock live support for immediate assistance.
30-day money-back guarantee for your complete satisfaction
GoDaddy simplifies building a WordPress website, making it accessible to anyone. With automatic updates and WordPress-optimized servers, you can say goodbye to technical concerns and focus on your content.
If you require assistance, GoDaddy's customer support is available 24/7, ensuring that help is just a call or message away. Moreover, as your website expands and evolves, GoDaddy offers many options to upgrade your hosting plan, allowing you to align it with your growing requirements.
Winner: Bluehost
---
Bluehost vs. GoDaddy Web Hosting Plans
Shared Hosting: Bluehost surpasses expectations with its shared hosting plans, delivering ample storage, CPU resources, customizable themes, and more. Depending on your chosen plan, you'll enjoy SSD storage ranging from 10GB to 100 GB. A user-friendly dashboard empowers you to manage all aspects of your website and server effortlessly. Furthermore, setting up professional business email accounts with Microsoft Office 365 is a breeze. Plans commence at just $10.99 per month, but with our exclusive Bluehost deal, you can secure this plan for a mere $2.95 per month.
WordPress Hosting: Look only as far as this hosting plan if you intend to construct your website using WordPress. With automatic installation, setting up your WordPress site has never been simpler. Your hosting resources are optimized to maximize the performance and speed of your WordPress site. Starting at a remarkable $2.95 monthly, our WordPress Hosting Plans are tailored to meet your needs.
eCommerce Hosting: Seamlessly integrating WordPress with the WooCommerce plugin, this hosting plan is your ultimate solution. You'll benefit from various features, including unlimited product listings, customer reviews, and secure payment processing. Boost your sales with the ability to create manual orders and apply discount codes. Additionally, gain valuable insights into your web traffic with access to comprehensive analytics. Bluehost WooCommerce Plans start at an affordable $9.95 per month.
Dedicated Hosting: Elevate your hosting experience with a dedicated server boasting expanded storage space, enhanced performance, and heightened security features. Should you require server expansion, our team can swiftly fulfill your request within 24-72 hours. Moreover, Bluehost equips you with an advanced cPanel to centrally manage your domains, websites, emails, resources, and more. Embark on this remarkable hosting journey with Bluehost Dedicated Plans commencing at $89.98 per month.
VPS Hosting: Delve into VPS hosting (Virtual Private Server), where your server section remains completely isolated from others. Regardless of the activities of fellow users on the same server, your resource limits remain unaffected. Bluehost's VPS plan offers guaranteed RAM, CPU, and other resources you can utilize as you see fit. Discover the freedom and flexibility of VPS hosting with plans starting at an affordable $29.99 per month.
Affordable Shared Hosting: GoDaddy presents a shared hosting plan with unmetered bandwidth and a generous 30GB storage capacity, ideally suited for running a standard website. Moreover, the Deluxe and Ultimate plans offer unlimited storage and enhanced processing power. Like Bluehost, you can effortlessly install WordPress with just one click, allowing you to begin constructing your site promptly. Depending on your location, GoDaddy's starter plans range from a mere $1.30 per month to $5.99 per month.
WordPress Hosting: Simplifying the setup, launch, and management of your WordPress site, this plan is meticulously optimized for speed, performance, and the distinctive security requirements of WordPress. WordPress hosting plans vary from $8.99 to $18.99 per month. For those seeking to run an online store, there's also an eCommerce plan starting at $20.99 per month, catering to your needs.
Dedicated Servers: Tailored to experienced developers, agencies, and system administrators searching for powerful servers, these plans provide an intuitive control panel and bare metal servers with root access for complete control. Benefit from data center-level DDoS protection and an SSL certificate. Support for CentOS, Ubuntu, or Windows operating systems is also included. Plans cost $139.99 to $419.99 monthly, delivering the required robust infrastructure.
Business Hosting: Designed to offer high performance akin to dedicated or VPS servers without extensive technical expertise, Business Hosting empowers you to host unlimited websites with exceptional speed and performance effortlessly. Each website created receives free SSL certificates, ensuring secure connections. Business hosting plans commence at a competitive $19.99 per month, providing you the freedom and flexibility you desire.
---
Bluehost vs. Godaddy – Pros
Affordable Starting Price: Begin your online journey with Bluehost for only $2.95 monthly. Enjoy a shared hosting plan, free domain, SSL, and CDN.
Transparent Pricing: No hidden fees or surprises. Bluehost ensures transparent pricing and renewal costs.
User-Friendly: Easily register your hosting plan and domain name with a simple, user-friendly dashboard.
24/7 Customer Support: Access premium 24/7 customer service via live chat and phone support.
Reliable Performance: Count on Bluehost for reliable uptime. In the rare event of downtime, their support team resolves issues promptly.
Free Domain & SSL: Get a free domain registration for the first year and improve security with a complimentary SSL certificate.
Free CDN: Enhance your site's speed and performance with a free Cloudflare CDN.
Scalability: Seamlessly upgrade your hosting plan to accommodate your growing online business with just a few clicks.
Affordable Pricing: GoDaddy boasts one of the most budget-friendly starting rates in the industry. Begin your website journey with domains starting at 99 cents for the first year. Keep in mind that renewal costs may increase significantly.
Managed WordPress Hosting: Optimize your website on servers specifically designed for WordPress. Enjoy the convenience of site maintenance tools, automatic daily malware scans, and daily backups, among other valuable features.
24/7 Support: GoDaddy's friendly support staff can always assist you with queries or concerns about your site, server, and domain.
Unlimited Site Hosting: With GoDaddy's hosting plans (excluding the Economy plan), you can create a total number of websites.
Effortless Management: Gain access to a user-friendly control panel and admin dashboard upon signing up. Easily manage your domains, hosting, and other services from a centralized location.
Uptime Guarantee: Count on GoDaddy's 99.9% uptime guarantee to ensure your website remains accessible to your audience.
Flexible Monthly Billing: GoDaddy offers a monthly billing choice for those seeking a more flexible payment option. Alternatively, opting for an annual payment grants you a discount.
Winner: GoDaddy
---
Bluehost vs. Godaddy – Cons
While being recognized as one of the top web hosting providers, Bluehost has its share of drawbacks. Let's explore the downsides of choosing Bluehost:
Efficient Support: Bluehost has prioritized instant support, resulting in the discontinuation of email ticket support. While this ensures timely assistance, remember that email-based support is unavailable.
Domain Privacy Protection: It's important to note that free domain privacy protection is exclusively offered with the Choice Plus and Pro plans. If you opt for the basic web hosting or website plans, this service will require an additional payment.
Long-Term Commitment: Bluehost plans are structured around 12-month and 36-month terms. Opting for the 36-month plan provides the most favorable deal, allowing you to maximize your benefits and savings. Monthly billing options are not available.
While GoDaddy undoubtedly offers numerous advantages, it's important to be mindful of the following aspects:
Renewal Rate Considerations: GoDaddy initially provides incredibly affordable rates for web hosting plans, domain names, and websites. However, it's important to note that these rates only apply for the first year. Users often encounter higher costs during the renewal period, leading many to explore transferring their domain and hosting plans to alternative services.
Paid Add-ons: GoDaddy offers a wide array of services at the checkout, but it's worth mentioning that many of these add-ons are provided for free by other hosting providers. As a new website builder, getting tempted and purchasing unnecessary add-ons is easy. We recommend carefully reviewing and unchecking the optional add-ons before finalizing your purchase. Remember, you can always acquire them later for your specific needs.
Winner: There are no winners when it comes to cons!
---
Bluehost vs. Godaddy – Support & Documentation
Bluehost understands the importance of providing guidance and support throughout your website journey, from domains to hosting plans. They offer a dedicated team of experts who are always ready to assist you with any concerns, inquiries, or issues. Their support staff is renowned for their friendliness, and they can be reached 24/7 via phone and live chat.
Bluehost goes the extra mile for those who have built their website on WordPress, maintaining an in-house team of WordPress experts. These specialists are well-equipped to address any WordPress-related questions or challenges you may face.
Furthermore, the Bluehost website hosts a vast knowledge base comprising many informative articles, comprehensive guides, and step-by-step tutorials. This invaluable resource ensures that you have access to the information you need to make the most out of your Bluehost experience.
Empower yourself with this all-encompassing resource, where you can discover solutions to all your inquiries about managing your web hosting account autonomously.
GoDaddy offers multiple avenues to connect with their dedicated customer support team. Whether you prefer reaching out via phone, live chat, or email, they are available 24/7, ensuring you can access assistance at any time, regardless of location.
On their website, you'll discover a comprehensive Help center with great tutorials and instructional videos to guide you through the website setup process. From troubleshooting to setup guides, each resource is thoughtfully crafted with clear, step-by-step instructions to facilitate your journey.
One standout feature of GoDaddy is its Community support site, where you can tap into fellow users' collective wisdom and experience. This interactive platform allows you to seek advice, share insights, and engage with a supportive community, enriching your GoDaddy experience.
Join GoDaddy's forums to seek help and receive quick responses from the dedicated moderators.
Winner: Bluehost
---
Bluehost vs. Godaddy – Pricing
Bluehost's shared web hosting plans typically start at $9.99 monthly, which may seem costly for beginners. However, we have secured an exclusive deal with Bluehost, allowing our users to enjoy a generous 70% discount on web hosting. With this special offer, you'll only need to pay $2.75 per month, making Bluehost an exceptionally affordable choice for hosting your website.
In addition to a significant discount, when you purchase a web hosting plan from Bluehost, you'll receive a complimentary domain name and an SSL certificate at no extra cost. These valuable additions enhance the security and professionalism of your website, ensuring a seamless online experience for your visitors.
Bluehost offers a 30-day money-back guarantee on all their pricing plans to provide further peace of mind. This allows you to explore their services risk-free and ensure they align with your needs and expectations.
GoDaddy's web hosting plans begin at $5.99 monthly, although the pricing may vary depending on your location.
GoDaddy provides a 30-day money-back guarantee for their annual plans to ensure your satisfaction. Should you decide to cancel your account within 30 days of signing up, you are eligible for a full refund of all hosting fees.
For those who opt for monthly GoDaddy plans, you have the flexibility to cancel within the initial 48 hours and receive a complete refund, offering you added peace of mind and flexibility.
Winner: Bluehost
---
Bluehost vs. Godaddy: Conclusion
For beginners, Bluehost stands out as the optimal choice due to its diverse range of web hosting plans. Starting your online journey with Bluehost is even more enticing with their affordable WordPress hosting plan, available at just $2.75 monthly.
Bluehost caters to a wide array of needs, whether you're a blogger, small business, online store, or large corporate entity. At IsItWP, we have firsthand experience with various web hosting plans, including those from Bluehost and GoDaddy. We've hosted websites on both platforms and conducted rigorous performance and speed tests to provide valuable insights.
Now, let's delve into our summary of the winner – Bluehost:
Performance grade: A+
Average load time: 1.48 ms
Average response time: 1.26 ms
Free domain: Yes
Free SSL: Yes
1-click WordPress: Yes
Support: Phone, Live Chat & Knowledge base
---
For More amazing articles related to Web Hosting Comparison Check out our website Over Here
To Read more similar articles click here
---
Thanks for visiting our Website. If you appreciate our work, kindly show us some support in our comments section 🙂