REVE Antivirus Review In (2023) was launched in 2014 by The REVE Group, a Singapore-based company dedicated to online interaction and communication. The company proudly claims that its software is used in more than 78 countries around the world, with great feedback from the bulk of its customers.
Small Business Applications
Best for
3/5
Rating
$14/year
Starting Price
Table of Contents
---
Pros
Free Trial
Advanced features
Efficient scans
Cons
Mainly focused on malware scanning and removal.
Very demanding in terms of resources
Expensive considering the services provided
Automatic updates are invasive.
---
How to Set it Up & Uninstall
REVE is easy to install and discover, even for beginners. This is still valid for both the free trial version and the full suite for registered users. Configuration is automatic and is completed after installation is complete.
Installing REVE Antivirus:
First, head over to the REVE website.
Navigate to the download page and download the software.
On the wizard setup page, run the program and click next.
Check and comply with the terms and conditions, accept the license agreement, and click next.
REVE will search for other antivirus programs.
The next screen requires you to choose between the free trial, the registered user option, or the relocation subscription.
Enter the required information and click Install.
Once the installation announces its completion, you are good to go.
Uninstalling REVE Antivirus:
Navigate to the program directory and locate the uninstall executable file.
Double-click on the executable.
Click next in the message.
The program will uninstall itself and ask you to restart the PC to finish the method.
After restarting your computer, you are good to go.
---
Features
General
| | |
| --- | --- |
| Money-back Guarantee | ❌ |
| Free Version | ❌ |
| Platform | Windows, Windows Server, Mac, Linux, Android |
| Parental Controls | ✔️ |
| Email Protection | ✔️ |
| Chat | ✔️ |
| VPN Services | ❌ |
| Smartphone Optimizer | ❌ |
| USD Virus Scans | ❌ |
| Automated Virus Scans | ✔️ |
| Game Mode | ❌ |
| Safe Browser | ✔️ |
| Passive Mode | ❌ |
Threat Protection
| | |
| --- | --- |
| Anti-Spyware | ❌ |
| Anti-Worm | ❌ |
| Anti-Trojan | ❌ |
| Anti-Rootkit | ✔️ |
| Anti-Phishing | ✔️ |
| Anti-Spam | ✔️ |
| Adware Prevention | ✔️ |
Scanning
REVE Antivirus provides real-time protection. You also have automated scans that you can find for a schedule that works for you. It works well for both computers and mobile devices. While it consumes a great deal of processing power, it is not as noticeable as alternative antivirus programs.
Pricing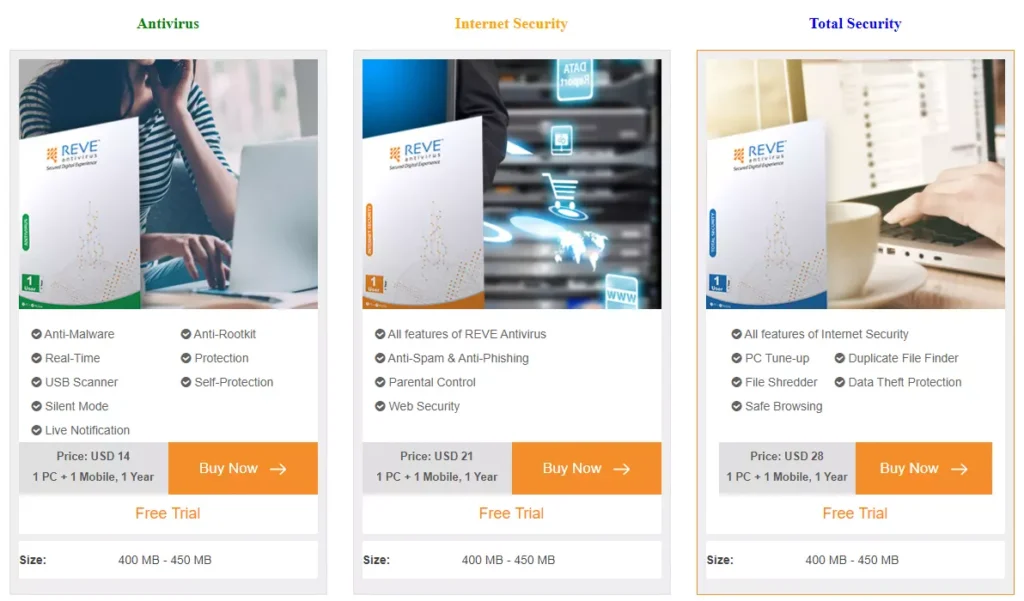 | | | | |
| --- | --- | --- | --- |
| Plan | Price | Number of Devices | Top Features |
| Antivirus | $14/year | 1 PC + 1 Mobile | Anti-Malware, Real-Time, USB Scanner, Silent Mode, Live Notification, Anti-Rootkit, Protection, Self-Protection |
| Internet Security | $21/year | 1 PC + 1 Mobile | All features of REVE Antivirus, Anti-Spam & Anti-Phishing, Parental Control, Web Security |
| Total Security | $28/year | 1 PC + 1 Mobile | All features of Internet Security, PC Tune-up, File Shredder, Safe Browsing, Duplicate File Finder, Data Theft Protection |
Discount
While they don't have a reduction, they do have a 30-day free trial. This is usually enough for you to find out if it fits your needs.
Privacy & Security
Privacy – REVE lacks a VPN service. However, it stands out for the security of your email. Scans and protects all incoming email to make sure it does not contain malicious files.
Security – The brand features a powerful scanning tool and a mediocre removal process. So even though you can't delete malicious files, you will still find and identify dangerous content on your computer.
---
Performance & Protection
REVE Antivirus works fine on most devices. Its detection rate and malware removal method are efficient and respectable.
| | |
| --- | --- |
| Malware Protection | This antivirus excels at detecting and removing malware. |
| Ransomware Detection | The ransomware slithers through REVE's capabilities. |
| Phishing Detection | The software does an honest job of detecting any phishing activity. |
| Spyware Detection | This program rapidly and effectively detects and eliminates spyware. |
| Firewall Protection | REVE works with standard firewalls present in the operating system in use. In Windows, for example, it works with Windows Firewall. |
---
Lab Test Results
REVE has not participated in official tests. However, user reviews point to a satisfactory overall performance level.
---
Ease of Use & Interface
The REVE interface is considered by many to be similar in appearance and functionality to Avast. And, a bit like Avast, this software is easy to navigate and use.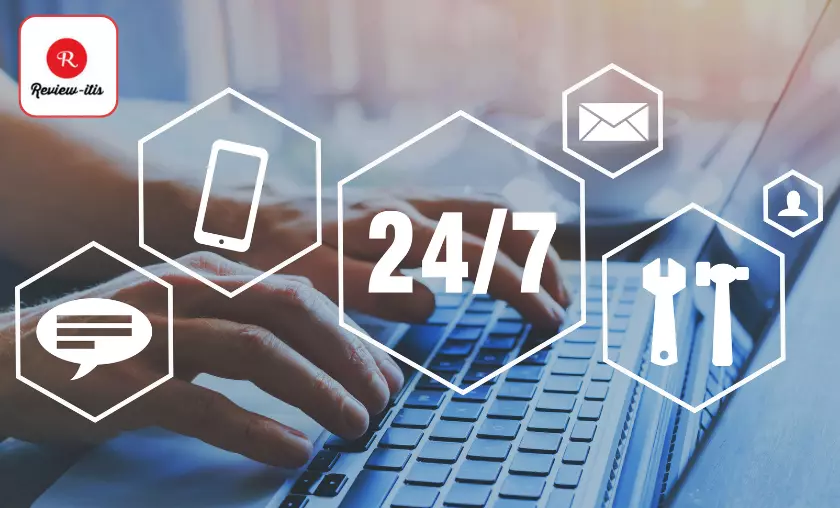 Customer Support
Unlike many alternatives, antivirus has the famous triad for contacting support. These are a live chat service, an email address, and a phone line.
---
Conclusion
REVE Antivirus can be a program with advanced features that can work for you or your small business. Is a combination of threat detection and removal, parental control with notifications, browsing security, and data theft protection. It also comes with a PC tuning kit, but it's impressive.
If you are trying to find an efficient program to keep your computer safe, you may want to consider REVE. However, in terms of security compared to the value tag, there are better options. It is very likely that you will benefit more by choosing an alternative like TotalAV.
---
For More amazing articles related to Antivirus, Check out our website Over Here.
To Read more similar articles, click here.
Thanks for visiting our Website. If you appreciate our work, kindly show us some support in our comments section 🙂