In this HideMyAss review, we will delve into the features and performance of their VPN service, which guarantees "complete privacy and protection" along with advanced OpenVPN protocol and encryption choices.
With the ability to access your preferred online platforms, such as Netflix, it raises the question: Does HideMyAss function more like a proxy or a comprehensive VPN service?
Join us as we dissect its strengths and weaknesses, including connection reliability, network speeds, and more.
Table of Contents
---
HideMyAss Overview
| | |
| --- | --- |
| OVERALL RANK: | #52 out of 78 VPNs |
| USABILITY: | Simple and easy to use |
| LOG FILES: | Some Logging Policy |
| LOCATIONS: | 190+ countries, 950+ servers |
| SUPPORT: | Social media and email |
| TORRENTING: | Limited |
| NETFLIX: | Blocks Netflix USA |
| ENCRYPTION/PROTOCOL: | 256-bit AES; OpenVPN, PPTP, L2TP/IPSec |
| OFFICIAL WEBSITE: | www.HideMyAss.com |
HideMyAss (HMA) Review By Review – itis
---
HideMyAss Pros
Take a look at HideMyAss! (or HMA!), a VPN service that offers a multitude of servers, ensuring consistent speeds and excellent device compatibility. With a wide range of server options available, it's worth exploring.
1. Pretty Consistent Server Speeds
In terms of speed, HMA ranks at number 20 out of 78 on our list based on combined speed tests. While this may not appear outstanding, the margin between the top performers is relatively narrow. Here's how the testing process unfolds:
To establish a reference point, we begin by measuring our standard internet connection speed. During this review, the benchmark speeds without a VPN were recorded at 97 Mbps download and 53 Mbps upload.
Subsequently, we connect to diverse VPN servers across the globe and employ a reputable third-party tool (SpeedTest.net) to obtain real-time performance measurements.
US Server (New York)
Ping: 113ms
Download: 58.98 Mbps (39% slower)
Upload: 30.38 Mbps (43% slower)
EU Server (Amsterdam)
Ping: 41ms
Download: 63.34 Mbps (35% slower)
Upload: 50.12 Mbps (6% slower)
Asia Server (Hong Kong)
Ping: 284ms
Download: 19.25 Mbps (80% slower)
Upload: 13.09 Mbps (75% slower)
UK Server (London)
Ping: 45ms
Download: 64.42 Mbps (34% slower)
Upload: 43.30 Mbps (19% slower)
In reality, the speeds offered by HMA are quite respectable. While they may not be the absolute fastest, the consistency observed across their US, EU, and UK servers is a positive sign of their overall performance across other server locations.
Regrettably, their speed performance took a hit due to the underperforming Asian server. Nevertheless, if you have approximately a 75% chance of attaining speeds similar to those in the US, EU, or UK, it would still be considered satisfactory and likely leave you satisfied.
2. Tons of Available Servers in Most Major Countries
HMA's server network spans across all six inhabited continents, encompassing an impressive total of over 930 servers distributed across 280 locations in 190 countries.
Their server coverage extends to remote destinations such as Greenland, providing comprehensive coverage across Africa and the Middle East.
Additionally, they have a presence in smaller Pacific Islands. Remarkably, the only notable exception seems to be Antarctica, as HMA does not currently operate a server in that region.

This is noteworthy as numerous VPN companies often boast extensive server lists that are predominantly concentrated in North America and Europe, leaving users in other parts of the world with limited options.
Let's delve into the breakdown of server counts and IPs by location:
In general, having a larger number of available servers is advantageous.
However, it's important to note that server quantity alone isn't the sole determining factor. In reality, some VPN companies engage in deceptive practices by falsely inflating their server numbers. They might lease or rent servers from other entities, artificially inflating their total count.
Nonetheless, the overall size of a server network is a reliable indicator of expected performance. A larger network increases the likelihood of finding less crowded servers, as well as servers in closer proximity to your physical location. Generally, closer servers tend to offer faster speeds compared to those located farther away.
3. Good Device Compatibility
HideMyAss! provides pre-built applications for various platforms including Windows, Mac, iOS, Linux, and Android devices. However, it does not support TOR.
In my previous review of HMA!, each account was limited to simultaneous usage on two devices. However, as of February 2019, they have made changes, and now you can enjoy up to 5 simultaneous device connections with your HMA! account.
For those requiring VPN services for larger numbers of devices, HMA! offers a business VPN plan. It is important to note that the business plan comes at a higher price point.
Fortunately, HMA! is compatible with routers as well. FlashRouters, in particular, come pre-installed with HMA, simplifying the setup process. By connecting a router, you can secure an extensive range of devices, including smart TVs and gaming consoles.
HMA! supports multiple protocols such as OpenVPN (256-bit encryption), PPTP, and L2TP/IPSec. While the protocol list may not be the most extensive, it adequately covers the essential options. In most cases, using OpenVPN as the default protocol is recommended, unless specific device limitations necessitate the use of L2TP/IPSec. As a general rule, it is advisable to avoid PPTP if possible, due to its known security vulnerabilities.
4. Easy-to-Use App

The HMA! app offers a user-friendly experience, making it incredibly simple to navigate.
To embark on your journey, simply register for an account and obtain the installation files along with your authentication code. With these in hand, you're all set to go. Furthermore, the app offers support in multiple languages, presenting you with an extensive array of options to cater to your preferences.
Logging in with your access credentials is all it takes to connect, with just a single click standing between you and a secure connection.

With HMA!, establishing a connection is quick and seamless. Whether you prefer instant connectivity or wish to switch locations and customize settings, the process is straightforward. In essence, those are the main actions you'll need to perform to enjoy the benefits of the service.
In addition, the app features a built-in kill switch, enhancing your security and privacy measures.
You'll be pleased to know that using the app doesn't demand any complexity or technical expertise. In fact, it stands out as one of the most user-friendly applications we've had the opportunity to test.
5. Leak-Free Connection

Despite their appearance, VPN connections aren't always as secure as they may seem.
While the small green icon on your app may give the impression of being fully protected, the reality is that your Internet Service Provider (ISP) and other parties can still discern your actual location.
To address this concern, we conducted a thorough examination of HMA!'s performance by conducting DNS and WebRTC leak tests. Fortunately, HMA! emerged unscathed in each test, indicating that it effectively prevents any potential leaks, thereby ensuring your privacy and security.
WebRTC leak test: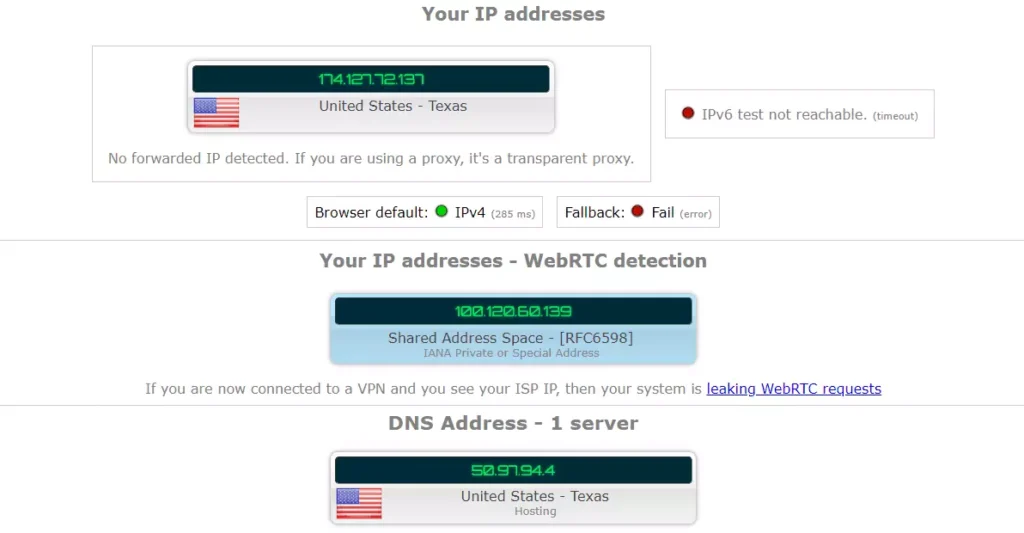 DNS leak test:
Regrettably, HMA! fell short in the VirusTotal.com test.
However, to provide a comprehensive evaluation, we will discuss this further in the "Cons" section below.
---
HideMyAss Cons
HMA! fulfills most of the features that users typically seek, leaving no room for major concerns or significant shortcomings.
In terms of speed, it performs admirably, coupled with an extensive server network that offers ample choices. Moreover, HMA! caters to a wide range of devices, ensuring compatibility across various platforms.
However, what lies beneath the surface is where some apprehension arises. Continue reading to delve deeper into the details.
1. Potential Suspicious File in their Install files

A VPN shields you from the intrusive surveillance of government entities, ISPs, and hackers.
However, it is crucial to consider who safeguards you from potential risks posed by the VPN service itself.
In this review, our primary objective is to address this vital question and provide you with valuable insights.
To begin with, we meticulously analyze the installation files of every VPN provider, subjecting them to VirusTotal.com scans to ensure that they do not inadvertently compromise the security of your device.
In the case of HMA!, our examination revealed a suspicious warning associated with their files.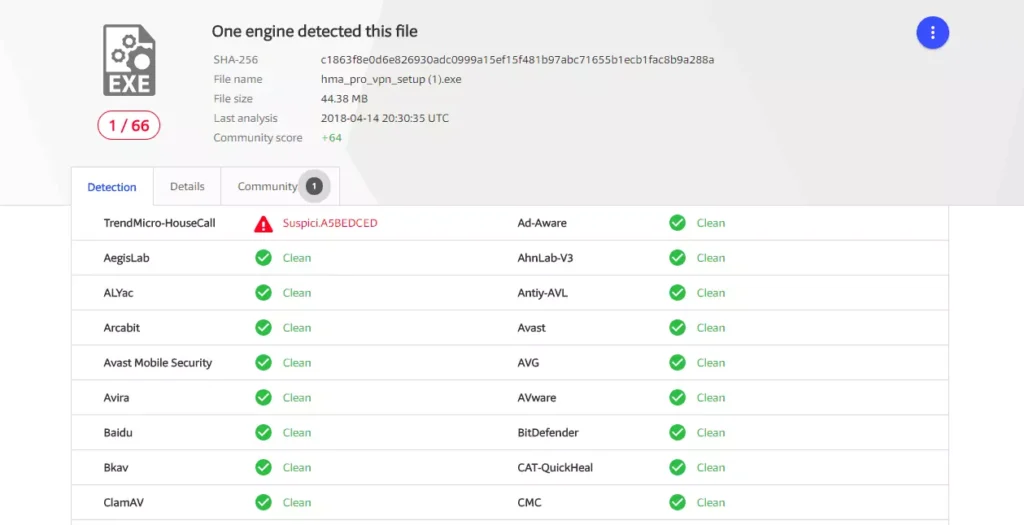 While it's possible that the suspicious warning could be a false positive, it is advisable to conduct your own assessment of the installation files to ensure they are clean before downloading them to your device.
Undoubtedly, this discovery raises concerns and warrants attention.
Regrettably, these warning signs are just the initial indications of a few potential issues that we will further explore.
2. HideMyAss! Doesn't Shy Away From Collecting A Few Log Files.
Here's where HMA! lets us (and you) down.
Their logging policy boldly asserts their commitment to retaining the following data:
Username
Detailed timestamps of connections and disconnections
Record of transmitted data volume (upload & download)
Captured IP address utilized for VPN connections
IP address of the VPN server employed

This situation is far from ideal. Ideally, you wouldn't want your VPN provider to retain records of your own IP address. This is because it creates a direct connection between your online activities, your location, and potentially your identity. Preserving such information can compromise your privacy and anonymity, which goes against the fundamental purpose of using a VPN.

However, the collection of data doesn't stop there. In addition, they gather the following information:
Keep a close watch on network activity for technical purposes, as well as to effectively manage and enhance the service.
Stay vigilant in preventing and identifying fraud instances that may jeopardize the service, like credit card fraud.
Take proactive measures to prevent and identify network abuse, including activities like spamming, illicit file sharing, and other unauthorized activities.

Does it sound harmless? At first glance, it might seem that way. However, when considering a few historical events, it becomes evident where the warning signs begin to emerge.
One such event involves Cody Kretsinger, known online as "Recursion," who was involved in the 2011 Sony Pictures hack. However, it is crucial to note that Kretsinger is now serving a lengthy prison sentence.
HMA! played a role in this conviction by providing Kretsinger's information to the FBI. HMA! made efforts to justify their actions, but their reputation has suffered as a result.
While it is important to emphasize that we do not endorse using VPNs for illegal activities, the fact that the VPN provider had access to and shared information on Kretsinger's actions with law enforcement raises concerns for many individuals.
This becomes even more significant when considering the jurisdiction under which HMA! operates.
3. Inside Five Eyes Security Alliance
HMA! is a subsidiary of Privax Limited, an organization based in the United Kingdom.
To begin with, it's important to note that the UK is known for its aggressive approach to surveillance on its citizens. Additionally, being a part of the Five Eyes security alliance means that the UK can rely on support from other equally assertive governments such as the United States.
This situation raises significant concerns.
As highlighted in the previous point, when faced with court orders, HMA! readily hands over user data, including their connection to personal information. Furthermore, there have been reports from HMA! users about account suspensions due to alleged violations of the Digital Millennium Copyright Act (DMCA) statutes.
So guess what's happening?
HMA! actively logs your online activities and willingly shares this data with UK courts, which in turn may share it with government agencies worldwide.
While refraining from engaging in illegal activities while using HMA! is certainly important, it is not the primary issue at hand. The essence of using a VPN is to safeguard the privacy of your personal information.
Unfortunately, the evidence strongly suggests that HMA! falls short in this regard.
In this particular case, the VPN service that is supposed to protect you ends up being the first to expose your activities.
4. Spotty Netflix Streaming and Torrenting Discouraged
HideMyAss! used to be a highly favored option for streaming Netflix in the past.
However, the current situation has changed significantly.
In our recent testing, we encountered difficulties in accessing Netflix content using HideMyAss!. We could only successfully stream content when connected to a single server located in Amsterdam.
Regrettably, our attempts to stream content using other servers such as New York (U.S.), District of Columbia (U.S.), Montreal, and Glasgow were met with disappointing results.

Despite the bold claims made on their website regarding content unblocking, our actual tests revealed facts that debunked these assertions.
While HideMyAss! does not explicitly prohibit torrenting, they cannot be considered as particularly torrent-friendly either. Users have reported experiencing either extremely slow data transfer rates or outright blocking of torrent servers.
Furthermore, the issuance of Digital Millennium Copyright Act (DMCA) warnings has further eroded confidence among users. If you receive a warning or face account suspension due to copyright infringement, it is likely a result of HMA!'s retention of records pertaining to your torrenting activities.
5. Awful Support Speed

HideMyAss! offers support through social media platforms and email, allowing users to reach out for assistance.
However, it is worth noting that their response times may not meet our expectations. In several instances, support requests on Twitter were redirected to the standard channels, indicating a potential delay in receiving a prompt response.

In certain situations, they may request a direct message (DM) to provide additional information.

(Although one would expect the aforementioned question to have a straightforward answer).
We also conduct manual tests on each customer support department to ensure that you won't be left without assistance when encountering an issue.
In this regard, we sent a brief support inquiry to HideMyAss!'s team.
However, it took approximately a day to receive a mere confirmation email.
Since then, we have not received any further response.
The question posed was not particularly complex; it was a simple inquiry about routers and protocols.
Nevertheless, we have been met with complete silence ever since.

To ensure that nothing was overlooked, I conducted several manual searches in my inbox.

This is concerning.
---
HideMyAss! Pricing & Plans

HMA! offers three distinct pricing tiers, each providing the same set of features. The only distinction lies in the slight price reduction offered for longer pre-payment periods.
$7 day Free Trial
$143.88 every 12 months ($4.99 per month – 58% discount)
$431.64 every 24 months ($2.99 per month – 75% discount)
HideMyAss! offers a 30-day free trial, requiring a valid credit card or PayPal for registration. Additionally, they provide a 30-day money-back guarantee, effectively giving you approximately 60 days to thoroughly evaluate their service. This extended trial period is one of the most generous offers available.
There are a couple of conditions for obtaining a refund: it must be your first purchase of HideMyAss!, and your usage should be below 10GB of bandwidth. To initiate the refund process, you will need to complete the refund request form.
While the annual commitment option at $4.99 per month may not be the most budget-friendly VPN choice, the ample test drive period should justify the slightly higher cost.
---
Do We Recommend HideMyAss!?

No, we cannot recommend HideMyAss!
Initially, HideMyAss! shows promise with respectable speeds and a substantial number of servers. Moreover, its name is quite memorable.
However, the overwhelming privacy concerns overshadow these positive aspects.
While HideMyAss! likely intends to prioritize customer privacy, their history of logging user data, involvement in notorious court cases, and their jurisdiction's aggressive stance on surveillance cannot be ignored.
Furthermore, this lack of privacy directly impacts other important activities such as streaming Netflix or torrenting. Both of these functionalities are currently virtually non-existent, with no foreseeable improvements in the near future.
Let me clarify: I fully support efforts to apprehend cyber criminals. However, when you subscribe to a VPN service, your primary expectation is privacy.
HideMyAss! may offer several features, but based on the numerous records we've examined, privacy is not one of them.
---
Conclusion
In this HideMyAss (HMA) review, we have examined the features, pricing, and more of this VPN service.
HideMyAss offers some notable advantages, including consistent server speeds, a wide range of servers in major countries, good device compatibility, an easy-to-use app, and a leak-free connection. However, it also has its share of drawbacks, such as a potential suspicious file in their install files, the collection of some log files, affiliation with the Five Eyes Security Alliance, limited Netflix streaming, discouraged torrenting, and slow support.
When it comes to pricing, HideMyAss offers different tiers with similar features, but longer pre-payments provide slight price breaks. They also provide a 30-day free trial and a 30-day money-back guarantee, offering ample time to test their service.
Considering the privacy concerns, limited streaming and torrenting capabilities, and unsatisfactory support speed, we hesitate to recommend HideMyAss as a top choice for VPN services.
In summary, while HideMyAss has its strengths, the highlighted cons and privacy issues warrant caution when considering this VPN provider.
---
For More amazing articles related to VPN Check out our website Over Here
To Read more similar articles click here
---
Thanks for visiting our Website. If you appreciate our work, kindly show us some support in our comments section 🙂