If you're in the market for new photography gear, it's highly likely that Adorama is already on your radar as a top contender. With over three decades of experience under its belt, Adorama has firmly established itself as a go-to destination for photographers seeking quality equipment. Its outstanding inventory of photography gear and other essential tools has garnered widespread acclaim, earning the trust and praise of customers worldwide.
Whether you prefer the brick-and-mortar shopping experience or the convenience of online browsing, Adorama delivers on both fronts. Regardless of your photography or videography needs, you can count on Adorama to offer an extensive selection of products. With a catalog boasting hundreds, if not thousands, of items, you'll find everything you require to pursue your creative endeavors.
In this comprehensive review of Adorama, we'll delve into the essential features that have contributed to the enduring popularity of this remarkable store. Prepare to discover why Adorama continues to be a trusted name in the photography community.
Table of Contents
---
Adorama Review
While Adorama is widely recognized as a prominent online retailer, it's important to note that they also boast a flagship store in the bustling heart of New York City. Situated at 42 W 18th Street, this brick-and-mortar location serves as a comprehensive haven for photography enthusiasts, videographers, and electronics aficionados alike.
Stepping foot into the Adorama store, you'll be greeted with a treasure trove of possibilities. From cutting-edge DSLR and mirrorless cameras to an array of lenses designed to capture every nuance, Adorama has you covered.
But their offerings don't stop there. Surprisingly, you'll also find an assortment of unexpected items like a saxophone, a home theater system, and even a printer, among countless other products that cater to diverse interests and needs. It's an all-encompassing haven for anyone seeking a wide range of electronics and creative tools.
So, whether you prefer the convenience of online shopping or crave the experience of browsing through a physical store, Adorama's flagship location promises a remarkable and well-rounded destination that will satisfy your every whim. Pay a visit to discover the vast possibilities that await you within its walls.
---
Adorama Store Hours
When it comes to visiting the Adorama store, it's essential to keep their operating hours in mind to plan your visit accordingly. On Sundays, you can explore the store and peruse their offerings from 9:30 am to 5:00 pm. From Monday through Thursday, the store extends its hours, welcoming customers from 9:00 am to 8:00 pm. Fridays are a tad different, with the store opening at 9:00 am but closing a bit earlier at 2:00 pm. However, it's important to note that Adorama's doors remain closed on Saturdays, giving their hardworking staff a well-deserved day off.
Should you require assistance or have any inquiries, Adorama's dedicated customer service team is just a phone call away. You can reach them at 1-800-815-0702 during the weekdays. From Monday through Thursday, their helpful representatives are available from 9:00 am to 7:30 pm, while on Fridays, their availability extends until 5:00 pm. It's worth mentioning that the weekend serves as a time for the customer service team to recharge and regroup, so they are not available on Saturdays and Sundays.
Rest assured, Adorama values the importance of customer service and strives to be readily accessible during their designated hours to ensure a seamless and satisfying experience for all.
---
Adorama Cameras, Lenses, & Other Gear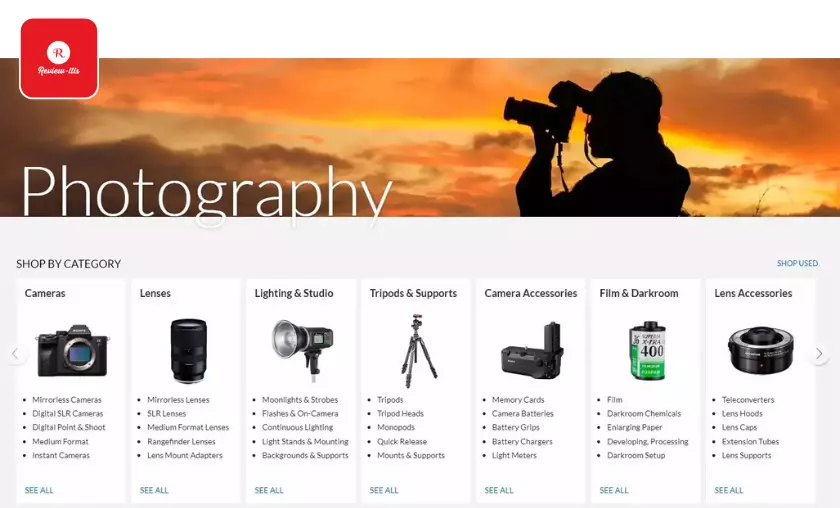 Prepare to be amazed by the vast and diverse inventory that Adorama has to offer. With thousands of cameras, lenses, and photography accessories at your fingertips, they cater to every photographer's dream. Boasting a remarkable lineup of major brands such as Nikon, Canon, Sony, Olympus, Panasonic, and more, Adorama ensures that you can find the perfect camera for your needs, complemented by a wide selection of lenses to enhance your creative vision.
However, Adorama's scope extends far beyond being just a camera store, as their compelling slogan suggests. Step into their world, and you'll discover an array of unexpected treasures. Need a musical instrument to fuel your creative endeavors? Adorama has you covered. Looking for surveillance equipment to bolster your security measures? Look no further. In need of a new computer or printer with ink to bring your digital creations to life? Adorama has you covered there too. Even drones, the epitome of modern technological marvels, find their place within Adorama's offerings.
But wait, there's more! Adorama caters to a wide range of interests and pursuits. Their expansive selection includes action cameras for the adventurous souls, studio lighting equipment for those who seek perfect illumination, professional audio gear for capturing pristine sound, and scopes and other optics for the nature enthusiasts.
Adorama goes beyond merely providing products; they strive to cultivate a community of knowledge and support. Through Adorama events, you have the opportunity to delve deeper into the world of photography, expanding your skills and insights. Need to bring your digital creations into the physical realm? Adorama offers professional photo printing services. Additionally, if you're not ready to commit to purchasing gear, they even provide rental options. And for those seeking budget-friendly alternatives, Adorama offers a range of used gear, allowing you to save while still accessing top-quality equipment.
Adorama is a haven for photographers and creative enthusiasts alike. Their extensive inventory, encompassing cameras, lenses, accessories, musical instruments, surveillance equipment, computers, printers, drones, action cameras, studio lighting equipment, professional audio gear, and optics, demonstrates their commitment to catering to diverse passions. With opportunities for education, printing services, gear rentals, and the option of purchasing used equipment, Adorama truly goes above and beyond to meet the ever-evolving needs of their community.
---
Adorama Photo Coupon

Maximizing your savings is a smart move, and Adorama understands that wholeheartedly. To help you keep more money in your pocket, they offer an array of enticing coupons, not just for photography-related items, but for other gear as well.
Adorama makes it incredibly convenient for you to access these money-saving gems. On their dedicated website page, you'll find a treasure trove of current coupons waiting to be discovered. Whether you're eyeing a new camera, lens, or any other gear, taking advantage of these coupons can significantly enhance your savings and make your purchases even more rewarding.
But wait, there's more! If you provide them with your email address, Adorama takes your coupon experience to the next level. By doing so, you gain exclusive access to an even wider selection of coupons and other special deals. This personalized touch ensures that you stay in the loop and don't miss out on any exciting opportunities to save on the equipment you desire.
So, be sure to keep a keen eye out for an Adorama photo coupon, as well as coupons for various other gear categories. By exploring their dedicated coupon page and signing up with your email address, you'll open the door to a world of savings and special offers, allowing you to make the most of your shopping experience with Adorama.
---
Adorama Return Policy
Adorama recognizes that occasionally, circumstances deviate from expectations, which is why they provide a customer-oriented return policy. Their policy allows for a substantial 30-day period, during which you can return most items for a complete refund, excluding any shipping fees. It's worth emphasizing that the items being returned must remain in impeccable condition, encompassing their original packaging, accessories, booklets, and packing inserts, all unblemished and intact.
In the rare instance that you receive a defective item or an incorrect product, Adorama has your back. Simply fill out an online return request, and their dedicated team will swiftly resolve the issue for you. They even go the extra mile by covering the shipping costs, provided you inform them of the problem before sending the item back.
For those seeking additional peace of mind and benefits, Adorama offers the VIP360 Membership. This exclusive membership opens up a world of advantages, including an extended 60-day return policy. This means you have even more time to evaluate your purchase and ensure it meets your expectations.
Adorama's commitment to customer satisfaction shines through their flexible return policy and their willingness to go above and beyond to rectify any issues. With their customer-centric approach, you can shop with confidence, knowing that Adorama stands by the quality and reliability of their products.
---
Adorama Credit Card
If the allure of new gear has you itching to make a purchase but you're hesitant due to financial constraints, fear not! Adorama has a solution that can make your dreams a reality—the Adorama credit card. By applying for this card and getting approved, you gain the flexibility to pay for your desired items over time, alleviating the immediate burden on your finances.
Once you're approved for the Adorama credit card, a world of special financing offers awaits you. These offers span across a wide range of gear, allowing you to take advantage of enticing financing options that fit your needs. Whether you're eyeing a camera, lens, or any other equipment, these special financing offers can make your purchase more manageable and budget-friendly.
But wait, there's more! Adorama frequently presents additional special offers that enhance the value of your financing. Imagine the freedom of making purchases with no interest for 18 months on specific items. Picture the convenience of no interest for 24 months on items priced between $750 and $1,499. And for those considering higher-priced items, the prospect of no interest for 48 months on select items priced at $1,500 or more is truly enticing. These exclusive financing offers give you the opportunity to spread out your payments while avoiding hefty interest charges.
With the Adorama credit card, you can pursue your passion for photography and gear without being weighed down by upfront costs. Explore the possibilities, apply for the Adorama credit card, and unlock a world of special financing offers that make your dream gear more attainable than ever before.
---
Adorama Black Friday

Stay ahead of the game with Adorama's Black Friday deals all year long by simply paying a visit to their exclusive Black Friday page. Whether you're an avid tech enthusiast or a photography aficionado, this dedicated section will keep you in the loop, providing you with unparalleled access to incredible discounts and savings.
With Adorama's commitment to delivering top-notch products and exceptional customer service, you can trust that their Black Friday offerings will exceed your expectations. Don't wait for the holiday season to arrive, seize the opportunity now and explore the remarkable deals waiting for you on Adorama's Black Friday page. Your wallet will thank you!
---
Adorama Customer Reviews 
Adorama has garnered a solid reputation, backed by positive feedback from the online community. A remarkable 64% of Trustpilot reviews have awarded Adorama an outstanding "Excellent" rating, boasting a perfect five out of five stars.
Additionally, an additional 10% of customers have bestowed upon them a commendable "Great" rating, signifying a four out of five stars satisfaction level. However, it is worth noting that there is a notable percentage of one-star reviews, accounting for 17% of all reviews on Trustpilot. Yet, what sets Adorama apart is their commitment to customer care.
They have diligently responded to each and every one-star review, demonstrating their attentiveness and dedication to resolving any issues customers may encounter. This level of responsiveness further emphasizes Adorama's commitment to ensuring customer satisfaction, even in the face of challenges.
---
Adorama TV
AdoramaTV is an absolute haven for visual creators who yearn for a more enjoyable and fulfilling experience with their cameras.
Covering an extensive range of topics, from studio lighting and video techniques to compact cameras, Photoshop, audio gear, and captivating interviews with photographers, this platform caters to every visual creator's unique desires and aspirations. AdoramaTV's commitment to engaging with viewers shines through their profound passion and expertise, making them an invaluable resource for anyone seeking to boost their confidence in photography or videography.
Boasting an impressive viewership of over 1,000,000 views each month, their expertise is clearly evident, fostering a profound sense of trust, credibility, and rapport with their dedicated audience. When it comes to unlocking your creative potential in the realm of photography and video, AdoramaTV is your go-to source for inspiration, knowledge, and empowerment.
---
So is Adorama Legit and trustworthy?
Concerns about the safety of purchasing from Adorama are only natural, as with any retail establishment, both physical and online. However, Adorama has a remarkable track record that spans an impressive 35 years in the industry, cementing their position as a premier destination for photographers worldwide.
This longevity speaks volumes about the trust and confidence that photographers have bestowed upon Adorama throughout the years. In fact, they have earned a reputation as a go-to store for photographers seeking top-quality gear and exceptional service. This level of trust is not easily attained and indicates that Adorama is doing something right.
With an unwavering dedication to their customers' needs, it is no wonder that most photographers rely on Adorama for their gear requirements. The future looks promising for Adorama, as their continued commitment to excellence ensures that photographers will continue to choose them as their preferred supplier for many years to come.
---
Conclusion
Adorama is a highly reputable and reliable destination for photographers and videographers seeking new gear and equipment. With over three decades of experience, Adorama has established itself as one of the top go-to stores in the industry. Whether you choose to visit their flagship store in New York City or shop online, Adorama offers an extensive inventory of cameras, lenses, accessories, musical instruments, surveillance equipment, computers, printers, and more.
They carry major brands and provide options for both new and used gear, along with services such as printing and gear rental. Adorama's return policy is customer-friendly, with a 30-day window for returns and a VIP360 Membership offering an extended 60-day return policy. They also provide financing options through the Adorama credit card, making it easier for customers to purchase gear without an immediate upfront payment.
While there are some negative reviews, Adorama actively responds to customer concerns, indicating their commitment to addressing and resolving issues. With their Adorama TV platform, they also offer educational resources and content to help photographers and videographers enhance their skills. Overall, Adorama has gained the trust and confidence of the photography community, making it a safe and reliable choice for purchasing photography gear.
---
For More amazing articles related to Technology Check out our website Over Here
To Read more similar articles click here
---
Thanks for visiting our Website. If you appreciate our work, kindly show us some support in our comments section 🙂