Are you itching to hit the road and explore the beauty of the United States but feeling a bit overwhelmed by the thought of packing? Don't fret! I've got you covered.
Embarking on a road trip is hands down the best way to soak in all that America has to offer. Picture this: breathtaking national parks, jaw-dropping coastlines, and hidden gems in the remote backcountry. It's an adventure you want to take advantage of!
Alright, buckle up and get ready for some real talk, my friend. Road trips demand serious preparation, no doubt about it. But don't you worry, because I've got your back! Armed with a meticulously crafted itinerary and a comprehensive packing list, you'll be cruising along smoothly, enjoying every moment of your adventure. Consider this guide your ultimate roadmap to success, covering everything from crucial safety gear to those delightful comforts that will elevate your trip to the next level. So, let's dive in and make this journey one for the books!
Oh, and if you're hungry for more road trip planning wisdom, I've got some fantastic road trip planning tools just waiting for you to dive into. They'll help you kickstart the planning process for your next epic adventure! So, what are you waiting for? Let's hit the road!
Table of Contents
---
Ultimate Road Trip Packing List Essentials
Out of all the things we've discussed, there are ten items that deserve your utmost attention and consideration for every road trip. These essentials are the backbone of your safety and preparedness, especially when venturing into remote regions. So, my friend, before you embark on your thrilling adventure, take a moment to double-check that you've packed these absolutely crucial items. Your peace of mind and readiness depend on it!
Driver's License: Don't forget to bring your valid driver's license, as it's necessary for operating a vehicle in the US. Remember, it's illegal to drive without it!
Vehicle Registration: If you're driving your own car, make sure to bring your vehicle registration. In case you're renting a car, the registration and rental documents should typically be in the vehicle, but it's always wise to double-check before hitting the road.
Car Manual: Breakdowns can happen, especially on long drives. Keep the car manual in the vehicle to be prepared for any issues. This is particularly important in remote areas where you need help finding answers through an online search. Most rental car companies provide the manual in the car but confirm before starting your journey.
Car Insurance: Driving without car insurance is illegal in the US, so always carry your insurance card. You're usually covered under your personal insurance policy if you're renting a car. If needed, additional coverage can be obtained from rental companies.
Travel Insurance: Protect yourself with a comprehensive travel insurance policy that covers various aspects, including trip cancellation and stolen belongings. If you have valuable gear like cameras and lenses, having travel insurance can provide coverage in case of theft. I recommend World Nomads for travel insurance, as they offer coverage both in the US and internationally.
First Aid Kit: Accidents can occur, and a simple first aid kit can be a lifesaver. Consider bringing an Adventure Medical Kit designed for hiking-related injuries, especially if you engage in activities like hiking during your road trip.
Emergency Roadside Assistance Kit: Keep a roadside assistance kit in your vehicle for emergencies. It can help you change a flat tire or jump-start your car when needed. I rely on the roadside assistance kit from AAA, which I always keep in my car.
Spare Tire: To deal with a flat tire, ensure you have a spare tire in good condition. Before you leave, check the spare tire's condition in your trunk to avoid any surprises on the road.
Spare Cash: While credit cards are widely accepted, carrying some spare cash is wise. There might be situations where card machines are down, or you encounter cash-only parking. I recommend keeping spare cash in a separate bag in case you misplace your wallet.
Headlamp: A headlamp is a practical tool for road trips, serving as a hands-free alternative to flashlights. Whether you're changing a tire or organizing the trunk at night, a headlamp like the Black Diamond Storm, 400 can be invaluable. Trust me, I'm obsessed with mine!
---
Road Trip Essentials for Your Car
For a journey that's as smooth as silk, it's vital to equip your car with these essential items. Believe me, my friend, they'll prove invaluable along the way. And here's a nifty little tip: utilize a compact storage bin to neatly organize and stow some of these items in your trunk. This way, you'll have everything you need right at your fingertips, ensuring a hassle-free and delightful adventure on the road.
AAA Subscription: AAA has bailed me out countless times, from rescuing me when I locked my keys in the car to helping with a flat tire. Their assistance goes beyond roadside emergencies, too. You can enjoy special hotel rates and event discounts with a AAA subscription. It's a win-win!
Extra Car Key: Avoid the panic of locking your keys in the car by packing an extra set. Remember to keep them in a different bag than your main set. Consider storing them with your reliable co-pilot for safekeeping.
Duct Tape: Ah, the legendary duct tape! This versatile tool can work wonders, from quick gear fixes to on-the-spot repairs. Keep a roll in your trunk, and you'll be prepared to tackle any unexpected situations.
Tire Pressure Gauge: Before hitting the road, checking your tire pressure is crucial. If your car doesn't have an automatic pressure monitoring system, bring along a tire pressure gauge. It'll help you maintain the right pressure and prevent costly wear and tear.
Protective Floor Mats: Safeguard your car's floors from muddy footprints, spills, and stains with protective floor mats. I swear by WeatherTech mats tailored to fit my Mazda CX-5 perfectly. They may be a bit pricey, but trust me, they're worth every penny, especially the trunk liner with its handy curved lip for containing spills.
Trash Can: Snacks are an essential part of any road trip, but so is disposing of the inevitable wrappers, bottles, and bags. Keep an extra grocery bag in your car to collect trash, and make a pit stop at gas stations to empty it out. A clean car is a happy car!
Umbrella: Rain can unexpectedly pour down, but with a compact umbrella stowed in your trunk, you'll always be prepared to stay dry during surprise rainstorms. Don't let a little rain dampen your adventurous spirit!
Reusable Water Bottle: Hydration is crucial during long car rides. Stay refreshed and environmentally conscious by bringing along a lightweight, reusable water bottle like a trusty Nalgene. They're perfect for short hikes too!
National Park Pass: Planning a road trip to a national park? Then you definitely need a national park pass! America, the Beautiful Pass, costs just $80 per year and grants you access to all 62 national parks and numerous other national sites. It's a fantastic investment for nature enthusiasts and adventure seekers.
Remember, a well-prepared car leads to a stress-free and enjoyable road trip. So gather these essentials, pack them neatly in your trunk using a storage bin, and confidently hit the road!
---
Winter Road Trip Essentials
Embarking on a road trip through wintry destinations presents unique challenges that require proper preparation. Packaging these essential items for your winter road trip is crucial to conquer the snowy conditions.
However, if your plans don't involve snowy adventures, skip to the next section!
Tire Chains: Tire chains are a game-changer to tackle the challenging terrain of snow and ice. They wrap around your tires, providing extra traction. In many snowy destinations like Lake Tahoe, chains are required by law, often enforced through roadblock checks. Stay informed about your route beforehand to ensure compliance with any chain requirements.
Snow Shovel: Snowfall can accumulate rapidly, and you may find yourself needing to shovel your car, parking spot, or driveway before hitting the road. Keep a compact snow shovel in your trunk for convenient on-the-go snow removal.
Ice Scraper: The dreaded task of scraping ice off the windshield! It's not the most enjoyable part of traveling to cold destinations, but it's crucial for visibility and safety. Make sure to have a sturdy ice scraper with a brush in your car's trunk.
Pro tip: Before starting the scraping process, run your car's defrosters for a few minutes. It helps loosen the ice and makes the scraping task easier.
Remember, these winter road trip essentials will prepare you for the challenges posed by snowy conditions. Stay safe, and enjoy your winter adventure!
---
Best Navigation & Road Trip Apps
When preparing for your road trip, make sure to have these game-changing apps downloaded and ready to go on your phone. You won't need to physically pack them, but trust me, they'll be your road trip companions!
These apps are my go-to tools for planning routes and discovering free accommodations during my adventures on the road. They've been instrumental in enhancing my travel experiences.
Google Maps: Use Google Maps to plan your road trip route, locate ideal overnight accommodations, and navigate efficiently. Remember to download the map offline in the mobile app for uninterrupted navigation, even in areas with limited internet connectivity.
GasBuddy: This app is a lifesaver, especially if you're road-tripping through remote locations where gas stations can be sparse and spread out. GasBuddy helps you find nearby gas stations along your route and compares prices, allowing you to save on fuel expenses.
Freecampsites.net: If you're looking for free camping options in national forests and BLM lands, Freecampsites.net is your go-to resource. This crowd-sourced website provides access to a wealth of camping spots and reviews from fellow users. It's the ultimate tool for finding amazing campsites without spending a dime.
With these apps at your fingertips, you'll have the power to plan your route, locate gas stations, and discover free camping sites, enhancing your road trip experience. So, remember to download them before embarking on your adventure!
---
Technology Road Trip Checklist
If you're anything like me, you probably travel with a whole array of gadgets: your trusty phone, smartwatch, Bluetooth headphones, camera, and the list keeps growing. And let's be honest, all of these amazing devices need one thing to keep them going—power! So, it's crucial to keep your gadgets charged and readily accessible for your epic road trip.
Car Phone Mount: In compliance with the hands-free phone use regulations in many US states, a car phone mount is a must-have. It provides a secure and accessible place for your phone, especially when using it for navigation. These mounts are affordable, lightweight, and easy to pack, making them a practical addition to your road trip gear.
Car Power Adapter: While newer car models come equipped with convenient USB charging ports, not all vehicles have this feature. If you find yourself without USB ports, fear not! A cheap car power adapter comes to the rescue, allowing you to transform the traditional cigarette lighter port into a functional charger for your devices. It's a simple solution to keep your gadgets powered up throughout the journey.
When it comes to keeping your devices powered up during your road trip, there are a few more handy electronics you should consider packing:
Power cords: Make sure to bring power cords for each device you're bringing along. Whether it's your phone, camera, or other electronic gadgets, having the right cords ensures that you can easily charge them when needed.
Portable chargers: A portable charger is an absolute necessity when it comes to keeping your devices powered up on the go. Don't settle for anything less than a dependable choice, such as the Anker portable charger, known for its exceptional convenience and unwavering reliability. With this little powerhouse by your side, you can ensure your devices stay charged even when you find yourself far away from any power source.
Extra batteries: It's always a good idea to have extra batteries on hand. Check what type of batteries your headlamps and other electronics require, and pack a few spares. This way, you can easily replace depleted batteries and keep your devices running smoothly.
---
Best Luggage for Packing for a Road Trip
When it comes to gearing up for an epic road trip, my friend, let me tell you: luggage holds a paramount role. It's a crucial factor that can make or break your packing game. Picture this—compact, well-organized bags that maximize every inch of space. That's the winning formula right there.
But here's the kicker—you can't compromise on quality and durability, my fellow traveler. We're talking about an investment that needs to withstand the test of time. Fortunately, I've gathered some serious wisdom from my wild adventures and escapades. I've seen it all, my friend, and I'm here to share my expertise in selecting top-notch, long-lasting luggage that will accompany you faithfully on your journey. So buckle up and get ready for a masterclass in picking out the perfect travel companions.
Allow me to share with you some of my personal favorite bags that are perfect for road trip adventures:
Once you've selected your ideal travel bag, it's crucial to maintain its organization. Packing cubes reign supreme when it comes to effectively tidying up your luggage during a road trip and stashing away soiled garments.
Remember to bring a reliable hiking backpack for those planning to embark on a hiking adventure. It will serve as a reliable companion to hold your 10 essentials and provide ample room for extra water!
If space becomes a concern in the trunk, investing in a rooftop cargo bin proves to be a wise decision for family or group road trips. It offers a splendid solution for accommodating your belongings while on the go!
---
Clothing Road Trip List
Road trips and driving go hand in hand. And if you share my sentiments, you'll undoubtedly prioritize comfort during those hours spent behind the wheel.
That's precisely why I advocate for items that are not only cozy but also breathable and resistant to unpleasant odors. After all, making your journey as enjoyable as possible is paramount!
When compiling your road trip packing list, make sure not to overlook these crucial wardrobe essentials:
Breathable Shirts: When embarking on longer road trips and planning to re-wear shirts, it's crucial to opt for breathable and quick-drying options. I personally adore the Patagonia Capilene tees designed for women.
Comfortable Bottoms: For those extended car rides filled with exploration and activity, it's essential to prioritize stretchy and comfortable pants. Functional choices such as Athleta's Elation Leggings or Nike shorts come highly recommended.
Rain Jacket: The unpredictable nature of rain necessitates keeping a waterproof rain jacket within reach at all times. My go-to choice for road trips is the REI XeroDry rain jacket, which also is a fantastic option for budget-conscious travelers.
Fleece Pullover: Regardless of the season, having a reliable jacket to keep you warm is crucial. The versatile Patagonia Better Sweater is an excellent selection for road trips, ideal for hiking, lounging, and even casual outings in town.
Breathable Undergarments: When planning to wash clothes on the go, it's wise to opt for quick-drying undergarments that are easily hand washable. Exofficio offers underwear and bras crafted from breathable and quick-dry materials, perfectly suited for lengthy road trips.
Hat: Depending on the season, a hat serves as a protective shield from the sun or a warm accessory. During the summer, a baseball cap provides facial protection, while in winter, a budget-friendly beanie like the one from REI is a fantastic choice.
Wool Socks: High-quality socks are essential, and Merino wool socks strike the perfect balance between warmth, breathability, and quick-drying properties. REI offers some of the finest affordable wool socks, ideal for wearing underneath your hiking boots.
Slip-On Shoes or Flip Flops: On those long driving days, it's convenient to have slip-on shoes or sandals that are easy to slip off and slip on for quick stops at gas stations.
Hiking Boots: If you're an adventurous road tripper, hiking boots become an absolute necessity. I can't recommend the Columbia Newton Ridge boots for women enough—I've personally cherished mine for over three years!
Swimwear: Whether you're traveling during the summer or exploring hot springs in the winter, remember to pack a bathing suit and towel!
Sunglasses: Shielding your eyes during prolonged days of driving is a must. I always bring my trusted Ray-Ban Aviators for the car, but I also keep a budget-friendly pair from Amazon in my hiking backpack.
---
Toiletries Packing List for a Road Trip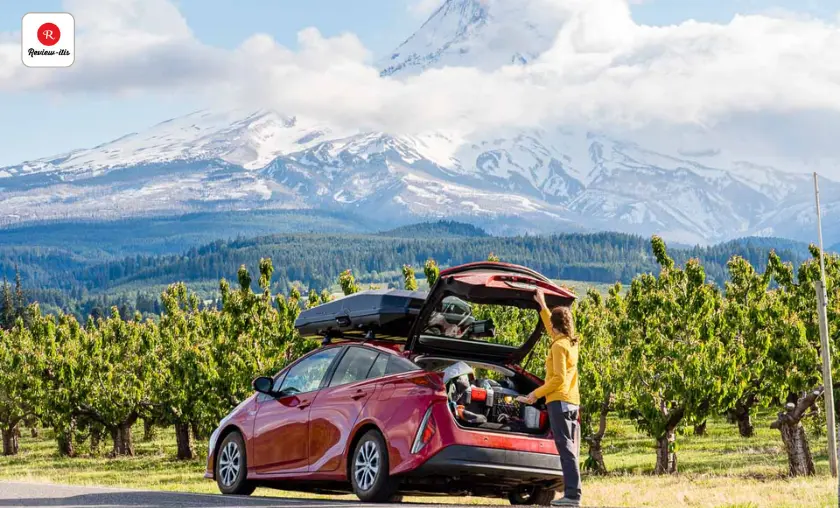 Now, let's talk about a topic that's often overlooked but absolutely crucial: hygiene on the road. Trust me, my friend, it doesn't have to be a complex ordeal, but that certainly doesn't mean you should neglect it entirely.
Here's the exact road trip packing list I personally use for toiletries:
Shower essentials (shampoo, conditioner, body wash, etc.)
Dental care (toothbrush, toothpaste, floss, mini mouthwash)
Haircare (hairbrush, dry shampoo, hair ties, etc.)
Deodorant
Makeup and skincare (moisturizer, chapstick, sunscreen)
Tide to Go pen and a small amount of laundry detergent.
Tweezers
Nail clippers
Medications, including a Vitamin C supplement like Emergen-C
A quick-dry microfiber towel like the Pack Towel
Hand sanitizer
When I travel, I rely on a handy toiletry bag and reusable travel bottles to keep all my toiletries organized. As a general guideline, it's wise to simplify your routine and bring fewer products while on the go.
Remember to pack a wilderness bathroom kit for those venturing into remote areas to ensure you're prepared for any outdoor necessities.
All you need to venture into the great outdoors are three essential items:
A small shovel (called a trowel) to dig a small hole and bury your waste
Toilet paper or baby wipes for after you go
A Ziploc bag to pack out the paper or wipes!
---
Things to Take on a Road Trip for Cooking
Now, here's a valuable money-saving tip for all you travelers out there: whip up your own meals on the go. It's no secret that preparing your own grub can work wonders for your wallet. But here's the fascinating twist: when it comes to hitting the road, setting up a cooking station resembles your trusty camping setup. So, get ready to channel your inner chef and embark on a culinary adventure while saving some serious cash along the way. Bon appétit!
Here are the fundamental essentials you'll need to cook while on the road:
Camp stove and a small propane tank
Reusable dishes and eating utensils
Camp sink and quick-drying dish towels to wash dishes
Cooler to keep food cold for days
5-gallon water container for cooking and drinking
Knife and cutting board
Cooking utensils (Wooden Spoon, Spatula, Tongs)
Cookset with pots and/or skillets
Potholders or oven mitts
Aluminum foil
Paper towels
To store your camping gear efficiently, opt for clear bins such as the ones offered by Sterilite. Not only will this keep everything neatly packed, but it will also allow you to easily see the contents of each bin without the hassle of unpacking!
Now, if you're looking to make your road trip kitchen setup more eco-friendly, here are some fantastic ideas to consider:
Reusable travel mug for coffee and tea
Stainless steel straws
Reusable shopping bags for groceries
Chip clips to keep bagged food fresh
Silicone bags to replace Ziploc bags and Tupperware
Last but certainly not least, remember to bring along a camp table and foldable chairs for a comfortable and enjoyable meal at your campsite!
---
What to Bring on a Road Trip for Essentials
Looking to make the most of your time on the road? The key is to pack the right items to keep you entertained throughout the journey!
Whether you're into listening, reading, or sightseeing, this comprehensive road trip packing list has got you covered:
Kindle or tablet for reading or browsing
Headphones (for when you and the driver don't share musical taste)
Portable speaker for picnics and exploring
Cards or board games for rainy days and evenings
Your favorite playlist, books, audiobook, or podcast
Camera or GoPro for capturing every epic moment
A travel journal or national park passport to document your adventures
---
Comforting Things to Bring on a Road Trip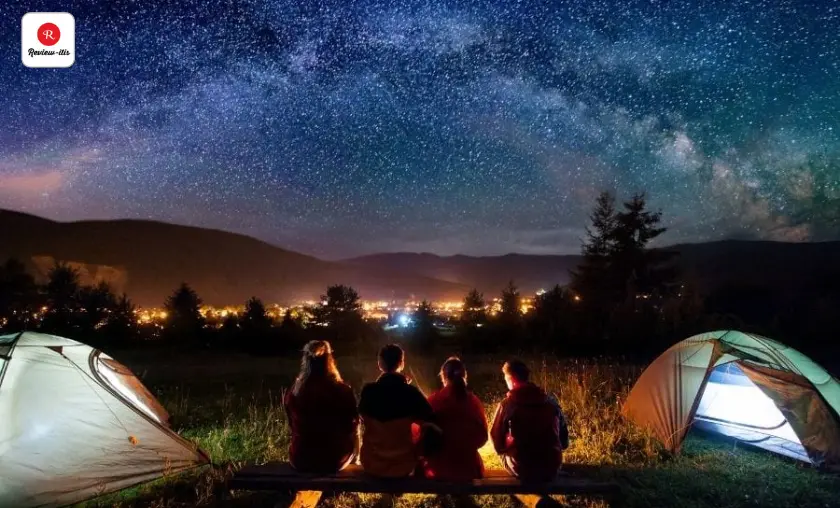 Bringing comfort from home along your road trip is undeniably one of the most effective ways to ensure a delightful and enjoyable journey.
Don't overlook these essential items for long drives:
Neck pillow
Blanket
Snacks (my personal favorites include pretzel crisps, Chex mix, and gummy bears!)
And let's remember to pack your sleep essentials!
Camping:

Tent
Sleeping bag
Sleeping pad

Sleeping in the car:

Full-size air mattress
Sleeping bag

Staying in a hotel:

Favorite pillow from home
---
What Not to Take on a Road Trip
Now that we've covered the essentials of what you should bring on a road trip let's dive into a crucial topic: what items are best left behind at home? Pay close attention, my fellow wanderer, for these are the things that can weigh you down and hinder the freedom of your journey.
Fancy meals with lots of prep
Complex makeup, skincare, or hair products – keep it simple!
Nice jewelry and other valuables
---
Conclusion
Planning to embark on an epic road trip in the near future? Well, let me enlighten you about the myriad of essentials that absolutely must find their way into your packing list. This very post should have triggered some creative sparks in your mind, helping you brainstorm the crucial items to accompany you on your journey.
However, my dear wanderer, as the day draws to a close and you're preparing to set forth, there are four paramount possessions that you absolutely must not, under any circumstances, leave behind: your trusty phone, your ever-important wallet, the invaluable shield of insurance, and of course, the ever-elusive keys that grant you access to your chariot of adventure!
Take heed of this advice, and may your road trip be filled with unforgettable moments and extraordinary experiences!
FAQs
How long before a trip should you start packing?
I recommend creating your packing list two weeks in advance to ensure a smooth road trip. This gives you ample time to shop for any last-minute necessities and toiletries. About 3-4 days before your departure, begin organizing and packing your travel gear.
As for clothing, it's best to pack them the night before you leave so you have everything ready for your adventure.
What should you remember on a road trip?
While this list contains numerous items that are recommended for a road trip, it's important to remember that you only truly need a handful of essentials. Make sure to leave your license, registration, car insurance, roadside assistance kit, and wallet behind. These are the vital items you must have with you for a successful and safe journey.
What should you carry in your car for a road trip?
It's crucial to always be prepared for inclement weather or potential breakdowns during your road trip. In case of bad weather, bring a snow shovel, tire chains, and a windshield scraper.
Additionally, for unforeseen breakdowns, it's essential to have a spare tire, jumper cables, a basic toolkit, a roadside assistance kit, your car manual, and your car insurance cards readily available. These essentials will ensure you're equipped to handle any unexpected situations on your journey.
How do you pack clothes for a road trip?
I recommend rolling them instead of folding to optimize space and keep your clothes wrinkle-free. Rolling not only saves space but also helps prevent wrinkles.
Once you've rolled your clothes, a handy tip is to use packing cubes to keep your luggage organized. These cubes will assist in keeping your items neat and easily accessible throughout your trip.
How should I pack my car for a long road trip?
When loading your vehicle for the road trip, it's best to start with the largest and sturdiest items, placing them at the back of the trunk. This way, you can ensure stability and utilize the available space effectively. Once the larger items are in place, stack smaller and compressible items on top, optimizing the space further.
For easy access, keeping your bag of essentials in the back seat rather than the trunk is recommended. This allows you to retrieve important items conveniently without having to unpack the entire trunk.
What are fun things to take on a road trip?
Remember to bring along the most entertaining items to make your road trip an enjoyable and laughter-filled experience. Pack a tablet to keep you entertained with movies and shows, card games to spark friendly competitions, your favorite playlist to sing along to, a GoPro to capture epic moments, a travel journal to document your adventures and a portable Wi-Fi hotspot to stay connected on the go.
Oh, and of course, remember to pack some delicious snacks to keep your energy up throughout the journey!
How do you pass the time on a car ride?
Now, let's talk about one of the essential ingredients for a memorable road trip: entertainment. Nothing beats the dynamic duo of podcasts and music when it comes to passing the hours on the open road. But here's the pro tip: make sure to download those episodes and songs onto your trusty device beforehand. That way, you'll be armed with uninterrupted listening pleasure, even in the midst of cellular dead zones.
But wait, there's more! Here's my little secret for those seemingly endless stretches of highway: dive into the world of stand-up comedy. Both Spotify and SiriusXM boast an impressive repertoire of comedic performances that will have you chuckling and guffawing all the way to your destination. So kick back, relax, and let the laughter permeate your journey. Trust me, it's the perfect recipe for an unforgettable adventure on wheels!
---
To read more similar articles, click here.
Thanks for visiting our Website. If you appreciate our work, kindly show us some support in our comments section 🙂