Goose VPN, operated by Goose B.V., is headquartered in the vibrant city of Rotterdam, located in the Netherlands.
The Netherlands is renowned for its progressive attitudes, liberal values, and charming accents. However, can it also boast exceptional VPN services?
In this comprehensive review of Goose VPN, we delve into their offerings to uncover the truth. We subscribed to their server, subjected them to rigorous testing, and now we're here to share our experience.
Prepare yourself for our findings.
Table of Contents
---
Overview of Goose VPN Review
| | |
| --- | --- |
| OVERALL RANK: | #23 out of 78 VPNs |
| USABILITY: | Very easy to use |
| LOG FILES: | No Logging Policy |
| LOCATIONS: | 25 countries, 114 servers |
| SUPPORT: | Email, snail mail, social media, live chat, and a FAQ. |
| TORRENTING: | Limited Torrenting |
| NETFLIX: | Yes 4/4 |
| ENCRYPTION/PROTOCOL: | AES-256 |
| OFFICIAL WEBSITE: | www.goosevpn.com |
---
GooseVPN ticks all the major boxes.Goose VPN Pros +
Goose VPN offers a diverse range of protocols, robust encryption standards, widespread availability, and user-friendly interface.
One notable feature is their dedicated servers designed to seamlessly access Netflix.
Now, let's explore the aspects we found appealing.
1. Supports Four Protocols, Including OpenVPN

Goose VPN provides support for four distinct VPN protocols: IKEv2, L2TP/IPSec, PPtP, and OpenVPN.

By default, Goose VPN employs the IKEv2 protocol as it is known for its impressive speed. However, the provider acknowledges that IKEv2 can be susceptible to blocking.
Fortunately, their FAQ section serves as a valuable resource in determining the most suitable protocol based on your specific objectives. For instance, L2TP is recommended for routers and modems, while OpenVPN is highly resistant to blocking, albeit slightly slower.
The positive aspect is that Goose VPN offers a wide range of options across their network of 114 servers spanning 25 countries. This server network size is by no means the smallest we have encountered.
2. AES-256 Encryption Standard

Goose VPN implements the widely recognized AES-256 encryption standard, which is an industry benchmark.
This encryption standard is highly regarded by the US government and renowned for its exceptional security features. Its virtually impenetrable nature ensures that your activities, such as enjoying your favorite ABBA tunes on Spotify, remain private and shielded from any potential hacking attempts.
3. Allows Torrenting

GooseVPN permits torrenting, albeit restricted to specific servers designated for this purpose.
To identify the servers approved for torrenting or P2P activity, simply navigate through the countries list in your Goose VPN desktop app.
Look for the countries labeled as "P2P Server," indicated by a small "P2P" icon alongside the signal strength indicator.

Enjoy your torrenting experience!
4. Compatible On Multiple Devices
Goose VPN seamlessly supports a wide range of devices, including Windows, MacOS, Linux, iOS, and Android.
But the compatibility doesn't stop there.
They also extend their compatibility to include Android TV, routers, NAS Firewalls, ChromeOS, and even Raspberry Pi (I admit, I had to Google that last one).
Additionally, for the convenience of Chrome browser users, they offer a dedicated Chrome browser extension that allows you to use Goose VPN without installing the desktop client.
And there's an exciting bonus!
You can connect gaming consoles directly through the router, expanding the VPN's functionality to enhance your gaming experience.

In contrast to certain competitors, Goose VPN offers native apps that can be easily installed on your mobile phone. Simply visit the app store to find and download them.
For Android users, there is also the option to directly install the APK file from the Goose VPN website, provided you possess the necessary expertise.
Distinguishing itself from other VPN services, Goose VPN allows you to utilize the same account across multiple devices simultaneously. This flexibility is undoubtedly praiseworthy!
However, it's worth noting that if you are utilizing the limited 50GB per month service, connecting numerous devices might quickly deplete your allocated data allowance.
5. Very Easy to Use App

Goose VPN's client boasts an exceptionally user-friendly interface.
All it takes is selecting your desired country, flipping the switch, and voila! You're seamlessly connected with a swift and hassle-free connection experience.

In the event that you need to switch servers for any reason, simply access the countries menu and select your preferred location. No need to disconnect from the current server beforehand. With Goose VPN, you can effortlessly choose a new server, and the transition will be seamless as it smoothly jumps over to the newly selected server.
Before proceeding to change servers, it is crucial to enable the Kill Switch feature in the settings. By doing so, you ensure that your actual IP address remains protected and is not inadvertently exposed during the server transition.
Now, let's move on to the next important aspect.
6. Kill Switch Included
Despite its ominous name, the Kill Switch feature is not as menacing as it may sound.
Instead, it functions by temporarily interrupting your internet connection while it locates and establishes a connection with a new server. This ensures a smooth transition when switching between servers or in the event of a disconnection from Goose VPN.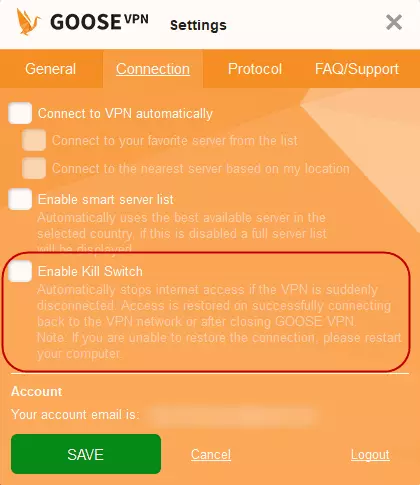 The primary objective of the Kill Switch is to prevent your real IP address from being unintentionally exposed in the event of Goose VPN being turned off or experiencing any disruptions.
Nevertheless, it's worth highlighting that the Kill Switch feature isn't automatically activated. You need to manually enable it yourself in order to leverage its protective capabilities.
7. Supports the Tor Browser
The TOR browser is instrumental in anonymizing web traffic by routing it through various points.
However, it is important to note that TOR alone does not provide security for your traffic. This is where the significance of pairing it with a VPN comes into play.
It is crucial to keep in mind that the more VPN connections you utilize alongside TOR, the slower your connection speed may become. This trade-off between anonymity and connection speed is an important consideration to bear in mind.
8. Netflix Works with Special Streaming Servers

Netflix has taken a strong stance against "region shopping" and has actively restricted VPN access for users. In the past, VPN users could easily switch server locations and stream content from any region at their convenience.
Unfortunately, those days are over.
Netflix has aggressively clamped down on VPN usage, resulting in the majority of VPNs losing their ability to bypass Netflix restrictions.
However, there is a glimmer of hope.
GooseVPN provides a selection of "special streaming servers" designed to evade detection and enable access to streaming platforms. While some US and UK servers may present challenges, we were able to successfully unblock Netflix by utilizing the dedicated streaming servers offered by GooseVPN.
Canada works
US works (special streaming server)
UK works (special streaming server)
Netherlands works (special streaming server)
---
Goose VPN Cons –

GooseVPN initially showed promise, boasting impressive features and potential.
However, as we subjected them to thorough testing, certain weaknesses began to emerge.
Let's delve into our findings and uncover the truth.
1. Inside Nine Eyes Agreement

While the Netherlands is often associated with a relaxed approach to recreational activities, privacy protection does not necessarily fall within the same realm.
As a member of the extended Nine Eyes intelligence alliance, the Netherlands is legally bound to share online user information with the other eight participating countries in the interest of national security.
This requirement includes the maintenance of logs pertaining to suspected terrorists, as outlined in the "no logging" section that we will discuss shortly.
We attempted to clarify these matters with their support representatives, but regrettably, we encountered uncooperative responses. In fact, during a Live Support interaction, we were informed that they were "not authorized to discuss any other VPN provider besides Goose VPN."
To put it succinctly:
If your primary concern is privacy and security, a Dutch VPN might not be your ideal choice.
This is particularly true for a provider that outright declines to engage in discussions on such matters.
2. Vague Logging Policy

Goose VPN affirms that they do not retain logs or user information on their website, indicating a commitment to privacy.
However, there is a perplexing contradiction in their statement. They mention that if a public body suspects a Goose VPN user of criminal activities, such as terrorism, they can maintain a log specifically for that user.
This raises questions. Would the logging commence only after being alerted by the said public body? If so, what criteria or level of evidence would be required for such logging?
Interestingly, they appear to have a divergent stance on copyright infringement. They explicitly state that Goose VPN does not support any organization that advocates for copyright claims.
These discrepancies certainly raise eyebrows and leave us with a sense of confusion.
3. VirusTotal Scan Was Concerning…
In general, a 'leak' refers to the inadvertent disclosure of your browsing habits despite being connected to a VPN service.
Even though the green connection light may indicate a secure connection, it is disconcerting to discover that your true identity is being exposed.
Unfortunately, this is a more prevalent issue than one might assume.
Fortunately, Goose VPN successfully prevents DNS and IP leaks, ensuring that your privacy remains intact. It's indeed a relief!
https://ipleak.net/ (none found)
https://www.perfect-privacy.com/check-ip/ (none found)
https://ipx.ac/run(none found)
https://browserleaks.com/webrtc (none found)
https://www.perfect-privacy.com/dns-leaktest/ (none found)
http://dnsleak.com/ (none found)

When we utilized the UK servers and conducted DNS leak tests across multiple websites, the IP addresses we employed were confirmed to be "OK" without any indications of leaks.

As part of our evaluation, we subjected the VPN installation files to scrutiny using VirusTotal. Surprisingly, the scan detected one virus in the installation file.
The decision regarding safety ultimately rests with you, considering this information.
4. Atrocious Speeds

VPN performance should never be compromised in the pursuit of enhanced security and anonymity.
Ideally, you should be able to enjoy both aspects simultaneously.
Hence, following the leak tests, we proceed to conduct performance evaluations to gauge the impact of each VPN on browsing speed.
Our baseline speed, without a VPN, measured at 94.68 Mbps download and 31.46 Mbps upload.
Subsequently, we establish connections to various servers to observe the resulting effects. Let's begin with our evaluation of the U.S. server located in Texas.

U.S. Server (Texas):
Ping: 130ms
Download: 4.60 Mbps (95.1% slower)
Upload: 15.48 Mbps (50.8% slower)
Not a great start. A download speed of only 4.60 Mbps means you're pretty much screwed.
Let's see if the EU server in Madrid was any better.

EU Server (Madrid, Spain):
Ping: 48
Download: 22.58 Mbps (76.2% slower)
Upload: 28.79 Mbps (8.5% slower)

The performance results are decent, but not exceptional.
When considering all the VPNs we have reviewed, Goose VPN falls within the middle range, securing the 37th position out of the 78 evaluated providers.
5. Awful Customer Support
Goose VPN offers various channels for customer support, including email, snail mail, social media, Live Chat, and a comprehensive FAQ section.
While they provide a Dutch phone number, it is important to note that technical assistance is not available on that line.
Initially, we attempted to contact them via email, but unfortunately did not receive a response within a few hours. Consequently, we decided to try their live chat feature.
To our satisfaction, "Monica" promptly connected to assist us. We proceeded to engage in a rapid-fire session of questions to assess Monica's expertise and patience.
Regarding your logging policy, it states that no logs are collected except for individuals involved in criminal activity. Does this mean that you do, in fact, collect logs? If so, is logging initiated only after being notified? Additionally, while you consider terrorism a crime, you seem to be tolerant of torrenting. Is copyright infringement not also considered a crime?
Which third-party payment service do you utilize for credit card payments?
What encryption standard does Goose VPN employ? Is it AES-256?
Does Goose VPN support the Tor browser and gaming consoles?
What is the maximum number of simultaneous connections allowed by Goose VPN?

The interaction was rather peculiar, to say the least.
There remains some uncertainty as to whether "Monica" was a genuine human or an automated bot.
Each time a question was posed, there was a noticeable delay in receiving a response. Furthermore, when a reply did arrive, it primarily consisted of text copied and pasted directly from the FAQ section.
Seeking clarification on the initial inquiry concerning logging for criminal activities, "Monica" declined to provide any further details and simply reiterated the exact information stated in the FAQ.


Utterly unhelpful and devoid of any assistance.
---
Goose VPN Cost, Plans & Payment Methods
Goose VPN offers two payment options: monthly or annually.
Opting for the annual plan provides a significant discount of over 82%, one of the most substantial annual discounts we have come across.
For those who prefer a more affordable monthly option, there is a $4.99 plan available. However, please note that this plan has a restriction of 50GB.
This monthly plan could be a viable choice for testing the service before committing to the annual discount.
Accepted payment methods include credit cards, PayPal, and Dutch bank debit cards via iDeal (only supported by participating banks).
Unfortunately, Goose VPN does not support cryptocurrency or cash payments, ruling out anonymous payment options.
To further instill confidence in their service, they provide a 30-day money-back guarantee, along with an initial free trial period of 30 days. This gives users an excellent opportunity to evaluate their service before making a long-term commitment.
---
Do We Recommend Goose VPN?

On the surface, there were several appealing aspects.
Notably, their support for Raspberry Pi sets them apart from others in the market.
Netflix compatibility was satisfactory, and their pricing terms seemed reasonable.
However, the positive impression quickly diminished.
Being part of the Nine Eyes agreement, the Netherlands is obliged to keep logs if alerted to "criminal activity." Unfortunately, there is a lack of clarity regarding the definition, interpretation, and enforcement of this policy.
Furthermore, concerns arise regarding the reliability of Goose VPN's software installation file.
VPN speeds were disappointingly subpar.
Regrettably, their customer support via email was both sluggish and unhelpful.
The live chat experience left much to be desired, making obtaining answers to questions feel arduous and unpleasant.
Moreover, important details, such as their credit card payment processing provider, were withheld by Goose VPN.
Considering these shortcomings, I cannot recommend Goose VPN as a viable choice.
---
Conclusion
Goose VPN offers a comprehensive set of features that make it a strong contender in the VPN market. With support for four protocols, including OpenVPN, and AES-256 encryption standard, it prioritizes user privacy and security. The ability to allow torrenting, compatibility with multiple devices, and a user-friendly app add to its appeal. The inclusion of a kill switch and support for the Tor browser further enhance its functionality. Additionally, Goose VPN provides special streaming servers that work with Netflix.
However, there are some drawbacks to consider. Goose VPN operates within the Nine Eyes agreement, which may raise concerns for users seeking complete anonymity. The logging policy is somewhat vague, and a concerning VirusTotal scan raises further questions about privacy. The service's speeds are below average, and customer support has been reported as lacking.
In terms of cost, Goose VPN offers various plans and payment methods, providing flexibility for users.
Taking all these factors into account, while Goose VPN has notable strengths, it falls short in certain areas. Depending on individual needs and priorities, it may or may not be the best choice. Consider the pros and cons carefully before making a decision.
---
For More amazing articles related to VPN Check out our website Over Here
To Read more similar articles click here
---
Thanks for visiting our Website. If you appreciate our work, kindly show us some support in our comments section 🙂