This year has been a rollercoaster of thrilling and breathtaking transformations in fashion. Gone are the days of simplicity and minimalism; we're now embracing the bold and vibrant era of maximalism. Prepare to be dazzled as we highlight some truly remarkable and jaw-dropping trends that have graced the scene throughout the year. If you're curious about which of your recent fashion splurges will remain relevant in 2018, fret not! You've stumbled upon the ultimate guide. We're here to assist you in revamping your wardrobe for the upcoming year, presenting a curated collection of the finest fashion trends from 2017 that are guaranteed to withstand the test of time.
Table of Contents
Fashion Trends From 2017 That Are Popular
---
1. Checks and Plaid
When it comes to prints and patterns, vintage checks and plaid took center stage in 2017. These timeless designs, reminiscent of the powerful '80s power suit, captured the essence of feminism without relying on slogans or sayings. As we move into 2018, the checks and plaid trend shows no signs of slowing down. However, there will be a delightful twist in the coming months.
While the blazer reigned supreme as the go-to plaid item this year, we can expect a delightful divergence. While a checked jacket remains a smart investment for those who have yet to embrace it, other fashion pieces featuring this pattern, such as pants, skirts, and even accessories, will also become indispensable additions to your wardrobe. Get ready to rock the checks and plaid in style!
---
2. Red All Over
While it may not have been Pantone's official Color of the Year, red undeniably stole the spotlight in the fashion world. Throughout 2017, this fiery hue enraptured the entire industry. Embracing the "more is more" mantra of the year, street-style icons fearlessly adorned themselves in head-to-toe red, creating a bold and captivating aesthetic. The good news for red enthusiasts is that this sizzling shade will continue to make waves in 2018.
So, it's time to stock up on red tops, pants, dresses, jackets, accessories, and more, because this color isn't going anywhere just yet. But make sure to leave some room in your wardrobe, as purple is also predicted to make a splash in the coming year. Stay ahead of the fashion curve by embracing these vibrant hues.
---
3. Bold Earrings
While '90s-style chokers may be bidding farewell, fear not, as bold earrings are here to steal the spotlight. Whether it's shoulder-grazing tassel styles or opulent chandelier designs, statement earrings of all kinds are set to reign supreme in 2018. These attention-grabbing accessories are perfect for injecting a captivating element into your everyday daytime ensemble or adding an extra touch of allure to your nighttime look.
Their versatility knows no bounds, making them an ideal choice for any time of the day. Embrace the fun and whimsy of bold earrings as you traverse through the year 2018, my fashion-forward friend. The beauty lies in the vast array of options available, ensuring that you'll easily find a pair that perfectly complements your unique personal style. So, get ready to turn heads and make a fashion statement with your choice of striking earrings.
---
4. White Booties
Get ready to stride into the new year with a fashionable spring in your step, courtesy of the white booties trend. While 2017 saw a myriad of footwear colors in vogue, including gold, silver, and red, it's white that's set to dominate the scene in 2018. To embrace this trend with style, you'll have a choice between slim kitten heel styles or chunkier block-heeled designs.
However, it's important to bear in mind that maintaining the pristine appearance of your white booties is key to nailing this look. Scuffs, dirt, and mud can swiftly transform your ensemble from chic and sleek to untidy and careless. So, keep those booties clean and exude an air of sophistication as you flaunt this trend in the upcoming year.
---
5. Belt Bags
In a surprising turn of events, belt bags emerged as one of the most influential trends this year. These hands-free handbags swiftly captured the fashion world's attention with their blend of practicality and unique style, dominating the street style scene in 2017. And guess what? This trend is poised to reach its peak popularity in 2018. No longer limited to the daringly different, these reimagined bum bags have become accessible to everyone.
The key is to choose a style that complements your outfit seamlessly. For example, an oversized bum bag with a plastic zipper is the perfect match for an athleisure ensemble, while a delicate pink velvet belt bag adds a touch of femininity to a more delicate outfit. Embrace the convenience and fashion-forward appeal of belt bags as you step into the new year with style.
---
6. '60s Florals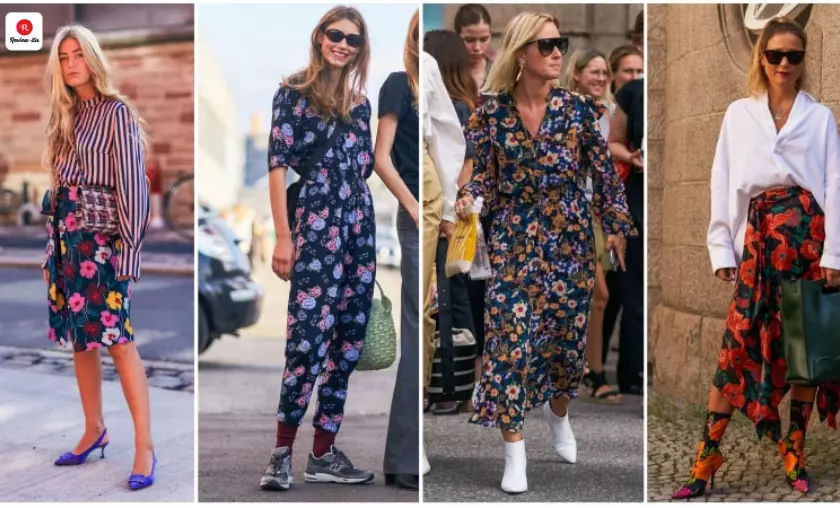 Prepare to channel your inner flower child for the next 12 months as the fashion world continues to embrace the blooming '60s floral prints. Gone are the days when these prints were solely reserved for your grandmother's couch. Now, they adorn dresses, skirts, jumpsuits, pants, tops, and even shoes, elevating them to new levels of style and sophistication. To master this trend, choose pieces that showcase big, vibrant blooms against a dark or understated background.
Look for designs with an artistic flair, and don't shy away from mixing and matching to create a truly groundbreaking floral ensemble. Embrace the beauty of these prints and let your fashion choices bloom with creativity and flair.
---
7. Matrix Glasses
This season has demonstrated that accessories don't have to be large to make a bold statement. Enter the "Matrix" glasses – sleek, slender, and oh-so-striking. These slim frames have taken the fashion world by storm and show no signs of fading away anytime soon. Street style icons, editors, and celebrities alike have embraced these streamlined glasses with enthusiasm. Whether you prefer chic cat-eye versions or super-slim oval designs, "Matrix" glasses, in all their variations, are set to dominate the eyewear scene in 2018.
The best part? Their retro-futuristic appeal makes them a versatile choice that can complement almost any outfit or ensemble effortlessly. Remember to select a style that flatters your face shape, and prepare to make a fashion-forward statement with these captivating frames.
---
8. Statement Suits
In the realm of women's fashion, this year was an explosion of audacious and vibrant styles, captivating attention at every turn during the show seasons. Among them, the statement suits emerged as the true stars, crafting numerous head-turning and coordinated ensembles. From dazzling shades of yellow to striking bold stripes, unconventional checks, and innovative cuts, the suit transcended its traditional office confines and found its place back on the runway.
So, when you need a sharp yet undeniably stylish look in 2018, look no further than this trend for an endless source of inspiration. Embrace the power and allure of the statement suit, and make your own statement.
---
9. Daytime Sequins
In a delightful fashion twist, decadent designs shed their eveningwear persona in 2017 as glamorous sequined looks confidently stepped out into the daylight. These daring daytime sequins swiftly captured the lens of street-style photographers, catapulting them into the realm of major trends.
As we venture into 2018, we'll witness an even greater influx of these reinvented party frocks gracing the streets. To embrace this trend and make it your own:
Take a sequined design and dress it down with a plain white T-shirt layered underneath.
Complete the ensemble with a relaxed coat on top and casual sneakers on your feet for the perfect blend of sophistication and effortless style.
Embrace the shimmer and shine of daytime sequins and light up the streets with your fashion-forward allure.
---
10. Berets and Baker Boy Hats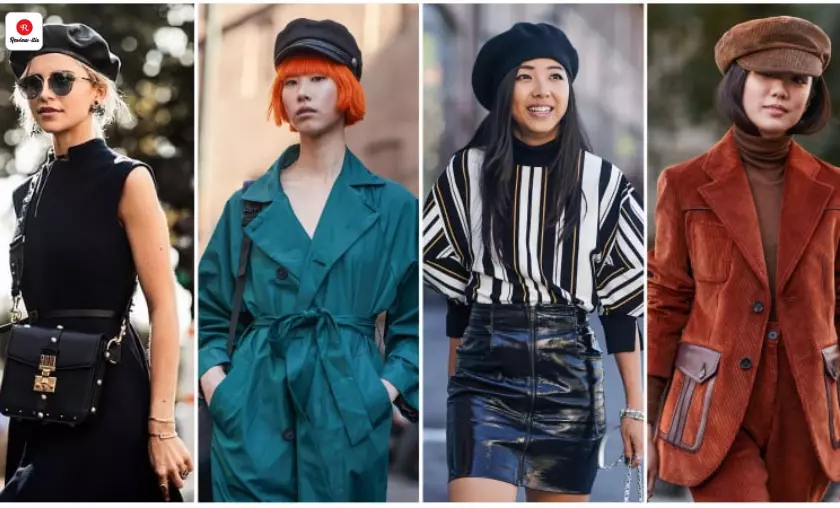 Hats made an extraordinary comeback in 2017 and showed no signs of slowing down as we enter the new year. Departing from the fedoras and wide-brimmed styles of previous seasons, berets and baker boy hats stole the spotlight as the favored toppers of the year. These chic and undeniably stylish hats effortlessly complemented a range of ensembles in 2017, and their versatility is poised to continue shining in 2018. If you're eager to incorporate one into your everyday wardrobe, you have an array of options to choose from.
Whether you opt for a simple black design for timeless elegance, an edgy leather style for a touch of rebellion, or a hat with retro aesthetics to channel vintage vibes, there's a hat out there to suit your personal taste. So, prepare to top off your outfits with flair and embrace the hat revolution that shows no signs of slowing down.
Berets and Baker Boy Hats
---
To read more similar articles, click here.
Thanks for visiting our Website. If you appreciate our work, kindly show us some support in our comments section 🙂