Both A2 Hosting and SiteGround are renowned for their exceptional web hosting solutions. But how do these two compare? Indeed, one must emerge as the superior choice, right?
Both companies offer affordable web hosting plans catering to various budgets. Moreover, they boast features like Cloudflare CDN (Content Delivery Network), WordPress optimization, and 24/7 customer support.
So, which option reigns supreme?
We present a comprehensive review of SiteGround vs A2 Hosting Comparison to answer that question. This article evaluates these providers based on five crucial factors.
Let's kick things off with a brief introduction to each web hosting provider.
Table of Contents
---
SiteGround vs A2 Hosting – Overview
Let's begin by introducing you to the individual web hosting providers: A2 Hosting and SiteGround. Each of them has its unique features and offerings that set them apart. So, let's dive into what makes these providers stand out.
SiteGround
Commencing its web hosting services in 2004, SiteGround has made a name for itself with its competitively priced hosting plans and exceptional customer support. With its headquarters in Sofia, Bulgaria, SiteGround has expanded its reach across six locations and established data centers on three continents. This extensive network allows you to select the location best suits your needs.
Impressively, SiteGround boasts over 400 dedicated staff members and proudly hosts over two million domains. These figures demonstrate the scale and reliability of SiteGround as a trusted hosting provider in the industry.
A2 Hosting
A2 Hosting has established itself as a prominent player in the web hosting industry. With its inception in 2001, this Michigan-based company, initially known as Iniquinet, rebranded itself as A2 Hosting in 2003.
What sets A2 Hosting apart is its reputation for delivering exceptional speed and versatility. Whether you're a novice or an experienced developer, A2 Hosting caters to users' specific requirements at every skill level, ensuring a tailored experience for all.
---
SiteGround vs A2 Hosting Comparison
| | A2 Hosting | SiteGround |
| --- | --- | --- |
| Founded in | 2003 | 2004 |
| BBB Rating | A+ | A |
| Address | 2000 Hogback Road Suite 6 Ann Arbor, MI 48105 | SiteGround Office, 8 Racho Petkov Kazandzhiata, Sofia 1776, Bulgaria |
| Contact Number | (888) 546-8946 | (866) 605-2484 |
| Types of Support | Live Chat, Ticket, Phone, Email | Live Chat, Ticket, Phone, Email |
| Data Center Location | Michigan, Amsterdam, Singapore, and the Netherlands | Chicago Illinois, Amsterdam, Singapore, and London |
| Monthly Price | Starts at $2.99 per month | Starts at $3.99 per month |
SiteGround vs A2 Hosting – Compared 
Now, it's time to delve into the detailed comparison between A2 Hosting and SiteGround across five distinct rounds: Performance, Usability, Features, Customer Support, and Hosting Price. By assessing these crucial aspects, we can understand how these two hosting providers stack up against each other.
---
SiteGround vs A2 Hosting- Performance
In the realm of web hosting, performance is paramount. Speed and uptime are two critical factors contributing to a hosting service's overall reliability and efficiency. So, as we evaluate A2 Hosting and SiteGround, we'll delve into these aspects to gauge how they deliver optimal performance. Join us as we explore the realm of speed and uptime and assess how A2 Hosting and SiteGround measure up in this crucial domain.
SiteGround – Speed & Uptime
SiteGround is dedicated to providing the latest speed technologies to enhance website performance. They prioritize optimizing response times with features like NGINX, SSD disks, SG Optimizer, PHP7, HTTP/2, and a complimentary CDN. On average, SiteGround achieves a loading time of 673 ms, ensuring efficient and swift user experiences.
To further guarantee the reliability, SiteGround's Service Level Agreement (SLA) commits to an impressive annual uptime of 99.99%. Should your uptime fall below this benchmark, you become eligible for benefits. SiteGround compensates users accordingly:
If the uptime falls between 99.99% and 99.00%, you receive one month of free web hosting services. Additionally, for every additional 1% drop below the 99.00% uptime network, you are entitled to an extra month of free web hosting services. This illustrates SiteGround's commitment to maintaining a highly reliable hosting environment for its customers.
A2 Hosting – Speed & Uptime
When you take a quick Google search and visit the homepage of A2 Hosting, you'll notice their persistent emphasis on speed. A2 Hosting leverages Turbo servers to accelerate your website's performance by up to 20 times. However, it's important to note that this 20 times boost in performance is exclusively available with their Turbo Boost hosting plan.
We conducted tests on their Turbo shared hosting plan and found an impressive average response time of 317 ms. This showcases their commitment to delivering swift and seamless user experiences. Additionally, A2 Hosting guarantees an uptime of 99.9% according to their Terms of Service, further solidifying their dedication to maintaining your website's availability.
However, it's important to note that specific conditions are outlined in this policy where you may not be eligible to receive compensation.
We are currently undergoing scheduled maintenance.
We are experiencing an unforeseen emergency maintenance situation.
Rest assured, any hardware or software issues are promptly resolved by our company within an hour.
If you have received prior notification regarding IP address or DNS changes causing downtime, it is important to update your configurations accordingly. Failure to do so may result in disruption of services.
In the event of a malicious attack, such as a hacker targeting us with DDOS attacks or similar incidents, downtime may occur.
Downtime can also be caused by improper configurations or the use of third-party apps.
Exceeding the resource allocation limits of your hosting plan may lead to downtime.
Downtime may result from violations of our Terms of Service.
During upgrading or downgrading your Cloud Hosting or Dedicated Server resources, there may be temporary downtime.
Please note that downtime may occur while we attend to technical support requests.
Occasionally, downtime may be caused by events and conditions beyond our control.
Winner!
It's a close match between A2 Hosting and SiteGround. When comparing their best-selling hosting plans, A2 Hosting edges ahead in speed. By hosting your site on their Turbo servers, they can achieve remarkable performance, delivering a blazing-fast experience that's 20 times quicker. However, A2 Hosting's uptime can be somewhat variable, posing a potential risk for businesses seeking consistent reliability.
On the other hand, while SiteGround may exhibit slightly slower performance compared to A2 Hosting, its uptime is notably more consistent. SiteGround is a compelling choice for those prioritizing a stable and dependable website experience.
Ultimately, if your priority is a swift and snappy website, A2 Hosting is an excellent option. However, SiteGround gains the upper hand in this comparison if you value unwavering reliability.
---
SiteGround vs A2 Hosting – Usability
Both A2 Hosting and SiteGround excel in providing user-friendly experiences with their intuitive cPanel interfaces and straightforward layouts. With these control panels, managing your hosting account and adjusting settings becomes hassle-free. Both hosting providers offer convenient one-click installers for popular CMS platforms like WordPress, Drupal, Joomla, and more. This invaluable feature allows you to swiftly set up your website, making the entire process seamless and efficient.
Winner!
SiteGround wins the usability round by integrating Weebly and free migration services, making building and managing your website more accessible.
---
SiteGround vs A2 Hosting – Notable Features
Both hosting companies provide various features depending on their hosting plans. This section explores the distinctive features that give each provider a competitive edge.
SiteGround Hosting Features
Now, let's delve into the standout features that make SiteGround shine: 
1. Multiple Startup Features
By opting for the minimal startup plan, you gain access to a multitude of features, including:
Unmetered traffic
WP auto-updates and backups
Free WP installation
Free CDN
Unlimited databases
WP-CLI and SSH capabilities
2. Built-in Security
At SiteGround, your site benefits from a complimentary daily backup service. Moreover, on a slightly higher-priced plan, you'll enjoy the added advantage of free backup restores.
A2 Hosting Features:
Let's dive into the features where A2 Hosting holds the advantage: 
1. Linux and Windows Hosting 
One notable advantage of A2 Hosting is its support for both Linux and Windows hosting options. This flexibility allows you to choose the hosting platform that aligns with your preferences. In contrast, SiteGround and many other hosting providers primarily support Linux hosting. This distinction highlights A2 Hosting's edge over SiteGround regarding hosting versatility.
It's worth mentioning that HostGator is another web hosting company offering Windows hosting as a choice.
2. Anytime Money-Back Guarantee
While many hosting providers, such as BlueHost, offer a 30-day money-back policy and DreamHost extends it to 97 days, A2 Hosting takes it further. With A2 Hosting, you can receive a refund for unused services without any time limit restrictions.
3. The choice for Management Level
A2 allows you to select the management level for dedicated and VPS (Virtual Private Server) hosting services. The pricing varies depending on the level of management you choose. On the other hand, SiteGround exclusively provides managed hosting plans, ensuring that your hosting experience is fully taken care of.
However, it's important to note that there are a few considerations to keep in mind with this policy:
For refund requests that extend beyond 120 days, we process payments exclusively through PayPal.
Please note that accounts terminated due to violations of our Terms of Service are not eligible for refunds.
It's important to know that additional services, including migration fees, set-up fees, and domain name registration, are non-refundable.
Could you review their terms and conditions for more detailed information on their money-back guarantee?
Winner!
SiteGround gains the upper hand over A2. While A2 impresses with its versatile features and performance for building any website, SiteGround goes the extra mile by prioritizing proactive security measures. Therefore, the ultimate victor in this comparison is SiteGround.
---
SiteGround vs A2 Hosting – Customer Support
Both A2 Hosting and SiteGround excel in delivering round-the-clock customer support. Their technical teams are available via phone, live chat, and email for your convenience. Additionally, they provide comprehensive documentation and top-notch tutorials and guides to ensure you have all the resources needed to navigate their services effectively.
Winner!
In this round, we have a tie between A2 Hosting and SiteGround. Both providers showcase outstanding qualities, making it difficult to declare a clear winner. 
---
SiteGround vs A2 Hosting – Hosting Price
Now, let's dive into the hosting plans offered by each hosting provider.
Shared Hosting Plan of SiteGround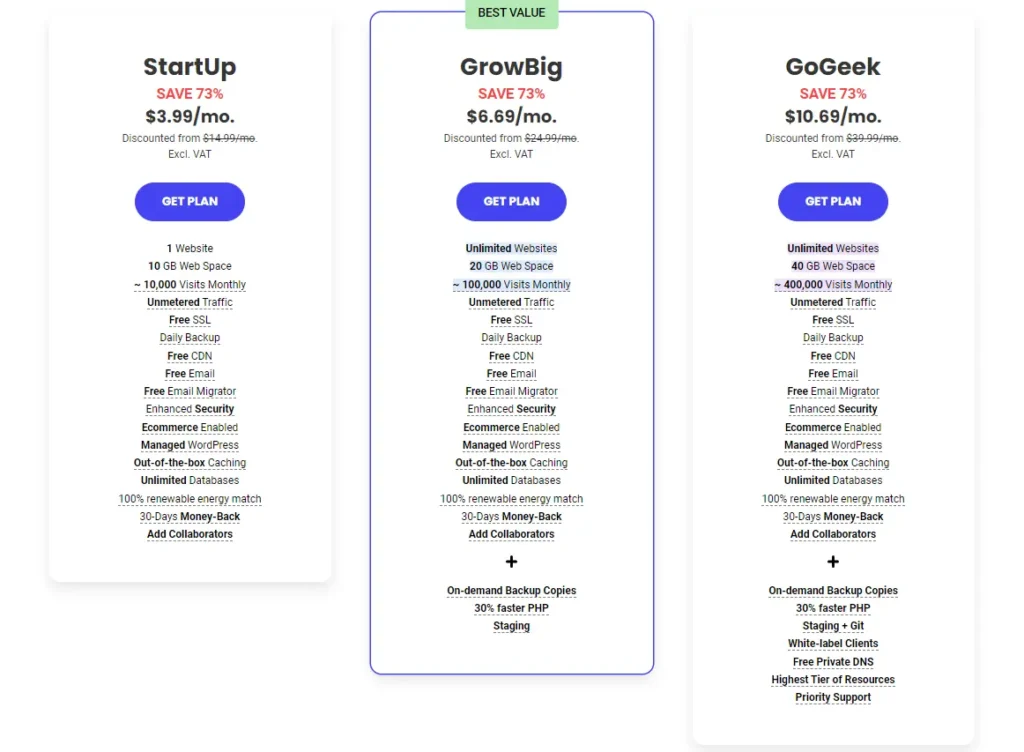 Shared Hosting Plan of A2 Hosting
Other Hosting Plans – Side By Side Comparison
| | Managed WordPress Hosting Plan | VPS Hosting Plan | Reseller Hosting Plan | Dedicated Server Hosting Plan | Cloud Hosting Plan |
| --- | --- | --- | --- | --- | --- |
| SiteGround | $3.99 to $10.69 per month | – | $6.69 to 100.00 per month | – | $100 to $400 per month |
| A2 Hosting | $2.99 to $14.99 per month | $39.99 to $59.99 per month | $22.99 to $49.99 per month | $155.99 to $215.99 per month | – |
Winner!
As we can observe from the table above, A2 hosting plans come at a more budget-friendly price compared to SiteGround hosting plans. The initial cost of A2's dedicated hosting server plan is significantly lower than SiteGround's. This discrepancy arises because SiteGround exclusively offers a managed dedicated server plan, whereas A2 hosting allows you to choose the management level according to your preferences.
Furthermore, A2 hosting provides an affordable VPS hosting plan, while SiteGround does not offer a VPS hosting option.
---
SiteGround vs A2 Hosting: Conclusion
In the comparison rounds, SiteGround hosting emerges victorious in two categories and achieves ties in the next two. SiteGround offers a range of hosting plans at affordable prices, including dedicated servers and cloud hosting. Their performance stands out for its reliability and consistency, surpassing that of A2 hosting. Therefore, if you prioritize an affordable hosting plan with stable performance, our recommendation is SiteGround hosting.
That being said, A2 hosting delivers exceptional speed, thanks to their turbo server technology that boosts site performance by nearly 20 times compared to other hosting providers. Their customer service is also known for its promptness and friendliness.
For reliable and stable performance, SiteGround is the way to go. For blazing-fast performance, A2 hosting is the top choice.
We invite you to explore our other review articles on DreamHost, BlueHost, and SiteGround. Feel free to check them out for further insights.
---
FAQs
What are the appropriate situations for utilizing SiteGround hosting?
If you're seeking a dependable hosting service accompanied by round-the-clock customer care, SiteGround is your ideal choice.
What is the most suitable SiteGround plan available?
SiteGround's most popular and company-recommended hosting plan is GrowBig, which comes at a monthly cost of $9.99. This feature-rich plan encompasses a variety of impressive offerings, such as unlimited websites, 20 GB storage, approximately 25,000 monthly visits, and unmetered traffic. Moreover, it includes valuable benefits like free WordPress installation and migration, a complimentary SSL certificate, daily backups, and a free CDN for enhanced performance. With additional features like a free email account, WP-CLI and SSH access, unlimited databases, and a 30-day money-back guarantee, SiteGround's GrowBig hosting plan provides an all-inclusive website hosting solution.
In what circumstances should A2 hosting be utilized?
If you're seeking an affordable hosting option that delivers exceptional speed and superior features for your website, A2 Hosting is the perfect choice. With A2 Hosting, you can enjoy ultrafast performance and an array of top-notch components that will enhance your site's overall performance and user experience.
Is Windows hosting provided by A2?
Absolutely! A2 Hosting stands out by providing both Windows and Linux hosting options, allowing you to choose the platform that suits your needs. Additionally, hosting providers like HostGator offer Windows hosting for those who prefer it.
If you're specifically looking for Windows hosting options, several other reputable companies are worth considering. To explore further, here is a curated list of the best Windows Hosting Providers in 2022. Take a look and find the ideal fit for your requirements.
---
For More amazing articles related to Web Hosting Comparison Check out our website Over Here
To Read more similar articles click here
---
Thanks for visiting our Website. If you appreciate our work, kindly show us some support in our comments section 🙂