In this A2 Hosting review, I'm testing the provider to see if it lives up to its claim of being the fastest web hosting option. I'll also assess other important factors like pricing, features, ease of use, security, and customer support to determine if it's worth your time.
A2 Hosting's catchy claim of "20x faster web hosting" might pique the interest of many new users, but skeptical individuals like myself wonder, faster than what exactly?
So naturally, I became curious. Can this seemingly ordinary provider with average prices actually deliver extraordinary results?
While many web hosting providers make lofty promises on their homepage, A2 Hosting's claims may be closer to reality than we anticipated. Some of their offered plans are hosted on top-notch enterprise-level hardware, ensuring optimal performance.
However, speed is one of many aspects I'll be covering today. So stick around as I uncover everything there is to know about A2 Hosting before you make a purchase.
Lastly, this review delves deep into every aspect of A2 Hosting, which is lengthy. So, you can find the final verdict if you're looking for a quick summary.
---
Table of Contents
---
General Info & Hosting Overview:
| | |
| --- | --- |
| ⭐ Rating: | 4.1 ★★★★☆ |
| 💲 Price: | Prices start from $2.99/month |
| ▶️ Uptime: | 99.99% |
| 🏘️ Hosting types: | Shared and managed WordPress, VPS, and dedicated hosting |
| 🌎 Server locations: | Michigan (US), Arizona (US), Amsterdam (Netherlands), and Singapore (Singapore) |
| 👨‍💻 Support: | 24/7 live chat, ticketing, and phone |
---
Pros & Cons Of A2 Hosting
Pros
Cons
Very fast page load times.
Servers in 3 continents.
Tools for boosting speed.
Free daily backups.
Premium-level prices.
Free domain is not included.
All the benefits hide under Turbo plans.
---
A2 Hosting pricing
Regarding pricing, A2 Hosting offers a range from budget-friendly to high-end options. Their shared hosting plans start at $2.99/month and go up to $14.99/month for 3-year subscriptions, while they also provide managed WordPress hosting, VPS, and dedicated servers as alternative choices.
| | |
| --- | --- |
| Hosting type | Best for |
| Shared Hosting | Small to medium websites. Get A2 Hosting, now 75% OFF |
| Managed WordPress Hosting | Easy to use and fast hosting for beginners |
| VPS Hosting | Advanced option for developers |
| Dedicated Server Hosting | Enterprise solution for the biggest websites |
Among the array of options available, shared hosting stands out as A2 Hosting's most popular solution, and that's precisely what I'll be delving into for this review.
With A2 Hosting's shared hosting plans, you'll enjoy ample SSD storage, complimentary SSL certificates, unlimited email accounts, DDoS protection, unrestricted transfers, and many subdomains. However, it's worth noting that none of these plans include a free domain, so that's an additional expense to consider.
Good To Know
Although A2 Hosting doesn't offer a free domain, they provide the option to select a temporary domain. Alternatively, you can purchase a domain directly from the hosting provider.
It's time to dive into each plan and explore its unique features.
| | | |
| --- | --- | --- |
| Plan | Features | Price |
| StartUp | The first plan offers 1 website, 100GB SSD storage, unmetered bandwidth, and 5 databases. | $2.99/mo |
| Drive | The second plan provides unlimited storage and websites, unmetered bandwidth, unlimited databases, and free automated backup. | $5.99/mo |
| Turbo Boost | The third plan includes unlimited websites and NVMe storage, unmetered bandwidth, unlimited databases, and free automated backup, and is hosted on an NVMe AMD EPYC Server with LiteSpeed Web Server. | $6.99/mo |
| Turbo Max | The fourth plan, similar to the third one, offers unlimited websites and NVMe storage, unmetered bandwidth, unlimited databases, and free automated backup and boasts fewer users on the server for enhanced performance. | $14.99/mo |
When it comes to pricing, A2 Hosting falls within the average range. However, considering the substantial server resources and useful features it offers, the prices are reasonable and provide good value.
Regarding value, the Startup and Drive plans may not be worth considering due to the absence of faster NVMe storage and Turbo servers. Cheaper providers like Hostinger or DreamHost might be a more suitable option for personal or smaller business sites.
However, if speed is your priority, the Turbo plans to steal the show. Specifically, the Turbo Boost plan stands out with an affordable $6.99/month price, providing the same features as Turbo Max. In other words, it's suitable for hosting anything from a simple site to smaller eCommerce stores. The only distinction is that the former is hosted on a server with more users.
Best Value
To secure the ultimate deal, opt for the Turbo Boost hosting plan with a 3-year billing cycle. By doing so, you'll enjoy the advantage of keeping the monthly rates as low as $6.99/month for the initial 36 months. However, it's important to note that increased renewal rates will apply after that period.
An important aspect worth mentioning is that A2 Hosting provides an anytime money-back guarantee, allowing you to receive a prorated refund for unused services. On top of that, they offer a standard 30-day money-back guarantee, ensuring a full refund within that period.
Overall, A2 Hosting is primarily a premium provider that caters to individuals seeking top-notch shared hosting hardware—and they deliver on that front. However, it's important to be prepared for a significant upfront payment. Don't forget to explore A2 Hosting's Black Friday deals for an opportunity to save some money.
---
Hosting management – is it easy to use?
Regarding hosting management, A2 Hosting relies on the tried-and-true cPanel. It's a user-friendly and functional interface. However, the drawback is that you'll be greeted with a design that refers to the early 2000s, which can feel like a step backward if you've experienced more modern interfaces.
To access the cPanel, you'll need to navigate through the account management panel. This is the central hub where you can find support, renew your plan, and add any additional services you may require.
This interface looks outdated, so let's swiftly click the cPanel Login button. It's pretty puzzling how A2 Hosting maintains such unappealing interfaces while charging steep prices.
Thankfully, you won't have to endure this for too long.
---
What does A2 Hosting control panel look like?
A2 Hosting utilizes the default version of cPanel, which offers a plethora of functionalities. It is the starting point for developing your website, allowing you to effortlessly add a domain, install WordPress, and set up email accounts. And that's just the beginning—more advanced features enable you to navigate through files, databases, manage security settings, and optimize performance.
Although the interface may appear outdated, it's important to note that cPanel remains one of the most robust control panels available regarding functionality.
The various features are conveniently organized under different categories like domains, email, metrics, and software, ensuring easy navigation. Additionally, you'll find a comprehensive overview of your account's overall statistics on the right side.
Despite its age, cPanel continues to be a favorite among many users due to its excellent hosting management capabilities. Interestingly, A2 Hosting stands out as one of the few providers that exclusively utilize cPanel for web hosting management, while others have started integrating their own proprietary tools.
---
Adding a domain to the A2 Hosting account
When you purchase a domain through A2 Hosting, it's automatically added to your account and activated. However, it's worth noting that buying domains from other registrars and manually adding them to A2 Hosting is often more cost-effective.
That's precisely what I did during my A2 Hosting review, which involved two simple steps: updating the name servers and adding the domain name through cPanel.
If you've obtained a domain name from another registrar, you must visit that registrar's website and locate the DNS settings. Specifically, look for the name servers field.
For A2 Hosting's shared plans, the name servers to use are ns1.a2hosting.com, ns2.a2hosting.com, ns3.a2hosting.com, and ns4.a2hosting.com. You only need to use two of them. So, in your registrar's settings, update the name servers to any two of the A2 Hosting ones, and you're done with the first step.
Locate the "Addon Domains" feature within A2 Hosting's cPanel to add a domain name. You'll find it under the "Domains" section.
In the provided form, enter your New Domain Name and the remaining fields will be automatically pre-filled for your convenience.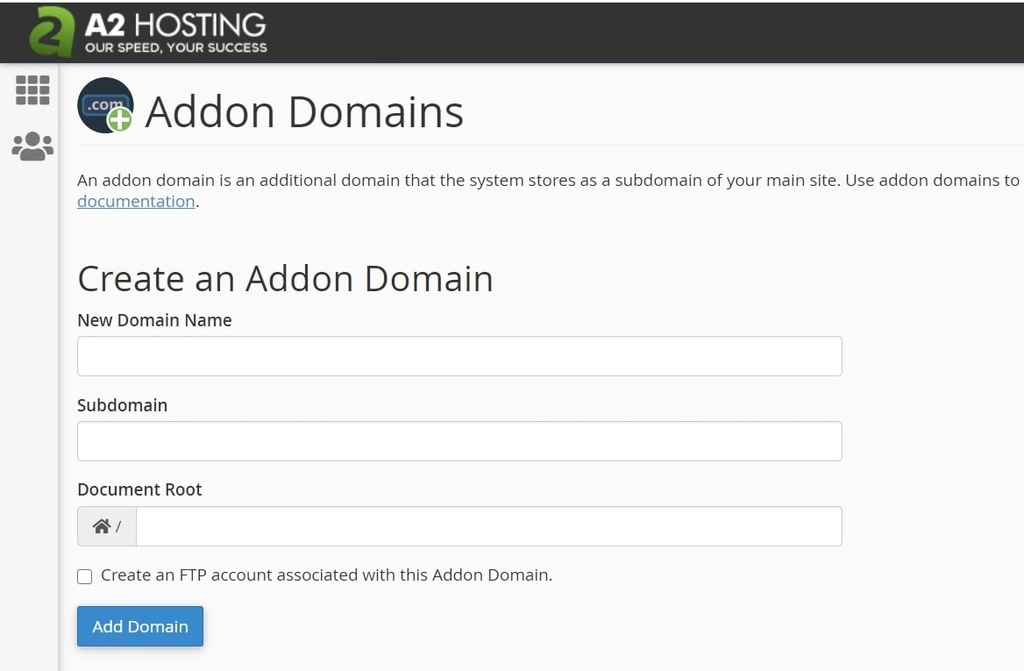 Once you click the "Add Domain" button, the system takes all the necessary steps on your behalf.
P.S. Domain propagation can take up to 48 hours, although, in my experience, it typically happens within just a few minutes.
Once this process is complete, your domain will be ready for WordPress installation.
---
Installing WordPress with A2 Hosting
Like other tasks, installing WordPress with A2 Hosting is straightforward and follows the standard process. It can be quickly done through cPanel using the Softaculous application. However, the installation becomes even simpler if you've chosen to have WordPress pre-installed during checkout.
Within the cPanel, you'll locate the dedicated Softaculous section. The first option you'll see is WordPress-A2 Optimized. As the name implies, this option includes A2 Hosting optimizations, including built-in caching, to enhance performance.
While there are other applications to explore, it's worth noting that WordPress remains the most popular choice for website development and content management.
You must click the "Install" button to proceed to the next window, regardless of your selection.
Now, look at the added features that A2 Hosting's A2 Optimized function brings to WordPress.
Afterward, we arrive at the installation window. Here, you'll only need to provide the necessary information, such as selecting a domain, naming your website, creating a username, and thinking of a secure password.
While the Quick Install button conveniently pre-fills all the necessary information, I prefer manually filling it out for added security.
Once you're ready, click the "Install" button, and the system will take care of the rest automatically.
Unless you encounter a problem along the way, just as I did during my own experience…
Unfortunately, my installation didn't proceed as planned due to an unexpected issue. There was something already present on my website.
Upon investigation, I discovered the cause – A2 Hosting had decided to install their own temporary page on my domain, which explained the disruption.
To address the issue, I overwrote all existing files during my next installation attempt, which successfully resolved the problem.
Although it may seem like a minor issue, I wouldn't say I like such occurrences. They have the potential to confuse and intimidate beginner users who are cautious about interacting with error messages or checkboxes.
However, it's important to note that the WordPress installation process is generally straightforward, and the slight hiccup I encountered while writing this A2 Hosting review has remained the same since then.
---
Adding an email account with A2 Hosting
With any A2 Hosting plan, you can add unlimited email addresses, and the process is straightforward. However, it's worth noting that A2 Hosting's offered email clients need to be updated and utilize the same server as your website. This configuration is suitable for occasional emailing but may not meet the requirements of frequent professional use.
Nevertheless, having an email address associated with your website name adds significant professionalism, far surpassing the impression of a generic Gmail account. It's an opportunity worth considering, especially since this tool is provided free of charge.
To establish your professional-looking email with A2 Hosting, locate the "Email Accounts" section in the cPanel under the Email category. Click on "Create" and fill in the necessary information as prompted.
A2 Hosting allows you to set a custom storage space or maintain unlimited storage, depending on your preference, to optimize your storage usage.
And that's all there is to it! Once you've completed the setup, you can easily access your webmail client by clicking "Check Mail" within the same Email Accounts management window.
It's crucial to remember that none of the options mentioned above are suitable for conducting email marketing campaigns, as email deliverability rates tend to decline when hosted on shared servers.
Considering everything, A2 Hosting's control panel is incredibly user-friendly, ensuring a seamless experience when navigating and configuring your new website. Moreover, it offers exceptional functionality, with all the necessary tools to build a successful online presence.
---
A2 Hosting performance – is A2 Hosting fast?
A2 Hosting proudly boasts of being "20x faster web hosting." Intrigued by this claim, I conducted a series of performance tests to put the provider to the test. A2 Hosting showcased commendable uptime, average server response time, and impressive website loading speed throughout the testing period. Furthermore, it successfully withstood my stress test under maximum load.
---
A2 Hosting uptime and response time
Throughout monitoring this A2 Hosting review, I have closely observed its performance for 2 months. Within this timeframe, there were 4 instances of downtime, accumulating to a mere 7 minutes. This translates to an impressive uptime of 99.99%.
Regarding average response time, it clocked in at 597ms, which is considered moderate from my perspective.
When it comes to the numbers, what does it all mean for you and your website?
First and foremost, A2 Hosting guarantees an impressive 99.9% uptime. However, the actual performance surpasses that commitment by a wide margin. With A2 Hosting, you can expect minimal downtime, with an estimated quarterly downtime of just 8 minutes and 30 seconds, far exceeding the expected 2 hours and 11 minutes and 29 seconds.
In terms of response times, they remained consistently stable throughout the monitoring period. This indicates that my website could handle excessive strain on server resources.
Now, let's delve into the crucial aspect of website loading speed.
---
A2 Hosting speed
Since my website is hosted in the U.S. data center, it's no surprise that the best results are observed in the U.S., with an impressive Largest Contentful Paint (LCP) time of 859ms. The website loading time naturally increases as we move farther from the server location. This conclusion is backed by the test results obtained.
But why does LCP matter, and what does it mean?
The Largest Contentful Paint (LCP) metric has gained significance in Google's ranking algorithm. A shorter LCP indicates better chances of your website ranking higher in search results. As long as you keep it under 2.5 seconds, you're on the right track.
A2 Hosting impressively fits within this time frame with an LCP as low as 859ms. Even in India, the site loads fast enough to meet the requirements. While there's room for improvement, I won't complain.
Good To Know
A2 Hosting has data centers in four strategic locations: Michigan (U.S.), Arizona (U.S.), Amsterdam (Netherlands), and Singapore (Singapore). With this geographical diversity, you can select a server closest to your target audience, ensuring reduced latency and optimal website loading speed.
Let's take the testing further by evaluating how A2 Hosting performs with a fully built website. To simulate this scenario, I installed the Astra theme and selected the Tech Startup template with its demo content.
As anticipated, the Largest Contentful Paint (LCP) has now increased to 1.3 seconds, reflecting the additional elements and content on the website.
Is an LCP of 1.3 seconds considered bad? Not at all. It still provides a comfortable buffer to avoid falling into Google's less favorable rankings.
However, let's remember the most important aspect: your site visitors. While they may not be as concerned about LCP times as Google, what truly matters to them is how quickly the website loads. If the loading time jumps from one second to five seconds, the likelihood of visitors leaving the site increases by a staggering 90%.
In the case of this website, the Fully Loaded Time is 1.4 seconds, which is an excellent result. Overall, A2 Hosting demonstrates its ability to deliver impressive speed as a hosting provider.
---
A2 Hosting stress testing
Now, it's time to move beyond the controlled environment and put A2 Hosting to the ultimate test. This is where things get really interesting. We're about to find out if A2 Hosting can handle the influx of traffic without breaking a sweat.
I sent 50 virtual visitors to my website to simulate a realistic scenario. Let me emphasize the significance of this number – it's substantial. Imagine having 50 visitors on your website every minute, all the time. That's comparable to tens of thousands of monthly visitors, similar to what you'd expect from a popular local blog or a medium-sized business website.
And guess what? A2 Hosting didn't even break a sweat.
Now, let's dive into the graph and examine two key metrics: server response time (represented by the blue line) and the number of visitors on the site (shown by the grey line). Take a look, and you'll notice that throughout the entire test, the server's response time remained consistently stable and remarkably quick, as if there was only a single visitor on the site.
In this aspect, A2 Hosting is genuinely impressed with its outstanding performance. It effortlessly handled the influx of traffic, showcasing its ability to manage high volumes without compromising response time.
Overall, A2 Hosting delivered exceptional performance. The website maintained an impressive uptime of 99.99% and exhibited a speedy loading time of 1.4 seconds. Moreover, the server demonstrated ample power to handle significant traffic, indicating that A2 Hosting can easily host popular websites.
---
What makes A2 Hosting fast?
A2 Hosting achieves remarkable website loading speed through the utilization of cutting-edge technology. It begins with foundational elements like fast drives and extends to advanced features like a pre-configured LiteSpeed cache.
Modern hardware
Server locations: A2 Hosting offers four server location options: Michigan (U.S.), Arizona (U.S.), Amsterdam (Netherlands), and Singapore. Choose the server location closest to your visitors to reduce response time based on proximity.
SSD storage: A2 Hosting utilizes SSD storage instead of outdated HDD, supporting their claim of being 20 times faster. While this claim is expected in the industry due to SSDs' proven speed advantage over HDDs, it's important to note that many other major providers also employ SSD storage. A2 Hosting's 20 times faster claim primarily refers to their superiority compared to using HDD rather than in direct comparison to other providers.
NVMe AMD EPYC Server: Opting for the Turbo plans grants your website storage on an NVMe AMD EPYC Server. These servers are among the fastest enterprise-grade options available, utilizing technology that fully unleashes the potential of SSDs. Additionally, your website will receive a higher allocation of resources thanks to fewer users sharing the server.
Advanced software optimizations
PHP version: A2 Hosting allows you to choose your preferred PHP version, with PHP 7.2 as the default and the latest PHP 8 also available. Opting for the newer version results in a faster website, which can handle more requests per second. A2 Hosting's prompt implementation of new versions is commendable.
HTTP/3 and QUIC: Turbo plans on A2 Hosting support the latest internet transportation protocols, including HTTP/3 and QUIC. HTTP/3 has been proven to deliver files up to 30% faster than HTTP, while Quic enhances the efficiency of HTTP traffic.
A2 Optimized Software: A2 Hosting optimizes popular software like WordPress, Drupal, and PrestaShop. Their optimization involves configuring the best performance and security settings for these applications, resulting in faster performance than the default versions.
LiteSpeed Web Server and pre-configured caching: A2 Hosting utilizes the advanced LiteSpeed web server, a cutting-edge technology embraced by hosting companies. This server incorporates its own caching engine, ensuring faster delivery of website content. This feature is available with Turbo plans and is a significant advantage of A2 Hosting.
Overall, A2 Hosting boasts robust hardware to support your website, as evident from performance testing results. The implemented tools and technology effectively contribute to the reliability and speed of websites hosted on A2 servers. Moreover, these servers are powerful enough to handle significant surges of traffic.
---
Security – is A2 Hosting secure?
A2 Hosting takes security very seriously and goes above and beyond to provide ample protection for all its shared hosting plans. With a range of security features such as SSL certificates, firewalls, DDoS protection, and 2-factor authentication (2FA), they leave no stone unturned to ensure the safety of your website.
Let's dive deeper into these features.
---
SSL certificates
A2 Hosting includes a Free Let's Encrypt SSL certificate with every shared hosting plan, which is fantastic, and it's the minimum I anticipate from a reliable provider.
The best part is that these SSL certificates are activated automatically, saving you the hassle of manual configuration.
---
DDoS protection
A2 Hosting continues to impress with its robust Distributed Denial of Service (DDoS) protection, an essential feature for safeguarding your website.
They achieve this by leveraging Imunify360, a powerful tool that defends various cyber threats, including brute-force attacks and suspicious activities.
With this added layer of security, you can rest assured that your site is well-protected from potential disruptions caused by malicious attacks.
---
Firewalls
A2 Hosting goes the extra mile by implementing a dual firewall system, consisting of Config Server Firewall (CSF) and ModSecurity, across all its plans.
CSF, as its name suggests, is a server firewall designed to protect against attacks and enhance overall server security.
On the other hand, ModSecurity serves as a Web Application Firewall (WAF) that filters, blocks, and monitors inbound and outbound traffic, ensuring a secure web experience.
---
Patchman enhanced security tool.
Patchman, a versatile tool provided by A2 Hosting, is an effective malware and vulnerability detection and patching solution.
As a malware/vulnerability detection and patching tool, Patchman excels at identifying outdated software and promptly notifying you of any updates required.
Furthermore, Patchman's capabilities extend to detecting security vulnerabilities within content management systems (CMSs), automatically applying necessary patches to fortify your website's security.
Patchman goes the extra mile to ensure utmost protection by automatically quarantining all infected files for 24 hours, preventing any potential harm from spreading.
---
Automatic backups
All A2 Hosting plans, excluding Startup, come bundled with an invaluable feature: automatic backups.
This tool acts as a safeguard by capturing a daily snapshot of your website, creating a reliable copy that can be utilized to restore your site in case of mishaps or infections. It's a convenient alternative to manually troubleshooting issues.
Nevertheless, it's crucial to note that A2 Hosting does not assume liability for lost or damaged backups. As a precautionary measure, I recommend regularly downloading backups to your Cloud storage for an added layer of assurance.
---
2 factor-authentication
2FA, or Two-Factor Authentication, is an incredibly simple yet essential safeguard for your website's security.
By implementing 2FA, you ensure that any unauthorized attempts to access your account will be met with a password requirement and an additional layer of protection in the form of a unique code accessible only to you.
As passwords have become increasingly susceptible to hacking and social engineering techniques, adopting this security measure is on the rise, aiming to bolster the overall protection of your online presence.
I'm genuinely satisfied with the extensive range of security features offered by A2 Hosting. The only downside is its somewhat limited backup offering. Nevertheless, A2 Hosting stands out among shared hosting providers with its comprehensive protection, earning a well-deserved spot on our list of secure web hosting options.
---
Will A2 Hosting support help me?
A2 Hosting's support needs to be improved compared to modern customer service standards. While they are responsive, it may take some time to receive assistance. This is primarily because the main support option is their ticketing system, which redirects many phones and lives chat inquiries. However, rest assured that agents are available 24/7, and there's also a knowledge base to refer to.
I contacted their sales support team in my initial support test phase for this A2 Hosting review.
Surprisingly, despite the 15-minute wait time, I was connected almost instantly. This is definitely a positive sign. However, I found it inconvenient that there was no field to enter my question before joining with an agent. Nonetheless, this could be a matter of personal preference.
Once I inquired about which plan would be best for me, the agent promptly posed some logical questions regarding disk space and RAM. To add a bit of challenge, I responded with uncertainty, opting to describe my envisioned website in more detail.
The agent promptly shared the link to the shared hosting plans and offered her recommendations based on my needs. However, desiring more information, I continued to pose additional questions.
To my satisfaction, the agent handled my inquiries adeptly, providing answers from her own knowledge rather than redirecting me to an abundance of knowledge base articles. I appreciated this approach, especially considering the swift responses.
On the downside, the agent didn't offer much justification for her recommendation, leaving me to justify it myself.
Nonetheless, sales support is typically just one facet. Technical assistance is what truly matters.
Curious about improving website speed and whether A2 Hosting handles such matters, I asked the agent for guidance.
Regarding technical support, my wait time was about 5 minutes, which was relatively short considering the expected 30-minute wait time.
After checking my website, the agent swiftly suggested enabling Cloudflare, which was a positive start.
However, as I sought further advice, the situation took a turn for the worse.
Unfortunately, the agent had to leave the chat, and I was transferred to another agent. To my disappointment, not only did I have to wait over 15 minutes to receive the first response from the second agent, but even then, they still needed to provide me with helpful information. Instead, they shared a link to an introductory knowledge base article.
This entire interaction highlights that when dealing with real people, the experience can vary. I had two mostly positive interactions, although not without their flaws, and one that proved unhelpful.
Thankfully, I didn't have to create a ticket this time, which was a common occurrence when seeking technical support from A2 Hosting just a year ago.
So they have made some improvements.
In addition to the option of speaking with real humans, A2 Hosting also provides a comprehensive knowledge base, which is valuable.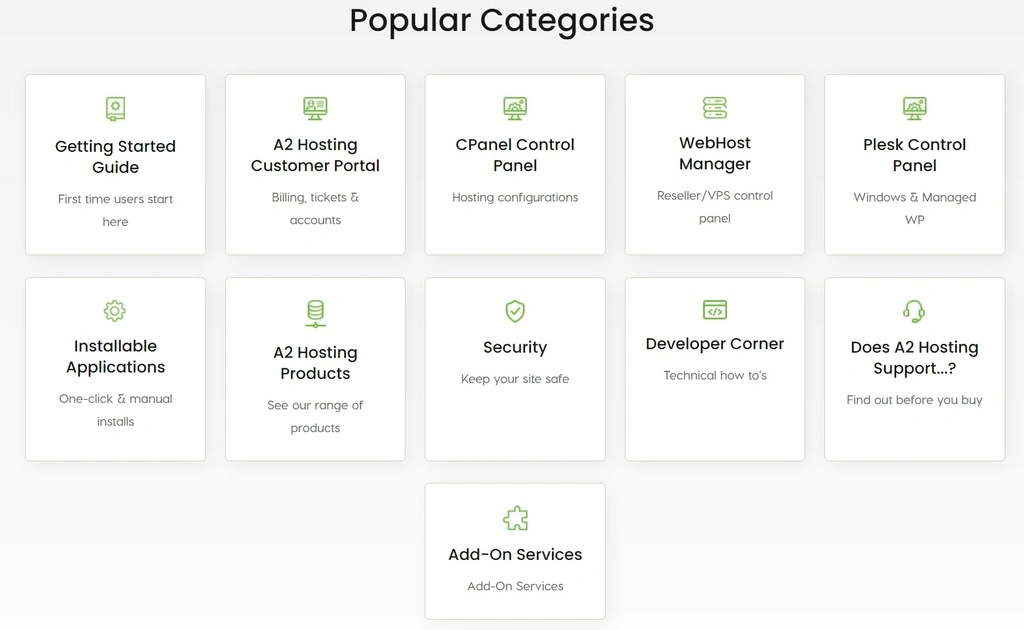 You'll discover a wealth of articles and guides covering various topics within the knowledge base. This encompasses everything from getting started to exploring the provider's features and optimizing your website. The quality of the articles is impressive, and the tutorials are user-friendly and straightforward.
Considering everything, A2 Hosting's support can be a mixed bag. While you can encounter fantastic agents, there are instances where the wait times can be lengthy, and some individuals may not be as helpful as others.
---
Other A2 Hosting options
While shared hosting remains popular, A2 Hosting goes above and beyond by offering a range of additional hosting options. From VPS and WordPress hosting to dedicated hosting, they have a variety of solutions available. If you're seeking a more robust and powerful hosting solution beyond the standard shared option, A2 Hosting has you covered.
---
A2 VPS hosting
When it comes to VPS hosting, A2 Hosting has you covered with both managed and unmanaged services. While managed plans offer ease of management, the best value lies in A2's unmanaged plans, starting at just $2.99 monthly.
However, it's important to note that unmanaged VPS hosting requires more technical skills compared to shared hosting or managed VPS. With an unmanaged service, users take full responsibility for their virtual server, including installations, updates, security tests, and more. Plus, you'll have full root access for complete control.
A2 Hosting offers a range of plans, including 3 standard and 3 Turbo options. You can choose between the standard plans or a more robust and faster solution depending on your specific power and speed requirements.
Here's a breakdown of how the resources vary between the standard and Turbo plans:
Standard plans (from $2.99/month to $7.99/month) include 1 to 4 CPU cores, 150GB to 450GB SSD disk space, 2 T.B. to 4 T.B. bandwidth, and 1 G.B. to 4GB RAM.
Turbo plans (ranging from $29.99/month to $89.99/month) offer 2 to 8 CPU cores, 150GB SSD to 450GB NVMe storage, 2 T.B. to 8 T.B. bandwidth, and 8 G.B. to 32GB RAM.
Although unmanaged VPS hosting requires technical skills, experienced users will appreciate the competitive pricing and generous resources provided by A2 Hosting. This solid offering places A2 Hosting among the top providers for affordable VPS hosting.
---
A2 dedicated hosting
Like VPS hosting, A2 Hosting provides managed and unmanaged dedicated server hosting options. The best value lies in unmanaged services, with 7 plans ranging from $105.99/month to $505.99/month.
Speaking specifically about the unmanaged plans, A2 Hosting offers 7 hosting packages. These plans include 4 cores/4 threads to 16 cores/32 threads, 2×1 T.B. to 2×960 NVMe U.2 storage, 6 T.B. to 15 T.B. bandwidth, and 16 G.B. to 128GB DDR4 ECC RAM.
Dedicated server hosting is essential for resource-heavy websites or projects with high traffic. The ample server resources reflect the need for such robust hosting. Understandably, this type of hosting is the most expensive and requires advanced technical skills. However, by opting for this solution, you have an entire hardware server dedicated to your needs.
Overall, A2 Hosting offers a wide range of unmanaged server hosting solutions at an affordable price. They stand out as one of the most budget-friendly providers in the dedicated hosting market.
---
A2 managed WordPress hosting.
WordPress is undeniably one of the most popular content management systems available, and A2 Hosting recognizes its significance by offering WordPress-oriented plans.
However, it's essential to note that the provider's standard and WordPress plans are identical. If you're seeking genuine WordPress-focused features, consider A2's managed WordPress plans, starting at $11.99/month.
With managed WordPress plans, A2 Hosting's agents take full responsibility for managing your WordPress site. They handle installations, updates, patching, backups, and more, ensuring seamless operation. Moreover, the settings are optimized specifically for WordPress, delivering exceptional site performance.
Regardless of your plan, all options come with valuable features: free SSL, unlimited email accounts, a cPanel control panel, pre-configured performance settings, automated backups, cloning, staging, caching, DDoS protection, and spam filtering. Additionally, all four plans are hosted on Turbo servers, enhancing speed and reliability.
Now, let's take a closer look at how these plans differ:
Run – 1 website, 50 G.B. unlimited websites, and 4GB RAM.
Jump – 5 websites, 250GB unlimited, and 4GB RAM.
Fly – unlimited websites, unlimited websites, and 8GB RAM.
Sell – unlimited websites, unlimited websites, and 16GB RAM.
In straightforward terms, A2 Hosting's managed WordPress hosting provides numerous benefits. However, it's worth noting that the provider's primary focus isn't exclusively on WordPress. If you want top-notch managed WordPress hosting, check out our curated list of the best-managed WordPress hosting providers.
---
A2 reseller hosting
A2 Hosting offers an exceptional solution for reseller hosting. With a range of 8 plans, starting at $17.99/mo and featuring abundant resources and valuable features, A2 Hosting is one of the industry's top reseller hosting providers.
Like other hosting options, reseller plans are hosted on a standard or Turbo server. Regardless of the server type, all 8 plans provide essential elements such as a client billing and management system, complete white-label capabilities, cPanel, Web Host Manager (WHM), multiple client accounts, free SSL, DDoS protection, automated backups, and much more.
The allocation of server resources varies based on the specific plan you choose.
The Standard plans (from $17.99/mo to $39.99/mo) – from 60 to 270GB SSD storage, 600 to 2700 GB bandwidth, and 1GB RAM per cPanel user.
The Turbo plans (from $22.99/mo to $49.99/mo) – from 60 to 270GB NVMe storage, 600 to 2700 GB bandwidth, and 2GB RAM per cPanel user.
A2 Hosting offers competitive prices and diverse features to ensure a seamless reseller hosting experience.
In general, A2 Hosting provides a comprehensive selection of hosting solutions. Whether you need shared hosting or scalability options, this provider covers you. However, it's worth noting that while A2 Hosting offers both managed and unmanaged plans, unmanaged ones often provide better value for your money.
---
A2 Hosting review – the final verdict
As we approach the conclusion of this A2 Hosting review, I'm pleased to declare that this provider stands out as one of the fastest and most dependable options on the market. With a reasonable price, you gain access to many speed-enhancing features and robust security measures.
However, it's important to note that despite what some A2 Hosting reviews may assert, the provider could be more flawless. Prices can sometimes be higher than anticipated, and not all plans offer the same level of value. So, how does it all come together?
| | | |
| --- | --- | --- |
| Feature | 4.1★★★★☆ | Fast cPanel hosting |
| Pricing | ★★★☆☆ | A2 Hosting falls on the pricier end of the spectrum. Although the cheapest hosting package starts at $2.99/month, the real value lies in the more expensive plans. |
| Ease of Use | ★★★★☆ | The main website management interface used by A2 Hosting is cPanel. It offers functionality, convenience, and ease of use. However, one downside is its outdated and old-fashioned design. |
| Performance | ★★★★★ | A2 Hosting performed exceptionally well in all tests. The servers are remarkably stable, minimal downtime, and the page loading time is impressively fast. Additionally, A2 Hosting can handle high levels of traffic. |
| Security | ★★★★★ | A2 Hosting stands out by offering essential security features and advanced ones. You'll have access to SSLs, DDoS protection, malware scans, dual firewall, and more. |
| Support | ★★★☆☆ | Customer support can be hit or miss. Although available 24/7, the company prefers tickets over live chat inquiries. However, most live chat agents are knowledgeable and helpful, although you may need persistence in seeking assistance. |
---
Who do I recommend A2 Hosting to?
A2 Hosting will be the best option for those needing extra fast websites and strong security or prefer the all-cPanel experience. It's best suited for hosting small business websites and online stores if you pick high-value Turbo plans.
---
FAQs
---
Thanks for visiting our Website. If you appreciate our work, kindly show us some support in our comments section.
Did you have some experience in any of these hosting companies? If so, please leave a review, positive or negative, below.
To read more similar articles, Click here.